Pedestrian-only program on Dihua Street to be extended to year-end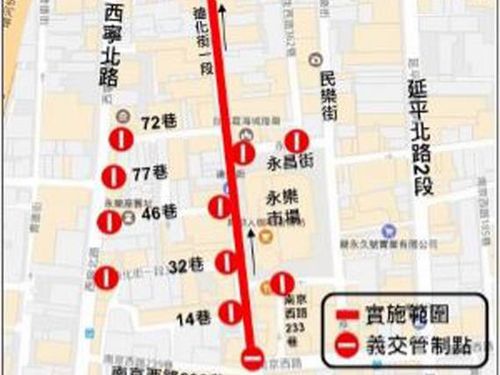 Taipei, Sept. 30 (CNA) A recent vehicle-free trial imposed on a part of the historic Dihua Street in Taipei on Sundays has received positive response and will be extended to the end of 2017, the Taipei City government said Saturday.
Located in the Dadaocheng area, which is known for the Xiahai City God Temple, old buildings, wholesale groceries, dry foods and herbs, Dihua Street between Guisui Street and Nanjing W. Road was made into a pedestrian-only area between 10 a.m. and 5 p.m. on Sundays in September.
A survey conducted by the city's Department of Transportation has shown that visitors to the area have been very supportive of the measure. The survey reported a 95 percent satisfaction rate among 618 interviewees, with 98 of them being foreigners.
Business operators in the area are also mostly happy with the policy as it boosts local businesses. On Sept. 21, the Dihua Shopping District Development Association submitted an application to the government in hopes of extending the program.
As a result, the pedestrian-zone will remain effective on Sundays during the same period of time till the end of the year, the department said.
During that period, all vehicles, including scooters and bicycles, will not be allowed into the area.
Department official Chang Wan-sheng (張萬生) told CNA that the association is aiming to make the program a permanent one, but that there are problems to be solved before that goal can be realized.
"Some shop owners have found it difficult to transport their merchandise on foot, which would be the major issue to be addressed," Chang said.