WCIT 2017 set to open Sept. 10 in Taipei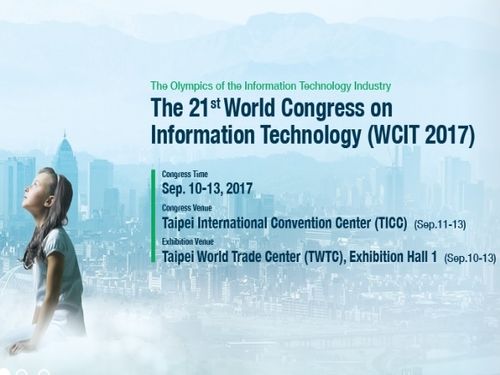 Taipei, Sept. 1 (CNA) Dubbed the Olympics of the international technology industry, the World Congress on Information Technology (WCIT) 2017 will be held in Taipei from Sept. 10-13, the Ministry of Economic Affairs said on Friday.
This year's theme is "Living the Digital Dream," addressing challenges and potential opportunities faced by digital economies and smart cities with particular reference to high-level policies, transformation strategies, technology application and business models, according to the ministry.
Over 900 foreign visitors from 80 countries are expected to attend, it added.
Of the more than 100 speakers featured at the congress, 32 are from Taiwan, including Vice Economics Minister Yang Wei-fuu (楊偉甫) and ministers-without-portfolio Wu Tsung-tsong (吳政忠), Audrey Tang (唐鳳) and John Deng (鄧振中), the ministry said.
The WCIT was launched in 1978 by the World Information Technology and Services Alliance and has since become a premier international IT forum.
Taiwan last hosted the WCIT in 2000.