FPG confirms Vietnam steel firm operations postponed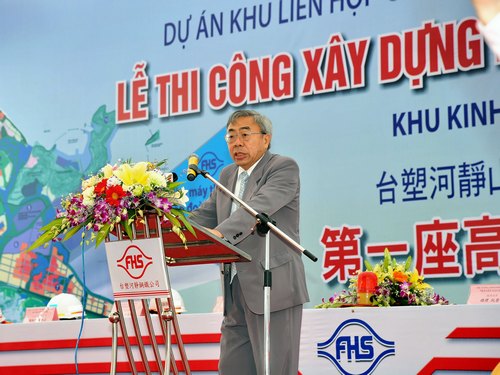 Taipei, June 15 (CNA) The Formosa Plastics Group (FPG, 台塑集團), one of Taiwan's leading conglomerates, confirmed Wednesday that a scheduled operating date for its steel mill in Vietnam has been postponed and said that no new schedule for the start of operations has been set.
Chang Fu-ning (張復寧), vice president of Formosa Ha Tinh Steel Corp., said that the No. 1 furnace of the steel complex, which is located in the Vung Ang Economic Zone in Ha Tinh Province, central Vietnam, will not become operational on June 25 as scheduled.
The confirmation came after a Taiwanese media report that FPG has been forced to postpone the start of operations of the furnace in the steel mill, as the Vietnamese authorities have demanded that the group pay US$70 million in taxes it has been accused of having failed to pay.
In addition, the media report said that the delay was also because the Vietnamese authorities needed more time to process an application filed by FPG to kick off production.
Chang said that FPG has communicated with Vietnam's Ministry of Finance over the accusation of failure to pay tax. The media report cited sources in Vietnam as saying that the move to chase FPG for the tax could have untold political factors.
The sources said that the postponement could deal a blow to the government's new southbound policy, which is aimed at building closer ties with more business partners in the region, including an ambition to turn the Association of Southeast Asian Nations (ASEAN) into an extension of Taiwan's domestic market.
The sources said that the postponement of operations has caught many investors operating in Vietnam off-guard, and hoping that the Taiwan government will step in to resolve the issue.
The US$10 billion Formosa Ha Tinh Steel is the first steel furnace investment project by Taiwan in an overseas market.
Currently, FPG's subsidiaries, such as Formosa Plastics Corp. (台塑), Nan Ya Plastics Corp. (南亞), Formosa Chemicals & Fiber Corp. (台化) and Formosa Petrochemical Corp. (台塑化), hold a 70 percent stake in the Vietnamese project. China Steel Corp. (中鋼), the largest steel maker in Taiwan, and Japan's JFE Steel Corp., own a 20 percent and a 5 percent stake, respectively. Chang said that the management of the Ha Tinh steel mill has been in discussions to iron out a strategy to deal with the delay.
The FPG steel complex was one of the targets of anti-Chinese protests staged by Vietnamese workers in May 2014 over China's deployment of a US$1 billion oilrig in disputed waters in the South China Sea.
Construction of the Ha Tinh complex started in December 2013. In addition to the steel production facility, the project will include port and power plant construction, scheduled to be completed by the end of 2020.
(By Wei Shu and Frances Huang)ENDITEM/J