CTBC Bank approved by FSC to open China joint venture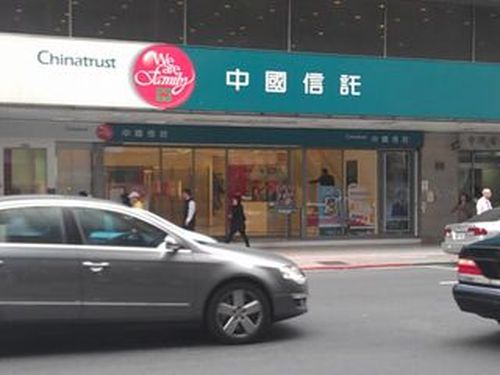 Taipei, Aug. 2 (CNA) CTBC Bank (中國信託銀行), the flagship banking unit of CTBC Financial Holding Co. (中信金), has received a green light from the Financial Supervisory Commission to set up a consumer financing joint venture in China.
The investment plan still requires approval from the China Banking Regulatory Commission, but if it proceeds smoothly, CTBC Bank will become the first Taiwanese bank to own a stake in a consumer financing entity in China.
CTBC Bank is partnering with Huishang Bank (徽商銀行), the Hefei Department Store Group (合肥百貨), and Chinese retail and property company GOME Holding Group (國美控股) in the joint venture.
The Taiwanese bank is planning to invest 350 million Chinese yuan (US$54.68 million) for a 35 percent stake in the new company, making it the largest shareholder.
CTBC Bank is expected to have five of the 12 seats on the joint venture's board of directors.
Huishang Bank, GOME Holding and Hefai Department Store will own 30 percent, 30 percent and 5 percent of the new company, respectively.
According to the FSC, the top financial regulator in Taiwan, consumer financing companies in China are not allowed to make a loan of more than 200,000 yuan and they are prohibited by Chinese authorities from making auto loans or mortgages.
Analysts said CTBC Bank is expected to take advantage of the joint venture to penetrate China's credit card market.
In addition to the deal to open a consumer financing company there, CTBC Bank has announced it will acquire a 100 percent stake in China CITIC Bank International Ltd.
In turn, CTBC Bank will launch a private placement in which China CITIC Bank will acquire a 3.8 percent in the Taiwanese bank. China CITIC Bank is under the corporate umbrella of the CITIC Group, one of China's financial giants.
Meanwhile, CTBC Securities (中國信託證券), a securities trading subsidiary of CTBC Financial, has agreed to set up a joint venture in Fujian by teaming up with Fujian Huatou Investment Co. (福建華投) and Fujian Electronics and Information (Group) Co. (福建省電子信息公司).
(By Tsai Yi-chu and Frances Huang)enditem/ls