Taiwan shares suffer limited retreat on KMT election defeat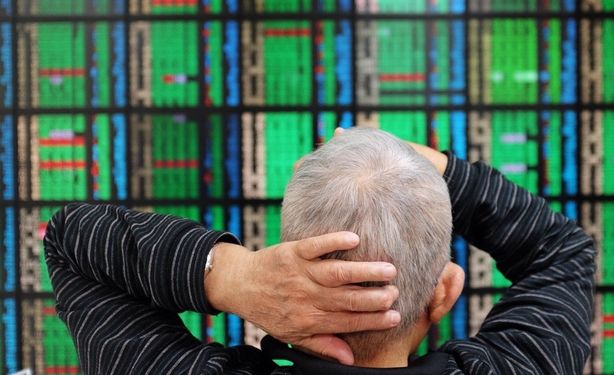 Taipei, Dec. 1 (CNA) Shares in Taiwan pulled back Monday following the governing Kuomintang's huge defeat in local elections over the weekend, but the losses were limited by bargain hunters picking up select high-tech stocks, dealers said.
The financial sector came under heavy pressure amid fears that the election results will force the China-friendly KMT government to hold back on further advancing cross-Taiwan Strait financial exchanges, which could affect the sector's bottom line, they said.
The weighted index on the Taiwan Stock Exchange closed down 69.44 points, or 0.75 precent, at 9,117.71, after moving between 8,998.55 and 9,164.54, on turnover of NT$87.999 billion (US$2.84 billion).
The market opened down 1.63 percent in a knee-jerk reaction to the election results with investors dumping shares across the board, and selling accelerated to push the index to the day's low, dealers said.
The KMT only held onto six county and city executive seats out of 22, less than half of the 15 it held prior to the election.
Of Taiwan's six biggest metropolitan areas -- Taipei, New Taipei, Taichung, Tainan, Kaohsiung and Taoyuan -- the KMT won only one mayoral post.
After the index fell below the 9,000-point mark, however, bargain hunting emerged to take advantage of the relatively low valuations in the high-tech sector to push up the index back to the 9,100-point level at the close, dealers said.
"Judging from the market's movement, I expect that the impact of political factors will be short-lived. It could last one or two sessions before investors shift their attention to economic fundamentals," Grand Fortune Securities analyst Chen Wei-tai said.
Chen said that buying in certain electronics stocks indicated that many investors still expect the high-tech sector to continue to benefit from peak season effects this quarter.
Smartphone camera lens supplier Largan Precision Co., one of Apple Inc.'s most important Taiwanese suppliers, rose 3.35 percent to close at NT$2,465.00, off an early low of NT$2,320.00, with 1.36 million shares changing hands.
"Investors are expecting that solid sales of Apple's iPhone 6 and iPhone 6 Plus will further boost Largan's shipments," Chen said.
Buying in Largan spread to rival Genius Electronics Optical Co, which closed up 7 percent, the maximum daily increase, to end at NT$123.50.
Flat panel maker AU Optronics Corp. gained 0.68 percent to close at NT$14.70, off an early low of NT$14.10, on hopes of strong global TV demand during the holiday season.
The electronics sub-index closed down 0.43 percent, outperforming the broader market, while the financial sub-index ended down 2.21 percent.
"The selling in financial stocks showed worries over the future of cross-strait financial exchanges after the elections. Investors should remain cautious when trading these stocks," Chen said.
Among the falling financial stocks, Fubon Financial Holding Co. fell 2.66 percent to close at NT$49.35, and Cathay Financial Holding Co. shed 3.81 percent to end at NT$48.00.
"Although the local bourse has found short-term technical support around 9,000 points, the market still needs some time to consolidate. Even if the market stages a technical rebound, there is only limited upside right now," Chen said.
(By Frances Huang; click here for results and aftermath of this year's local elections)enditem/ls