Wei Ying-chung resigns chairmanships at scandal-hit food makers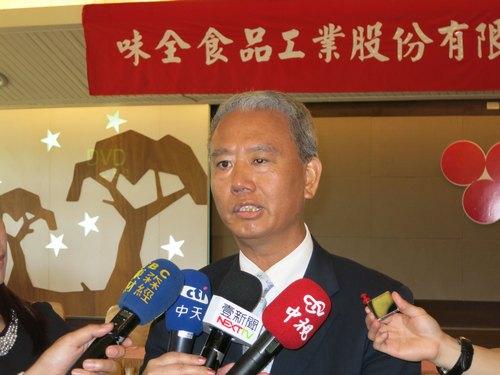 Taipei, Oct. 9 (CNA) Wei Ying-chung on Thursday resigned from his posts as chairman of Wei Chuan Food, Ting Hsin Oil & Fat, and Cheng I Food -- all subsidiaries of the Wei family-owned Ting Hsin International Group, the center of Taiwan's latest food scare.
Wei's resignation comes after the discovery that Cheng I and Wei Chuan were using substandard oil meant for animal feed to made cooking oil. The consumer oil, made by Cheng I and used by Wei Chuan in its food products, was sold around the island, leading the two companies scrambling to recall their products.
It is the third food scandal related to substandard oil to hit the Ting Hsin group in a year.
In a statement issued by his office, Wei said he felt saddened by the trouble caused by the latest scandal.
He emphasized the source of the problem was a dishonest supplier, Hsin Hao Co., which passed off the animal feed oil it was selling to Cheng I as pure lard fit for human consumption, but he admitted that the Ting Hsin subsidiaries failed to do their duty in ensuring the quality of the materials they used.
Wei Chuan Food, a public corporation, confirmed Wei's resignation Thursday and said that its board of directors will meet to elect a new chairman as soon as possible.
(By Han Ting-ting and Maubo Chang)ENDITEM/WH
Related stories:●Oct. 9: Oil maker ordered to recall 68 lard-based products●Oct. 8: Ting Hsin back in hot water over new oil scandal at subsidiary