Vietnam prime minister meet Taiwanese business people after riots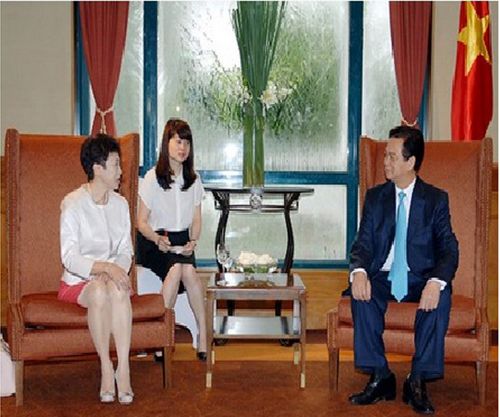 Taipei, June 5 (CNA) Vietnam's Prime Minister Nguyen Tan Dung praised Thursday Taiwan's contribution to his country's economic development and expressed deep regret for the damages suffered by Taiwanese businesses during last month's anti-China riots in his country.
Nguyen made the remarks while meeting a delegation led by Liu Mei-te, chairwoman of the Council of Taiwanese Chambers of Commerce in Vietnam, according to Vietnamese VTV9's website.
"Taiwan is one of Vietnam's successful investment partners, and Taiwanese business people serve as the bridge to link the close ties between the two sides," Nguyen was quoted as saying.
Liu, meanwhile, expressed gratitude for the Vietnamese government's support, and called for future tax-cutting treatment to help the businesses that have suffered return to normal operation.
Liu said that despite the riots, Taiwan's businesses will still continue expanding their investments in Vietnam.
The riots erupted on May 13 after Vietnamese crowds took to the streets to protest against a Chinese oil-drilling venture in an area of the South China Sea that is also claimed by Hanoi.
Protesters mistakenly thought Taiwanese businesses were Chinese and did not make a distinction between the two.
The riots in the southern provinces of Binh Duong and Dong Nai, Ho Chi Minh city and the central province of Ha Tinh affected 408 Taiwanese enterprises, 25 of which were seriously damaged. Total cumulative losses ranged between US$200 million to US$500 million.
(By James Lee)ENDITEM/cs
Related stories:●June 5: Taiwan's envoy voices plight of damaged businesses at Hanoi seminar
Video report:Taiwan request help in Vietnam
(Click here for developments related to the anti-China protest-turned-riot in Vietnam.)