Worries continue on plans for anti-China marches in Vietnam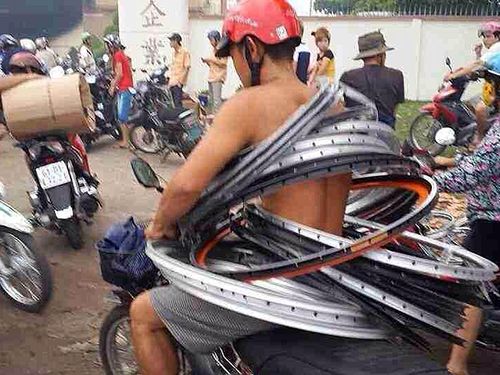 Taipei, May 15 (CNA) Web users in Vietnam are planning countrywide anti-China marches Sunday, leaving many worried over a possible escalation to the violent protests that have targeted Chinese, Taiwanese and other foreign businesses.
After rioting left more than 20 people dead as of Thursday, several Taiwanese businesspeople said they will "certainly" withdraw from Vietnam if the demonstrations cause more riots to erupt.
The call for a new round of protests over Beijing's deployment of an oil rig in Vietnam-claimed waters came on social media websites, including Facebook, meaning that official Vietnamese agencies are unlikely to respond to the comments posted to banned "anti-government" websites.
Taiwan's representative offices in Ho Chi Minh City, near the center of Tuesday's riots, and in Hanoi, the capital, said they have conveyed their concerns to the relevant local agencies.
Authorities responded by saying that they will absolutely not agree to the demonstrations. The Ministry of Public Security said that if protesters insist on going ahead with the marches, it will strengthen patrols to maintain order.
Rioting over the past two days have left many Taiwanese firms considering pulling the plug on their investments in Vietnam. Insiders estimate as many as half of the businesses could leave the Vietnam market if things escalate on Sunday.
"I wouldn't believe there were really rioters and bandits if I didn't see it for myself," said Tsai Chuan-yi, a Taiwanese expatriate working in Vietnam who returned to his hometown in Miaoli, Taiwan Thursday. Tsai added he was considering withdrawing his investments from the country.
According to his account, a number of Vietnamese protesters demanded his garment factory in Binh Duong province stop work Tuesday afternoon. They were accompanied by a gang of motorcyclists who forced their way in, damaged the facility's security room and smashed in windows.
Between 5 p.m. and 11 p.m., eight mobs of over 1,000 people each showed up uninvited to the factory, by Tsai's estimation.
He said it would probably cost NT$1 million (US$33,156) to make repairs to the factory, but the suspended operations could cause greater financial losses.
"This may be the key issue of concern," he said.
The riots began Tuesday, when crowds of Vietnamese citizens took to the streets amid surging anti-Chinese sentiment aimed at Beijing's deployment of an oil rig in disputed waters in the South China Sea.
The May 1 move triggered a tense standoff at sea and raised fears of a confrontation between the countries.
Related stories:●May 15: Hanoi vows to protect Taiwanese as anti-China riots continue●May 15: One dead in Taiwanese plant in Vietnam anti-China protest●May 15: Hundreds of Taiwanese factories affected by Vietnam riots: MOEA
(Click here for developments related to the anti-China protest-turned-riot in Vietnam.)