Chunghwa Telecom in talks to team up with new 4G entrant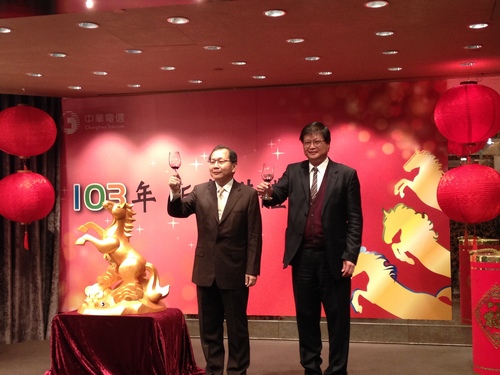 Taipei, Feb. 12 (CNA) Chunghwa Telecom Co. confirmed Wednesday that it is in talks with Taiwan Star Cellular Corp., a new entrant to the country's 4G market, to discuss the possibility of sharing resources in that field.
"We are indeed negotiating (with Taiwan Star) on leased lines, infrastructure sharing and base station sharing," said Chunghwa Telecom President Shih Mu-piao in response to reporters' questions at a local media briefing.
"We are pleased to let new telecom enterprises share Chunghwa Telecom's leased line resources," he said, referring to infrastructure such as telephone lines and fiber-optic cable that are rented for exclusive use.
Shih was asked about the issue after media reports emerged earlier Wednesday, quoting Taiwan Star Executive Director William Yen as saying that his company is seeking 4G partnerships with other carriers on roaming, network sharing, back-end network construction and joint purchase of mobile phones.
Taiwan Star, a unit of the Ting Hsin International Group, was one of two new entrants to the country's telecom industry, having won a license in a recent bid for 4G spectrum. The other carrier was Ambit Microsystems Corp., which is backed by the Hon Hai Group.
In late November 2013, Taiwan Star announced a deal to acquire loss-making Vibo Telecom Inc. from Kinpo Electronics Inc. and Compal Electronics Inc. The deal is expected to be completed by the end of April this year.
Asked about Chunghwa Telecom's strategy regarding its "last mile" of fixed-line phone network, Chairman Rick Tsai said he is obliged to protect the interests of his company's investors and employees, but would not rule out the possibility of sharing the last mile with other carriers if there are "reasonable business models."
Chunghwa Telecom, Taiwan's largest carrier, has set a target of 5 million mobile data subscribers in 2014, up from 3.94 million in 2013. The number of subscribers to its multimedia-on-demand (MOD) services, meanwhile, is forecast to increase from 1.24 million last year to 1.4 million in 2014.
Citing robust demand for high-resolution video content and TV programs, Chungwha Telecom is anticipating that its 373,000 subscribers to 100-megabyte or faster fixed broadband in 2013 will soar this year to 1.27 million.
(By Jeffrey Wu)ENDITEM /pc