Kaohsiung City Joins International 'Race to Zero by 2050' Campaign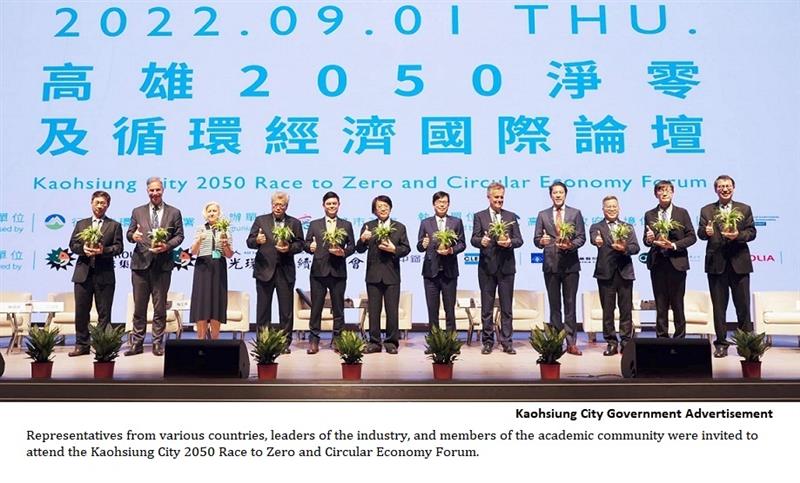 In 2015, the United Nations General Assembly (UN-GA) proposed the17 Sustainable Development Goals, which encompass environmental, social and economic aspects, calling on global cooperation and active participation to rapidly reduce greenhouse gas emissions so as to address the issue of climate change, which is a pressing global concern. In line with the worldwide trend, many countries including Taiwan have successively pledged to reduce their carbon emissions and reach "net zero" by 2050. Kaohsiung City is not lagging behind and following suit.
As a member of the global village, the Kaohsiung City Government has managed to encourage more local residents and groups join in the net-zero carbon campaign through multi-faceted policies concerning sustainability, interdepartmental coordination and public-private alliances. Compared to 2005 levels, Kaohsiung City's carbon emissions decreased to 12.83 million tons in 2020, which is ahead of the national target. The City Government has requested power plants and cogeneration stations to scale up the reduction of coal use for electricity generation. In addition, it also launched a six-year project with an aim to generate 1.25 gigawatts of solar energy. In recognition of the city's efforts, Kaohsiung received the 2022 Asia-Pacific Sustainability Action Awards for Outstanding City, demonstrating the city's characteristics: inclusiveness, safety, resilience and sustainability.
To accelerate the pace of carbon reduction, the city announced the pathway to net-zero emissions and established the "Net-Zero Industry Alliance" this June. Leaders and state-owned enterprises in five major industries including steel, petrochemistry, electronics, energy, and circular economy, serve as a nurturer and guide by sharing carbon reduction technologies and achievements, building carbon asset management capabilities, and assisting relevant operators in alleviating the impact encountered in the process of moving towards the low-carbon future.
On the other hand, the City Government has set up four goals and 18 strategies within the framework off our primary directions of "Energy Transition," "Industrial Transition," "Lifestyle Transition" and "Social Transition, "hoping to cut down on electricity-related carbon emissions, create low-carbon supply chains, construct a net-zero model of lifestyle for the public, and providing assistance to the disadvantaged, hoping to collaborate with the industries and citizens to achieve decarbonization in Kaohsiung by 2050.
In terms of building a net-zero urban infrastructure environment for transportation, the City Government pushed for the construction of Kaohsiung Circular Light Rail and the extension of Kaohsiung Metro Yellow and Red Lines, while promoting shared mobility services and diverse modes of transport to enhance transportation services. Meanwhile, it also adopted measures to increase the number of electric vehicles in response to the trend of vehicle electrification as well as implement low carbon policies. Moreover, the City Government continues to promote a variety of policies to guide the public through the net-zero transition in terms of food, clothing, housing and transportation; and also proposed relevant self-government ordinance drafts, engaged in dialogues with civic groups, environmental organizations, industries, and citizens to sync them up towards the goal of net-zero transition. (Kaohsiung City Government Advertisement)