Badminton's Taipei Open to start June 20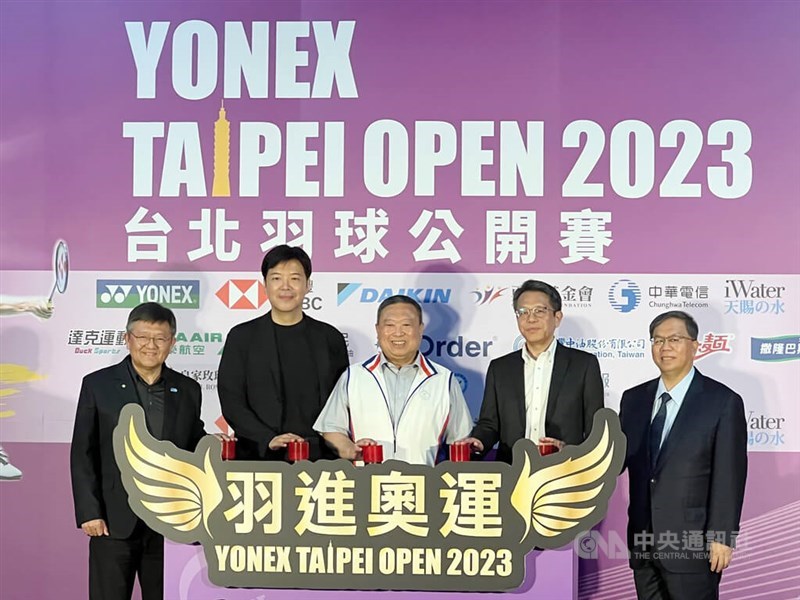 Taipei, June 1 (CNA) Nearly 300 badminton players from over 20 countries will participate in the 2023 Taipei Open set to be held from June 20-25 at the University of Taipei stadium, featuring Taiwan's top male and female single players Chou Tien-chen (周天成) and Olympic silver medalist Tai Tzu-ying (戴資穎), the Chinese Taipei Badminton Association said Thursday.
Chang Kuo-tso (張國祚), president of the association, announced the news at a press conference for the Super 300 event in Taipei while inviting badminton fans to pack the stadium and cheer for Taiwanese players, among the 282 participants from 24 countries participating.
Chou and Tai, ranked seventh and third in the world, respectively, are seeking to defend the titles they won last year, with both looking for a fifth title at the tournament, where other Taiwanese competitors include men's world No. 22 Lin Chun-yi (林俊易) and women's world No. 16 Hsu Wen-chi (許玟琪).
Also participating in the tournament are Taiwanese men's duos Wang Chi-lin (王齊麟) and Lee Yang (李洋), gold medalists at the Tokyo Olympics, as well as Yang Po-han (楊博涵) and Lu Ching-yao (盧敬堯), currently world ranked 16th and 15th pairings, respectively.
The men's singles event is expected to be more competitive with the presence of a few Japanese standouts -- Kodai Naraoka (3rd), Kenta Nishimoto (11th) and Kanta Tsuneyama (14th) -- as well as world No. 15 Ng Ka Long Angus (伍家朗) from Hong Kong.
The top competitors in the women's singles and men's doubles not from Taiwan are Thailand's Busanan Ongbamrungphan (12th) and the world No. 7 pairing Ong Yew Sin (王耀新) and Teo Ee Yi (張御宇) from Malaysia.