Veteran Taiwan cyclist remains best Asian rider at Tour de Taiwan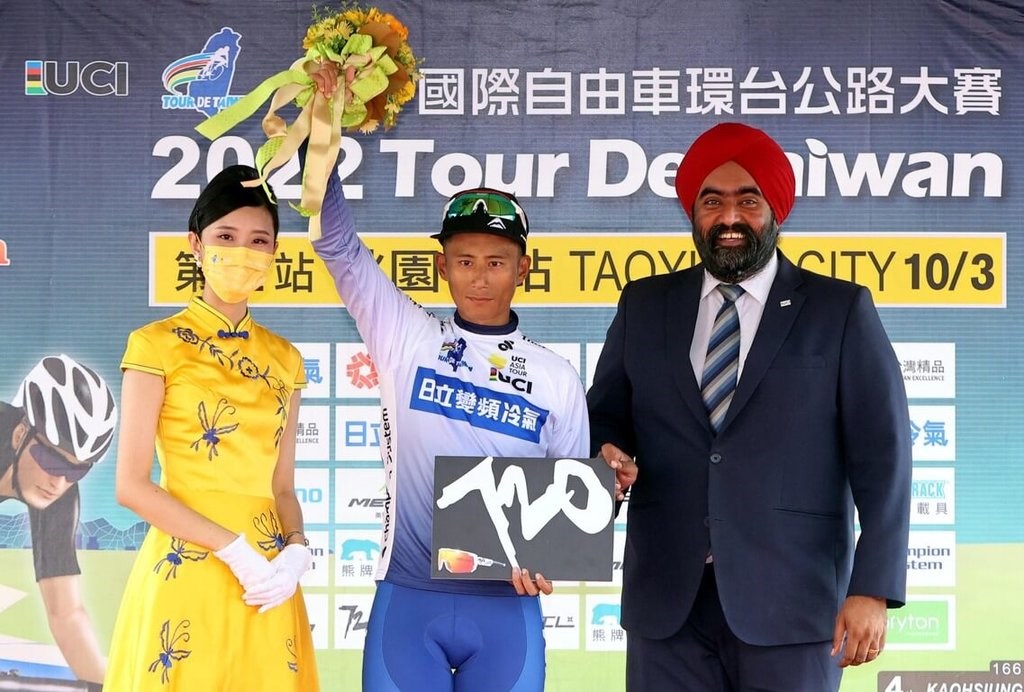 Taipei, Oct. 4 (CNA) Taiwan veteran cyclist Feng Chun-kai (馮俊凱) remained at the top of the best Asian rider classification in the professional road bicycle racing Tour de Taiwan event by donning the blue jersey after tallying a total of eight hours, 41 minutes and 57 seconds upon completing the third stage of the tournament Tuesday.
The 33-year-old Miaoli native leads by 00:07 seconds against Tadaaki Nakai and Shoma Kazama of Japan's Shimano Racing Team, who both trail with 8:42:04 after the event reached the 158.5-kilometer stage three -- Taiwan Romantic Route 3, which has two intermediate sprints and two categorized climbs.
Feng started leading in the best Asian rider classification after finishing the 124.71-km second stage one day earlier in Taoyuan, taking the blue jersey from the Japan Aisan Racing Team's Hayato Okamoto who dominated the first day of the tournament in Taipei.
Competing as the "Chinese Taipei Cycling Team," the Taiwan team, which Feng rides for, leads the team general classification in the event with a time of 26:07:24, just 01:12 in front of Shimano Racing.
"The Chinese Taipei team is very strong and currently we are the best team in team general classification. Thanks for my teammates' help, we will try to secure the blue jersey," Feng said in a Chinese Taipei Cycling Association statement.
Feng, an Olympian, also won the Tour de Taiwan KOM classification for three consecutive years from 2012-2014.
Meanwhile on Tuesday, 19-year-old American Luke Lamperti got his first Tour de Taiwan win with a time of 3:55:36, while the overall leader is Australian Benjamin Dyball, who rides for Team Ukyo of Japan. Dyball is also the current KOM leader.
Stages four and five of the tour will take place in Kaohsiung and Pingtung County on Wednesday and Thursday, respectively.
The annual Tour de Taiwan, a 2.1 category race on the UCI Asia Tour, is being held from Oct. 2-6 after its 2021 edition was not held because of the challenges brought on by the COVID-19 pandemic.