Taiwan shuts out Italy in Little League World Series opener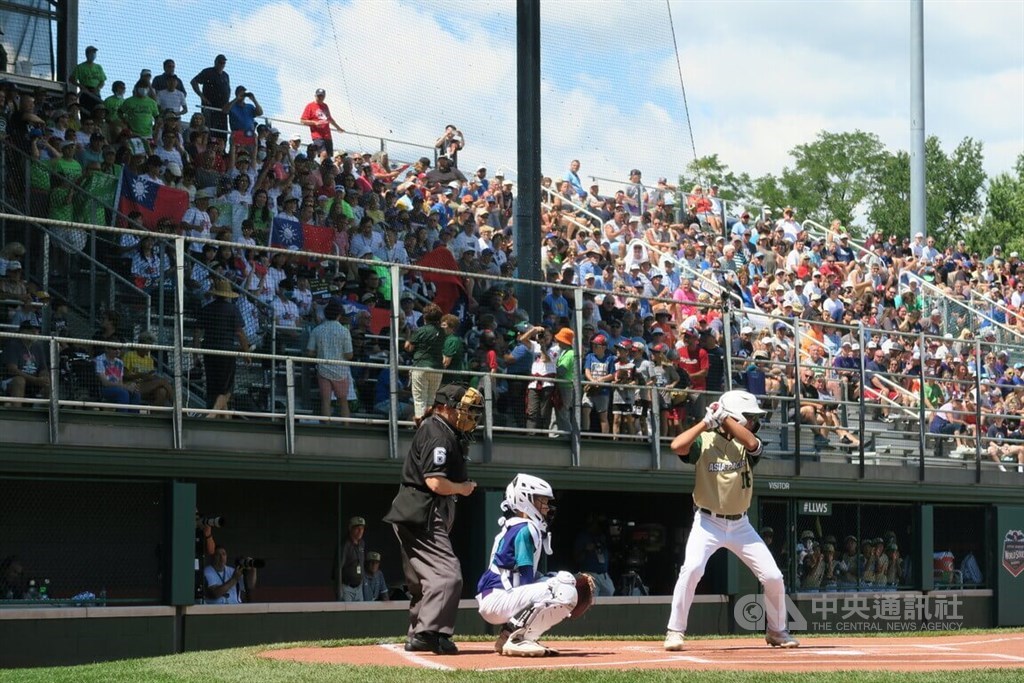 Taipei, Aug. 19 (CNA) Taipei Municipal Fulin Elementary School got off to a successful start in Taiwan's first appearance in the Little League Baseball World Series (LLBWS) since 2015, topping an Italian team 2-0 on a one-hitter by five Taiwanese pitchers.
Representing Taiwan for the first time in the LLBWS, the team from Fulin Elementary School is hoping to end the country's LLBWS championship drought this century after having won the tournament 17 times between 1969 and 1996.
It got off to a quick start Thursday in Williamsport, Pennsylvania, to the delight of a healthy contingent of Taiwanese fans in attendance.
In the top of the first, Shen Li-chen (沈立宸), son of former pro player Shen Yu-chieh (沈鈺傑), ripped a line drive single into center field to bring home Liao Yuan-shu (廖芫豎) and put his team up 1-0 against the team from Bologna representing the Europe-Africa region.
The Taiwan team added one more run in the top of the fourth, on consecutive doubles by Liao and Tseng Yi-che (曾乙喆) with two outs to extend its lead to 2-0.
That would be plenty of cushion for Taiwan's deep pitching staff, which allowed only two baserunners in the first five innings on walks and was still flirting with a no-hitter one out away from victory in the bottom of the sixth.
That was broken up on a ground ball that Emanuele Arcieri threaded between Taiwan's shortstop and third-baseman, but no further damage was done.
The team's next game will be on Aug. 22 local time against the winner of the teams representing the Caribbean and Panama. It will advance directly to the International Championship game if it wins its next two games.
A loss would send the team to the loser's bracket, where another loss would mean elimination.
Fulin's Head Coach Chang Tzu-chien (章子健) told CNA after the game that he was not thinking about a no-hitter during Thursday's contest but simply wanted to rotate pitchers in to give them a chance to get used to the mound.
His biggest challenge, he said, was dealing with three interruptions in play due to thunder and rain, and all he could do was let the players rest and make sure they stayed warm.
The LLBWS, which was canceled in 2020 and only allowed the participation of U.S. teams in 2021, has expanded its field this year to 20 teams from 16 in the past to celebrate its 75th edition this year.
The Taiwan team, which is representing the Asia-Pacific region, qualified for the 2022 tournament by beating a South Korean team in a 1-0 nail-biter in the regional qualifier final.
It had been unable to get past South Korea in regional qualifying from 2016 to 2019 after having made it to Williamsport six times in seven years from 2009 to 2015.
Update
Aug. 24: Taiwan team reaches Litte League World Series semifinal
Aug. 22: Taiwan whips Panama, edges closer to LLBWS title game