Taiwan volleyball team runner-up at Philippine tournament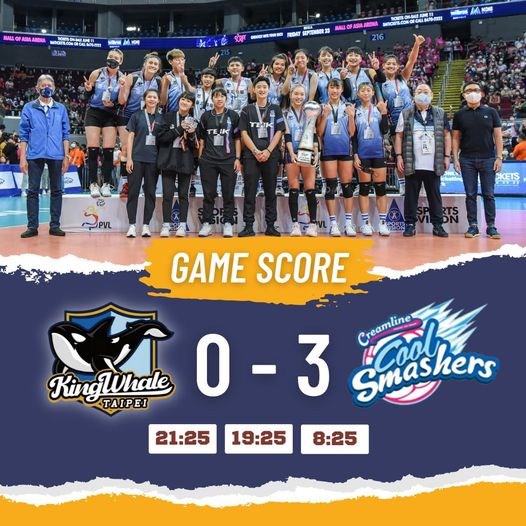 Taipei, Aug. 15 (CNA) Taiwan team KingWhale Taipei finished as the runner-up at the 2022 Premier Volleyball League Invitational Conference tournament in the Philippines after suffering a 3-0 rout at the hands of local team Creamline Cool Smashers in the final on Sunday.
The Philippine team defeated KingWhale Taipei in a three-set sweep 25-21, 25-19, 25-8 that lasted for an hour and 26 minutes in front of a raucous home crowd of 13,589 at the SM Mall of Asia Arena in Bay City, Pasay, Metro Manila.
After the match, KingWhale Taipei head coach Teng Yen-min (鄧衍敏) said she was happy, but noted that it was the first time the team had participated in the invitational tournament.
She added that she hoped to return to the tournament with a more consolidated lineup.
KingWhale captain Liao Yi-jen (廖苡任) snared the best setter prize and said she did her best to always set up the ball for her teammates so that they could go for the attack.
Liao also thanked her team's sponsors for the opportunity to compete in the tournament.
The Taiwan team, which went on a four-match winning streak in the tournament's semifinals to reach the final, suffered an opening set setback in the final but tried to fight back in the second set by taking a 16-10 lead before a technical time out.
However, Creamline came back to overcome the deficit and go on a 15-3 run to win the second set.
The Philippine team's momentum continued into the final set where the roars of the home crowd helped Creamline race to an 11-3 lead.
For the remainder of the set, KingWhale continued to struggle, as it watched Creamline cruise to a back-to-back championship win, after topping the 2022 Premier Volleyball League Open Conference in April.
Creamline's superb defense also held Beatriz Flavio de Carvalho, Kingwhale's Brazilian import player, to 12 points, her lowest in the five matches at the tournament.
The Philippine team also posted 43 attack points, 13 more than the Taiwanese.
KingWhale was supposed to be one of two international teams competing in the invitational tournament, but Japan's Kobe Shinwa Women's University pulled out of the semifinals due to COVID-19 issues. One of its student athletes had tested positive moments before the team's scheduled flight to the country for the tournament.