Taiwanese psychological horror film `Detention' to hit screens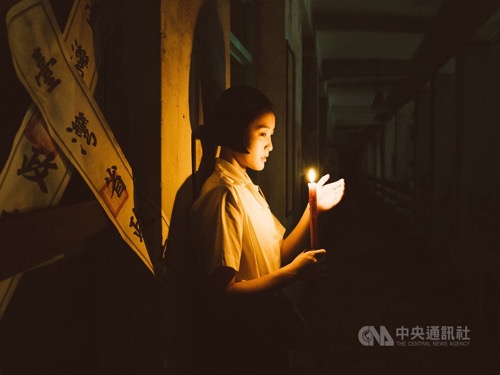 Taipei, Sept. 17 (CNA) The psychological horror film "Detention," adapted from a survival horror video game of the same name, will screen in over 100 cinemas across the country from Friday, according to a statement from its production company Tuesday.
1productiontw YouTube channel
The movie is set during the country's White Terror period in the 1960s and is an adaptation of a survival horror adventure video game developed by Taiwanese game developer Red Candle Games, according to 1 Production Film Co.
The game has already sold hundreds of thousands of copies on video game digital distribution platform Steam since its launch in 2017, according to game sales estimator Steam Spy.
With a budget of around NT$95 million (US$3.065 million), the movie follows two high school students who find themselves having entered a realm of vengeful spirits in an empty school while they search for a teacher who has disappeared.
The film stars actress-writer Gingle Wang (王淨) actor Tseng Ching-hua (曾敬驊) as the two students.
A trailer for the movie has had over 1.9 million views since it was released June 19 on Facebook.
1productiontw YouTube channel
At a press conference Tuesday, Lieh Lee (李烈), 1 Production Film Co. executive producer, said the film took around two years to make and was mainly filmed at night at a school that had been abandoned for 17 years.
"From the very start of making this movie until now, I am very happy with the way it has turned out," she said.
John Hsu (徐漢強), the film's director, said on the film's Facebook page that as a gamer himself, he wanted to keep the spirit of the movie true to the game but at the same time to develop his own vision and emotion to create a unqiue psychological thriller.
A fan meet and greet will be held at ShowTimes Cinema's Taichung Station branch Saturday.
Gingle Wang (王淨, right) and Tseng Ching-hua (曾敬驊) / File photo / Photo courtesy of 1 Production Film Co.