Taiwan to hold its first space out competition in October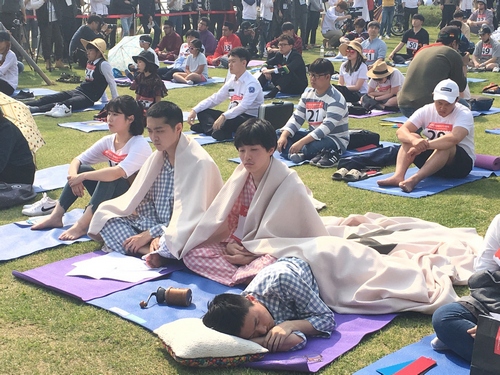 Taipei, April 30 (CNA) Taiwan will hold its first space out competition in October, following the lead of South Korea, with the aim of promoting a life free from stress and digital overload.
Inspired in South Korea in 2014 by a conceptual art piece by visual artist WoopsYang, a space out competition encourages people to stare off into space without talking or using their phones.
A Taiwan company has won the right to hold the country's first contest in October.
The 2017 competition in South Korean took place Sunday in Seoul's Ichon Hangang Park, with last year's winner --famous local rapper Shin Hyo-Seob, aka Crush -- as a special guest.
Some 4,000 people applied for the 72 slots in the contest for competitors 8-58 years of age.
The contestants spent 90 minutes sitting in the park Sunday without talking, sleeping, eating, or using any electronic devices.
Contestants can be disqualified for laughing, using tech devices or sleeping, but can ask for a drink if they are thirsty or ask to use the bathroom, according to the organizers.
The heart rate of the competitors is checked every 15 minutes and those with the most stable heart rate are deemed the winners.
The Netherlands is scheduled to hold its first space out contest in August.