Taiwanese men's archery team clinches berth at Rio Olympics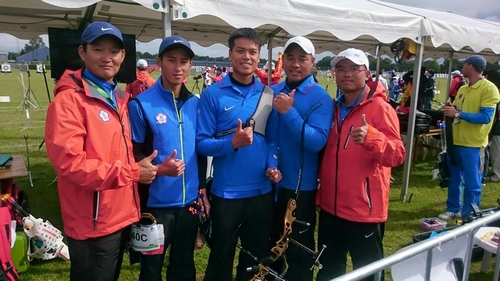 Taipei, July 28 (CNA) Taiwanese archers beat Ukraine 5-1 on Monday to advance to the quarterfinals in the men's team recurve bow archery event of the 2015 Copenhagen World Archery Championships taking place in Denmark, the Chinese Taipei Archery Association announced Tuesday.
The victory qualifies Taiwan for the men's team recurve bow event at the 2016 Olympic Games in Rio de Janeiro, Brazil.
The Copenhagen championship, which kicked off July 26 and will run through Aug. 2, is authorized as an Olympic qualifying event.
Taiwan's men's team, which was listed among the top eight of the World Archery Championships, collected three quotas for the next Olympics.
The other seven teams to advance to the quarterfinals are South Korea, Spain, Australia, the U.S, the Netherlands, China and Italy.
(By Li Yu-cheng and Bill Lin) ENDITEM/J