Typhoon Koinu's outer rim nears eastern Taiwan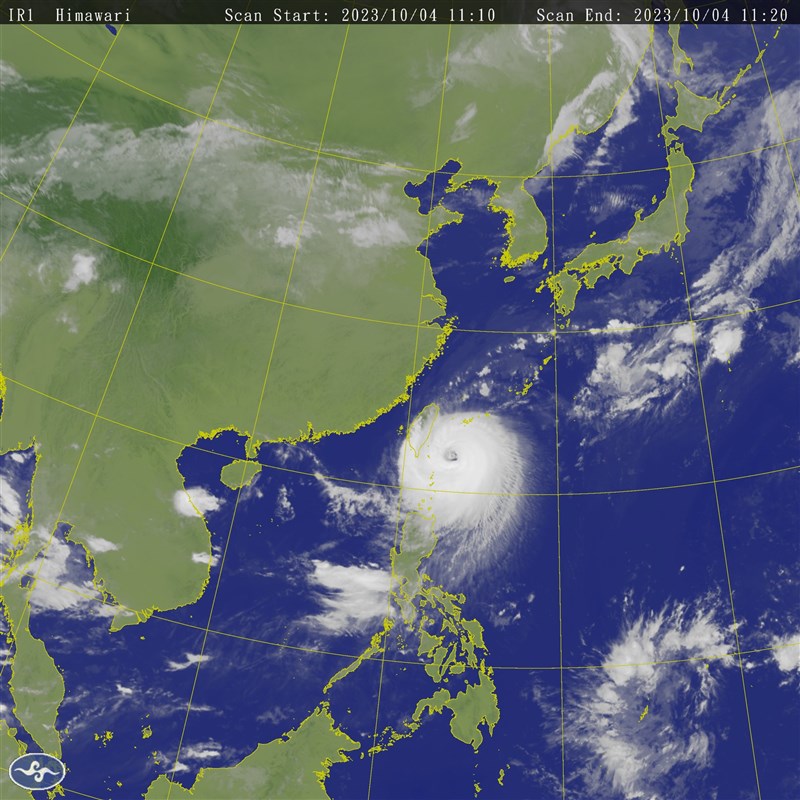 Taipei, Oct. 4 (CNA) Typhoon Koinu's outer rim is expected to come into contact with eastern Taiwan on Wednesday morning, bringing heavy rains and strong winds ahead of the storm's possible landfall overnight, according to the Central Weather Administration (CWA).
As of 8 a.m. Wednesday, Koinu was located 280 kilometers east of Cape Eluanbi, Taiwan's southernmost tip, and was moving westward at a speed of 11 kph, with sustained winds of 155 kph and gusts of up to 191 kph.
According to CWA forecaster Wu Wan-hua (伍婉華), Koinu's outer rim was forecast to make contact with the Taitung-Hualien region in eastern Taiwan on Wednesday morning.
Although the storm has been relatively unpredictable, there is a high probability that it will continue moving west at a slow pace, making landfall in southern Taiwan early Thursday before passing into the Bashi Channel, Wu said.
As of Wednesday morning, rain from the typhoon's periphery was already falling in northern and northeastern Taiwan, and was becoming gradually heavier in Hualien and Taitung on the east coast.
In the south, meanwhile, the rain is expected to grow increasingly heavy during the night on Wednesday and into Thursday morning, Wu said, adding that the storm will continue to affect Taiwan into Friday.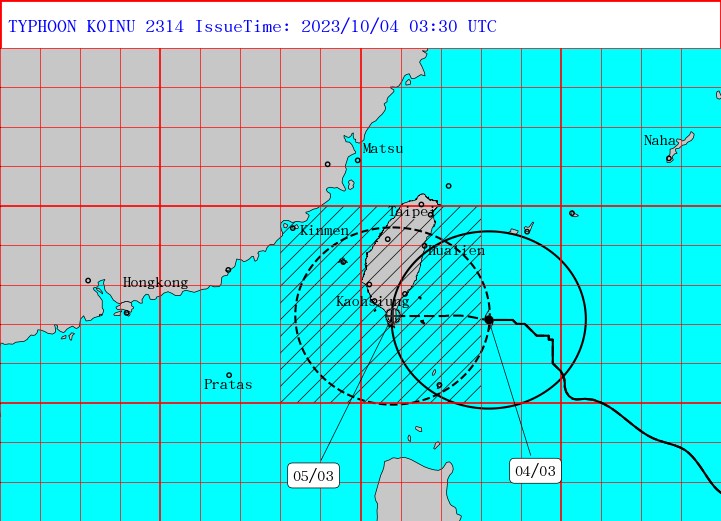 Ahead of Koinu's arrival, the CWA issued a land warning for 15 cities and counties south of Hsinchu, meaning that those areas are expected to be within the storm's outer rim as it passes over the country.
The agency has also issued an extremely heavy rain advisory for Pingtung, Taitung, Hualien, Yilan and mountainous parts of New Taipei, as well as a heavy rain advisory for Keelung, Taipei and Taoyuan, in effect through Wednesday night.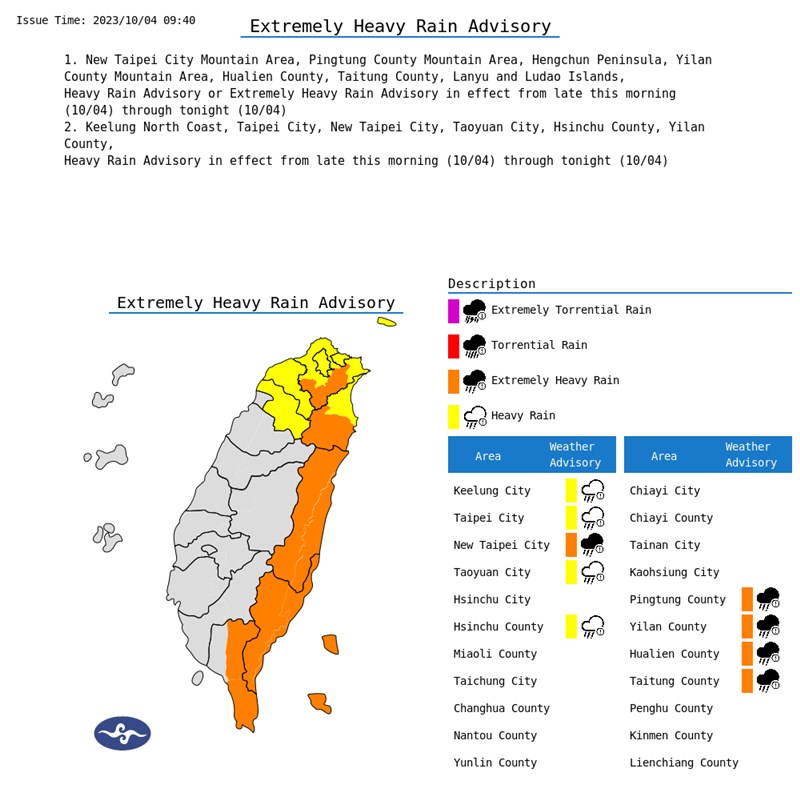 An extremely heavy rain advisory refers to accumulated rainfall of more than 200 mm within a day, or more than 100 mm within a 3-hour period, while a heavy rain advisory warns of 80 mm of accumulated rainfall in a day or 40 mm of rainfall in an hour.
Typhoon Koinu is projected to make landfall around 100 km to the south of where Typhoon Haikui did in Taitung last month, with similar wind speeds. Prior to Haikui, no major storm had made landfall in Taiwan since 2019.

Please visit the Central Weather Administration's website for the latest information.