Taiwan may issue sea warning Tuesday for Tropical Storm Koinu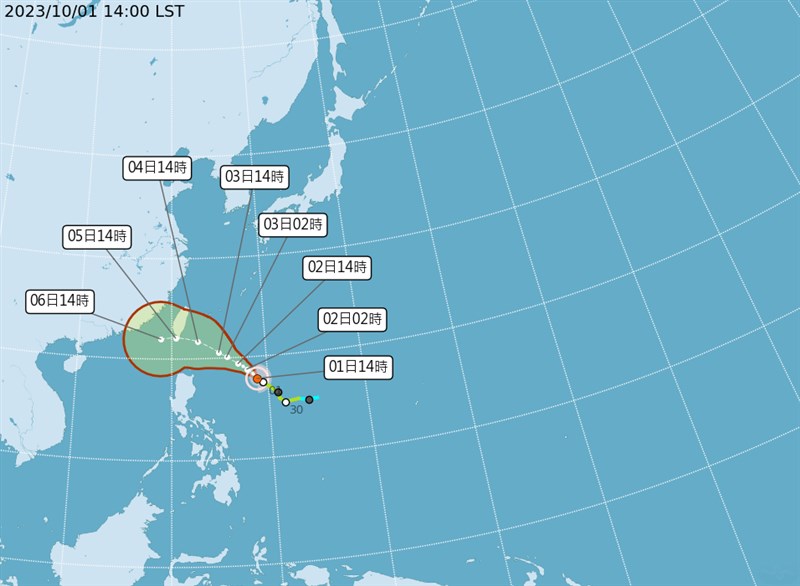 Taipei, Oct. 1 (CNA) A sea warning is likely to be issued for Tropical Storm Koinu on Tuesday morning, and a land warning may be possible later in the day, if the system continues on its forecast track, the Central Weather Administration (CWA) said Sunday.
Oct. 3: Taiwan issues land warning for Typhoon Koinu
As of Sunday afternoon, Koinu was located about 1,000 kilometers east-southeast of Taiwan, moving in a northwesterly direction at 12 kilometers per hour and carrying sustained winds of 108 kph, with gusts of up to 137 kph, according to the CWA.
The storm is expected to maintain that path on Monday before shifting in a more westerly direction, CWA forecaster Chao Hung (趙竑) told CNA.
As Koinu approaches Taiwan, it is likely to strengthen into a typhoon, and it may make landfall in the southeast of the country, he said, citing the Japan Meteorological Agency (JMA).
As of Sunday, however, the storm's trajectory was still uncertain, but in any case, it is expected to come close to Taiwan Wednesday into Friday, according to Chao.
While a sea warning for Taiwan is likely to be issued Tuesday morning, further observation will be required to decide whether a land warning should also be issued, he said.
According to the JMA forecasts, Koinu will approach Taiwan on Wednesday and is likely to make landfall in Taitung County in eastern Taiwan on Thursday.
Meanwhile, before the storm nears, seasonal northeasterly winds will continue in Taiwan, Chao said.
On Monday, sporadic showers can be expected in coastal areas of northern and eastern Taiwan and on the Hengchun Peninsula in the south, while cloudy skies and some intermittent showers are likely in areas north of Taoyuan, he said.
Daytime temperatures are expected to drop to 30 degrees Celsius in windward areas north of Taoyuan and in the eastern parts of Taiwan on Monday due to the northeasterly winds, he said.
From Tuesday through to Thursday, Koinu will bring intermittent showers across most of Taiwan, Chao said. Even as the storm begins to move away on Friday, sporadic showers will continue in northern and eastern Taiwan and on the Hengchun Peninsula, he said.