Tropical Storm Koinu forecast to be closest to Taiwan from Oct. 4-6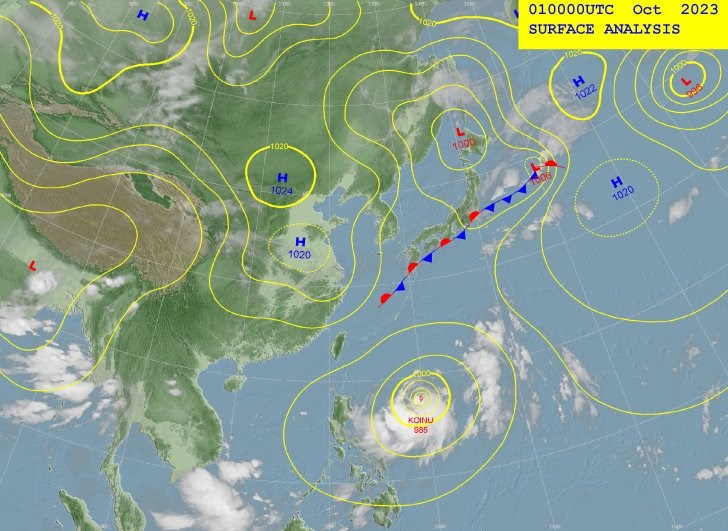 Taipei, Oct. 1 (CNA) Tropical Storm Koinu is expected to be closest to Taiwan from Wednesday through Friday as it passes through the Bashi Channel, but how it will impact the weather is still uncertain, according to the Central Weather Administration (CWA).
Oct. 3: Taiwan issues land warning for Typhoon Koinu
As of 8 a.m. Sunday, Koinu was located around 1,000 kilometers east-southeast of Cape Eluanbi, Taiwan's southernmost point, and was moving in a northwesterly direction at 12 kilometers per hour, the CWA said.
Based on current forecasts, Koinu is likely to strengthen into a typhoon on Monday or Tuesday and turn to the west as it enters the Bashi Channel to the south of Taiwan, CWA forecaster Chao Hung (趙竑) told CNA.
The storm will be closest to Taiwan from Wednesday through Friday, but because its trajectory is still unclear, more time is needed to determine how it will affect Taiwan's weather, Chao said.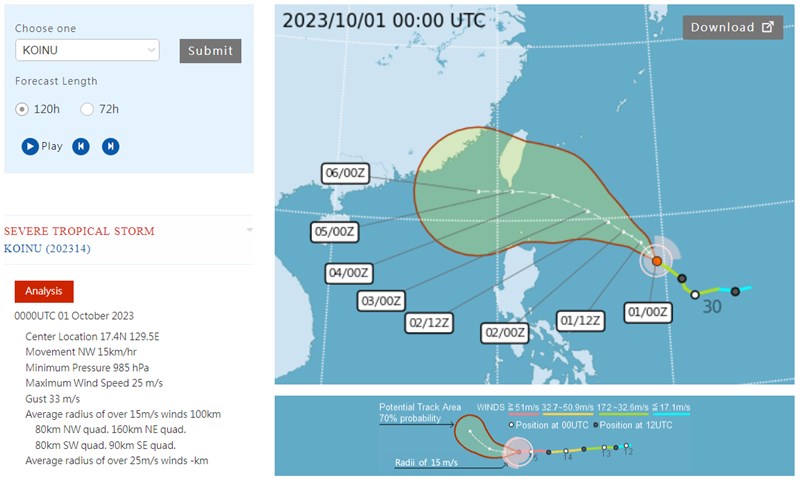 On Sunday, meanwhile, the CWA forecast partly cloudy to sunny skies for most parts of the country, with a chance of intermittent showers in areas north of Taoyuan, the eastern half of Taiwan, and the Hengchun Peninsula in the south.
Temperaturewise, seasonal northeasterly winds are expected to bring slightly cooler temperatures of 31-32 degrees Celsius to Greater Taipei and eastern Taiwan, according to the CWA.
In other regions, temperatures will rise to 33-35 degrees on Sunday, while overnight lows will drop to 25-27 degrees nationwide, the CWA said.
➤ Please visit the Central Weather Administration's website for the latest information.