Taiwan reports first domestic dengue fever case in 2023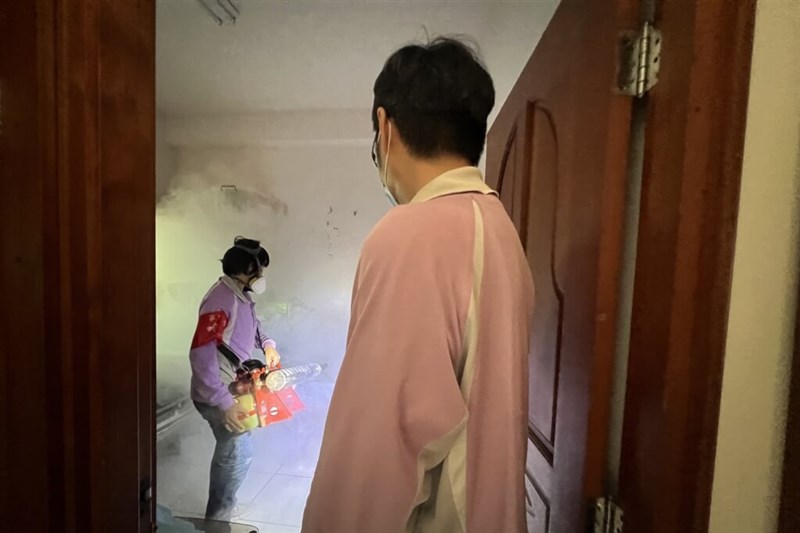 Taipei, June 13 (CNA) The Centers for Disease Control (CDC) reported Taiwan's first domestic dengue fever case this year on Tuesday, and said a local command center has been set up to monitor the mosquito-borne disease and prevent it from spreading.
The patient, a woman in her 40s who lives in Tainan's Rende District, first went to hospital on June 4 because of fever, dizziness and stomach ache. She also went to hospital on June 7 and again on June 10 when she tested positive for dengue virus type 1 and was admitted, the CDC said in a statement.
By June 12 her symptoms had eased and she was discharged, the agency added.
CDC Deputy Director-General Lo Yi-chun (羅一鈞) told reporters that the woman did not travel abroad in the 14 days before her symptoms started, but had been to Yilan and Hualien counties and Kaohsiung during her infectious period.
One of her family members and an individual who traveled with her have been listed as close contacts, but have not displayed symptoms, Lo said.
According to Lo, health officials in Tainan are monitoring and cleaning the area around the woman's residence.
Meanwhile, three testing sites have been set up in the southern Taiwan city, and residents are being urged to get tested if they have developed any suspected symptoms, such as fever, headache, pain behind the eyes, muscle and joint pain or rashes.
According to Tainan's Public Health Bureau, the three sites are at the Rende District Health Station, the Chenggong Village Activity Center and in a public reading room in a residential building in Renhe Village.
The CDC said that a total of 46 dengue fever cases have been reported this year. As well as the one domestic case, there have been 45 imported cases from Indonesia, Malaysia, Vietnam, Thailand, Maldives, India and the Philippines.
According to the World Health Organization, dengue fever is a mosquito-borne viral disease widespread in the tropics. While the vast majority of infections are asymptomatic, or cause mild flu-like symptoms, in rare cases the virus can cause complications including severe bleeding, organ impairment, and plasma leakage.
Taiwan experienced a large-scale outbreak of dengue fever in the southern city of Tainan in 2015, which resulted in over 40,000 confirmed cases and 218 deaths, according to CDC data.