Taiwan issues year's first sea warning for Typhoon Mawar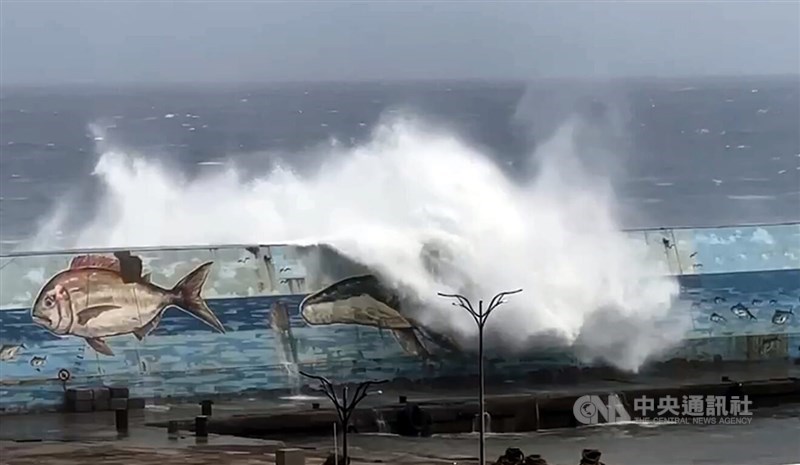 Taipei, May 29 (CNA) The Central Weather Bureau issued Taiwan's first sea warning in 2023 for a typhoon Monday evening, along with a heat alert for several regions Tuesday.
The weather bureau issued the sea warning covering waters off southeastern Taiwan at 8:30 p.m., as Typhoon Mawar continued to move toward the island from the southeast at a speed of 8 kilometers per hour.
As of 8 p.m. the center of Typhoon Mawar was 540 kilometers east-southeast of Eluanbi, Taiwan's southernmost point, according to the bureau. It was packing maximum sustained winds of 155 kilometers per hour and gusts of up to 194 kph.
Coastal areas in northern Taiwan, Yilan County and the eastern part of Greater Taipei should begin to see sporadic showers Monday night, while torrential rain is expected in northern and eastern Taiwan through Tuesday morning, said forecaster Hsieh Pei-yun (謝佩芸).
The bureau forecast that Mawar, the second named storm in the western North Pacific or the South China Sea this year, would start turning north on Wednesday and begin moving away from Taiwan after that.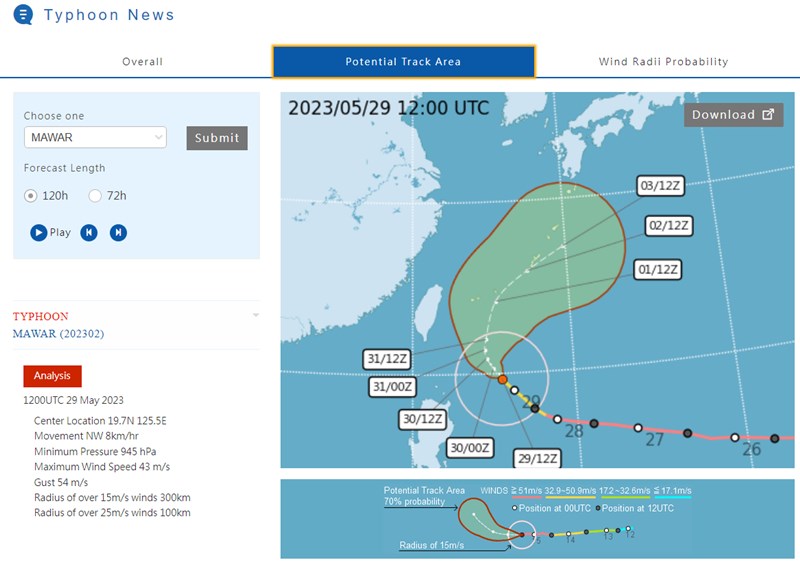 The storm's impact on Taiwan remains uncertain, with various models showing different possible directions for Mawar after it turns north, Hsieh said in a live broadcast shortly after the sea warning was issued.
Several weather advisories, warning about heat, strong winds and waves due to Typhoon Mawar, were issued by the bureau throughout Monday, before the sea warning was released in the evening.
A weather station in Nanhua District in Tainan reported the day's highest temperature of 37.3 degrees Celsius on Monday afternoon after neighboring Neimen District in Kaohsiung recorded a high of 39 degrees Celsius a day earlier.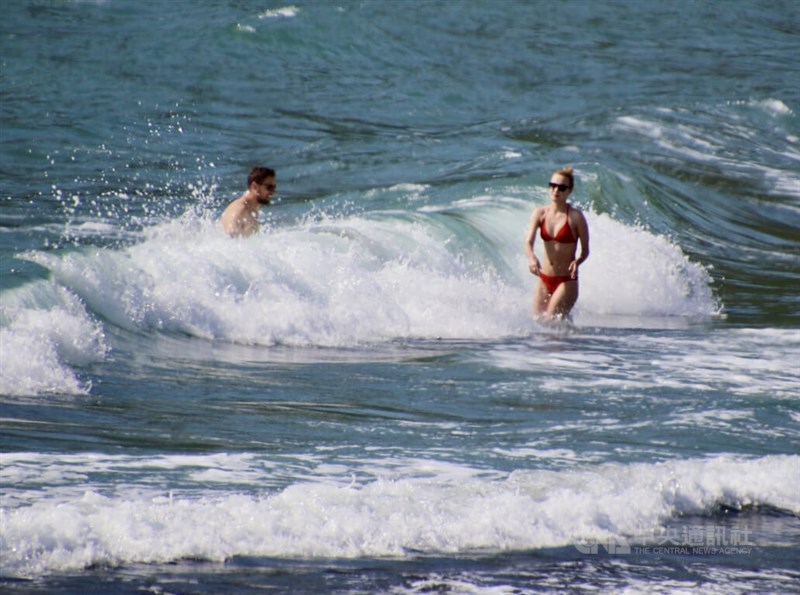 More hot weather is expected in central and southern Taiwan on Tuesday, with chances of afternoon thunderstorms, Hsieh said.
A heat alert revised Monday evening warned about daytime temperatures as high as 38 degrees in Taichung and Tainan on Tuesday, while Kaohsiung is expected to see temperatures hit 36 degrees for a third consecutive day, according to the bureau.
Nantou, Changhua, Yulin, Pingtung, and Kinmen counties, as well as Chiayi City and Chiayi County could also experience temperatures as high as 36 degrees, the bureau said.
Waves as high as 7 meters were observed on Orchid Island and 3-4 meters along Taiwan's east coast on Monday, the bureau said, warning that waves of 6-7 meters high are expected in eastern Taiwan and the Hengchun Peninsula in the southernmost part of Taiwan on Tuesday.
The National Fire Agency said once a sea warning is issued, wave chasers could be fined between NT$10,000 (US$327) and NT$50,000 for violating the Act for the Development of Tourism.
People trespassing into restricted areas designated by local governments, such as beaches and mountainous areas, could face a fine of NT$50,000-$250,000 under the Disaster Prevention and Protection Act, the agency said.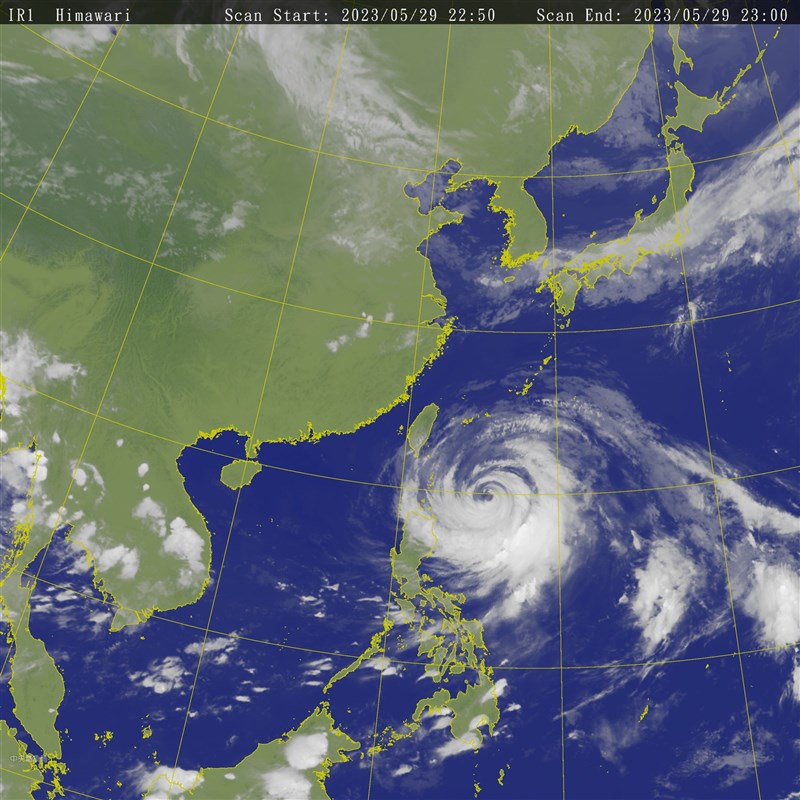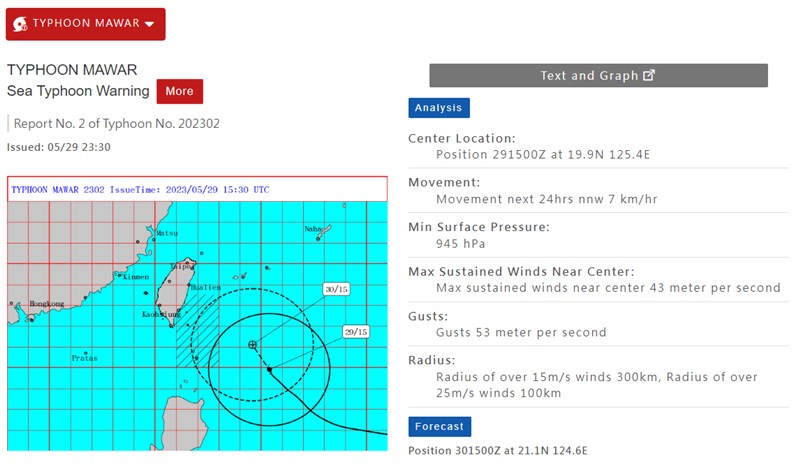 An updated sea warning is scheduled to be released at 11:30 p.m., according to the bureau's protocols.
The name of the typhoon, Mawar, is contributed by Malaysia and means a rose, according to the bureau.
Update
May 31: Taiwan lifts sea warning for Typhoon Mawar as storm heads to Japan
May 31: Heavy rain warnings issued as Typhoon Mawar moves away
May 30: Typhoon Mawar to come closest to Taiwan Tuesday night, Wednesday: CWB
Related News
May 27: 115 tourists from Taiwan stranded in typhoon-hit Guam
(Please visit the Central Weather Bureau's website for the latest advisories.)