Two children missing in separate drowning incidents on east coast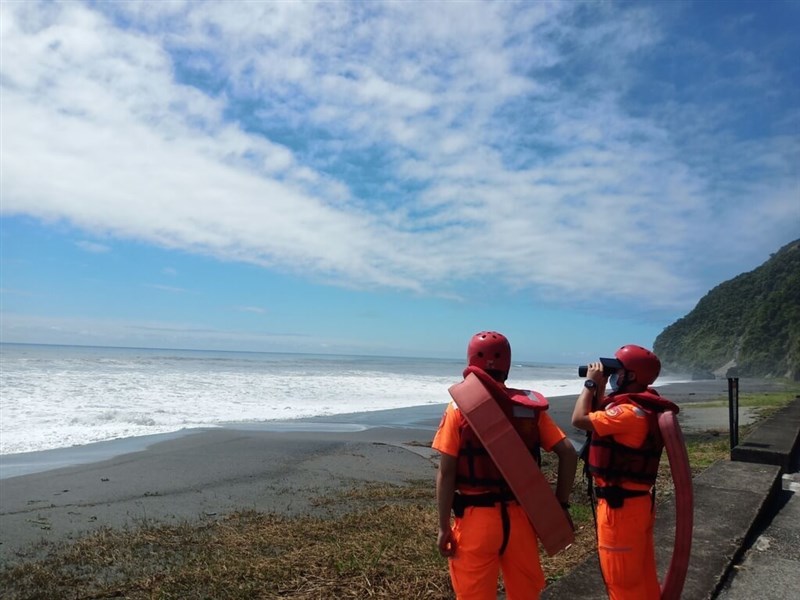 Taipei, May 28 (CNA) An 11-year-old boy and a female junior high school student are missing after being swept out to sea in separate incidents along Taiwan's east coast on Sunday, according to local authorities.
Emergency services received a report in Hualien County around noon of a child floating alone at sea off the coast of Kangle Village in Xincheng Township.
After beginning a search of the area, personnel on a Coast Guard vessel located and rescued a boy, surnamed Chou (周), who was in good condition. However, a second boy, surnamed Lee (李), remains missing.
Local authorities carry out search and rescue operations in Hualien County on May 28, 2023.
A parent of one of the children told local media that Lee, Chou and a third boy, all 11-years-old, had gone out together on Sunday morning to play ball, and that it was unclear why or when they had gone to play by the ocean.
After one of the boys "fell into the water," another jumped in to save him, while the third boy ran home to call for help, the parent said, without making clear whether Lee or Chou had fallen into the water first.
Update: One child dead, one missing in separate drowning incidents on east coast (6:54 p.m. Sunday)
In a second incident, a 25-year-old man and a female junior high school student, who had first met online, were swept out to sea by strong waves after they had been walking along the shore at Neipi Beach near Nanfang'ao in Yilan County.
After being swept away, the girl, surnamed Liu (柳), was seen bobbing in the water around 70 meters from the shore. The man, surnamed Chang (張), swam back to shore and called for help.
Several local media outlets reported that Liu was a 13-year-old first-year junior high school student.
The local fire bureau said it began searching for Liu using rescue rafts after receiving an emergency call at around 8:30 a.m., but later had to switch to using drones because of the choppy conditions at sea.
As of Sunday afternoon, the searches for both missing individuals remain active, and are being carried out by both Coast Guard vessels and National Airborne Service Corps helicopters.
Several areas along the east coast, including in both Yilan and Hualien counties, are under heavy swell advisories Sunday due to the approaching Typhoon Mawar, according to the Central Weather Bureau.
Related News
May 28: Temperatures top 39 degrees in Kaohsiung
May 28: Sunny, hot weather to dominate Taiwan as typhoon approaches
(Please visit the Central Weather Bureau's website for the latest advisories.)