CORONAVIRUS
/
Taiwan reports 17,318 new COVID-19 cases, 40 deaths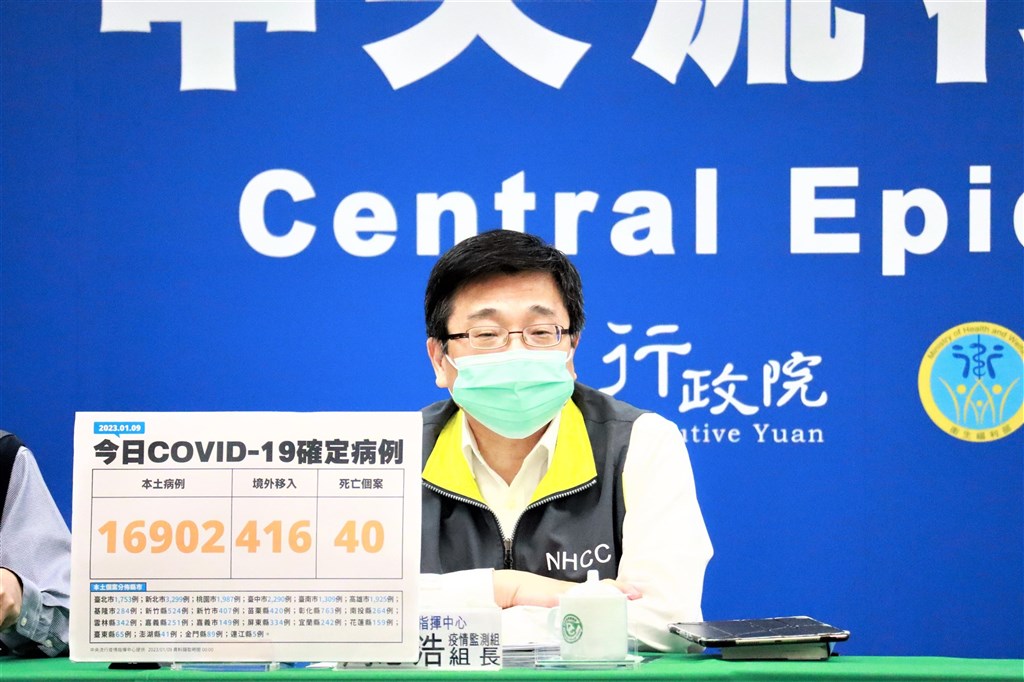 Taipei, Jan. 9 (CNA) Taiwan's Central Epidemic Command Center (CECC) reported 17,318 new COVID-19 infections Monday -- all but 416 domestic cases -- and 40 deaths from the disease.
The new cases represented a 2.3-percent increase from the same day a week earlier, Centers for Disease Control (CDC) Deputy Director-General Chou Jih-haw (周志浩) said.
He said the infection numbers were expected to continue climbing, but the increase had slowed down.
The deceased reported on Monday ranged in age from their 40s to their 90s. All but one had underlying health conditions, while 18 were unvaccinated against COVID-19, the CECC said in a press release that day.
Meanwhile, the CECC said 19 percent (or 1,571) of the 8,259 arrivals from China during Jan. 1-7 tested positive for the disease.
Moderate and severe cases
Also on Monday, the CECC reported 77 new cases classified as moderate and 37 as severe, including three young cases who were in the 12 and under age group.
Among these three young cases is a 4-year-old girl with no health conditions who was eventually discharged from hospital after proper treatment, the CECC said.
The other two cases, involving pneumonia and bronchitis, are an unvaccinated 7-month baby girl who has a history of pulmonary diseases and a 6-year-old boy who has a chronic neurological disorder and is also unvaccinated.
The CECC said the two were now in intensive care but in stable condition.
As of Monday, there have been 296 severe cases in the 12 or younger age group, with 33 of them involving pneumonia or bronchitis, according to the CECC data.
Regional breakdown
Regionally, New Taipei recorded the highest number of new cases with 3,299, followed by Taichung with 2,290 and Taoyuan with 1,987, according to the CECC.
Kaohsiung reported 1,925 new cases, Taipei 1,753, Tainan 1,309, Changhua 763, Hsinchu County 524, Miaoli 420, Hsinchu City 407 and Yunlin 342.
Pingtung had 334 new cases, Keelung 284, Nantou 264, Chiayi County 251, Yilan 242, Hualien 159, Chiayi City 149, Kinmen 89, Taitung 65, Penghu 41 and the Matsu Islands five, the CECC said.
To date, Taiwan has recorded 9,072,505 COVID-19 cases since the pandemic began in early 2020, including 43,032 classified as imported.
With the 40 deaths reported on Monday, the number of confirmed COVID-19 fatalities in the country rose to 15,582.
Related News
Jan. 7: Limited Chinese ferry service kicks off Saturday in Kinmen
Jan. 5: About 20 percent of arrivals from China test positive for COVID: CECC
Jan. 3: Transit passengers from China to undergo tighter COVID controls
Jan. 2: 28% of travelers from China COVID-positive on first day of border testing
Jan. 1: President Tsai offers to help China curb COVID surge in New Year address
Recent cases
Jan. 8: Taiwan reports 23,411 new COVID-19 cases, 36 deaths
Jan. 7: Taiwan reports 24,422 new COVID-19 cases, 61 deaths
Jan. 6: Taiwan's total COVID-19 cases top 9 million
Jan. 5: Taiwan reports 31,514 new COVID-19 cases, 45 deaths
Jan. 4: Taiwan reports 33,871 new COVID-19 cases, 17 deaths
Jan. 3: Taiwan reports 25,009 COVID-19 cases, 22 deaths
Jan. 2: Taiwan reports 16,602 new COVID-19 cases, 26 deaths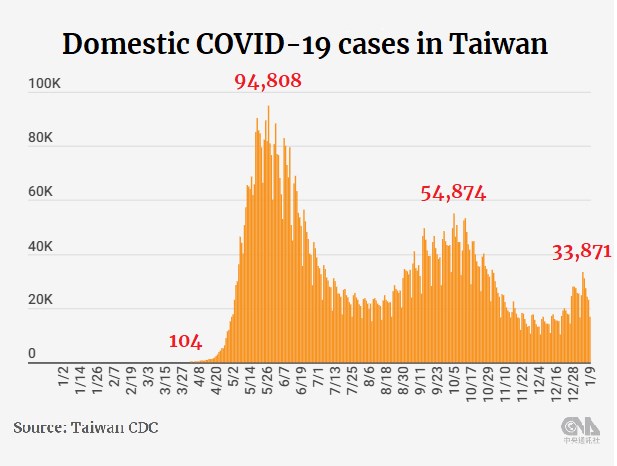 Latest COVID-19 rules
● Taiwan begins testing travelers from China for COVID-19
● Revised protocol for hospital visits from Dec. 10

● Taiwan to stop paying COVID medical fees for certain foreign nationals
● Taiwan to remove weekly arrival cap on Dec. 10
● Taiwan's eased mask mandate takes effect on Dec. 1
● Taiwan cuts COVID isolation to 5 days, lifts workplace vaccine mandates (Nov. 14)
● Taiwan to further ease border rules for China, Hong Kong, Macau residents
● Taiwan's new COVID-19 regulations taking effect Nov. 7
● Taiwan's updated COVID-19 protocols for arriving travelers from Oct. 13
View All