CORONAVIRUS
/
Parents urged to get kids updated COVID vaccine as new variant emerges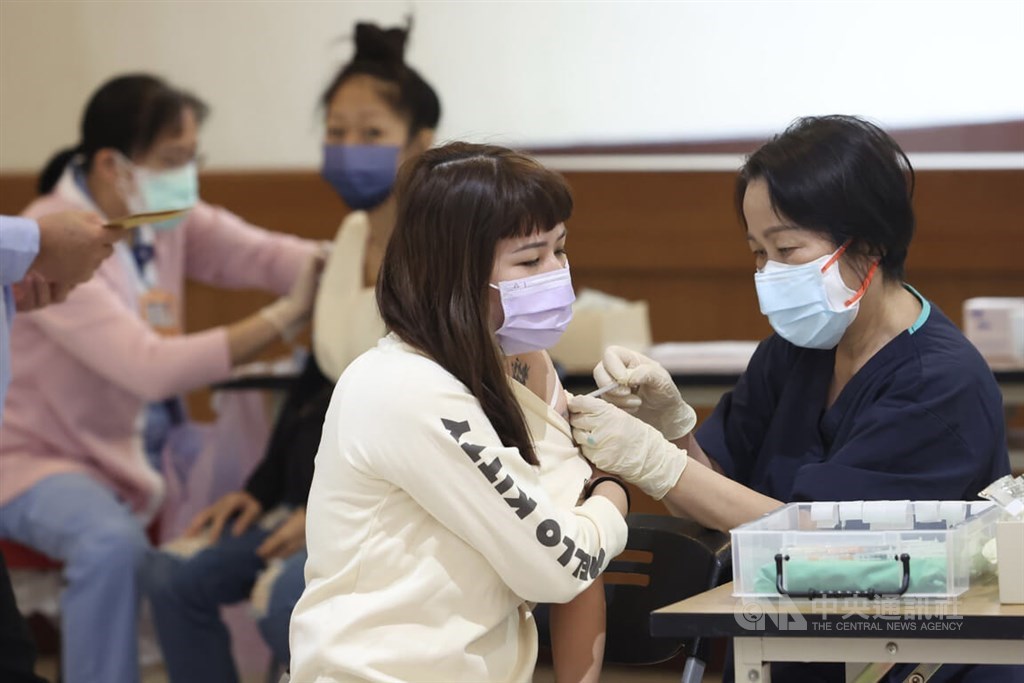 Taipei, Nov. 2 (CNA) While the new Omicron subvariant XXB is likely to have a limited impact on Taiwan, people under the age of 18 should nevertheless consider getting a new COVID-19 bivalent vaccine shot to reduce their risk of severe infection, a Taiwanese public health expert said Wednesday.
National Taiwan University College of Public Health professor Chen Hsiu-hsi (陳秀熙) made the recommendation as part of his weekly webcast analyzing the COVID-19 situation, which this week focused on children.
There are approximately 3.45 million people in Taiwan aged 0-17 and through Oct. 28, 1.45 million, or around 42 percent, have had a confirmed case of COVID-19, according to government figures.
Chen has estimated, however, that the actual number of infections among people aged 0-17 is around 2.4 million, or 70 percent of the age group.
Notably, if that same ratio held for all 7.66 million domestic COVID-19 cases recorded in Taiwan this year, the actual number of infections would be around 12.6 million, or 54.3 percent of Taiwan's population of 23.2 million.
While Taiwan has currently recorded only 163 cases of multisystem inflammatory syndrome in children (MIS-C), the real number, based on the estimate of 2.4 million pediatric infections, is likely around 253, according to Chen.
Based on that projection, Taiwan has probably had only 17 MIS-C cases among children who received at least two shots of a COVID-19 vaccine, compared to 236 cases among kids who received one shot or were unvaccinated, Chen said.
Broadly speaking, Chen said that the 70 percent of kids aged 0-17 who have had a prior COVID-19 infection, and especially those who had the BA.2 and BA.5 variants, should have "very significant" protection from new variants.
However, children in this age group who have not had COVID-19, or have not been vaccinated, are strongly urged to get a shot or booster of the new Moderna or BioNTech bivalent COVID-19 vaccines, in order to reduce their risk of developing MIS-C or other severe outcomes, he said.
In the coming months, Chen added, Taiwan will likely see around 26 new cases of MIS-C as XXB and other new variants become more prevalent.
Taiwan reported its first domestic case of the XXB variant, a combination of the Omicron BA.2.10.1 and BA.2.75 sublineages, on Monday. The new subvariant is currently driving modest spikes in infections in Singapore and Malaysia, though the number of severe cases has remained low.
To date, the World Health Organization has held off on designating XXB and another new subvariant, BQ.1, as variants of concern.
Latest COVID-19 rules
●COVID isolation to be cut to 5 days starting Nov. 14: CECC
● Taiwan's updated COVID-19 protocols for arriving travelers from Oct. 13
● Taiwan lifts ban on international cruises
● Taiwan to further ease COVID-19 regulations Nov. 7
Related News
Oct. 30: Domestic COVID cases dip to below 40,000 for 4th day in a row
Oct. 27: Restrictions on second COVID booster shot for 18-49 age group relaxed
Oct. 27: Taiwan shortens interval for children to get COVID boosters
Oct. 26: Taiwan grants EUA for updated Pfizer and Moderna COVID-19 vaccines
Oct. 26: New round of rapid test rationing to start Nov. 1
Oct. 19: 1 to 3 imported vaccine shots available for Medigen vaccine recipients
Recent cases
Nov. 2: Taiwan reports 33,184 new COVID-19 cases, 53 deaths
Nov. 1: Taiwan reports 34,274 new COVID-19 cases, 46 deaths
Oct. 31: Taiwan reports 22,634 new COVID-19 cases, 59 deaths
Oct. 30: Taiwan reports 31,547 new COVID-19 cases, 76 deaths
Oct. 29: Taiwan reports 32,520 new COVID-19 cases, 76 deaths
Oct. 28: Taiwan reports 34,602 new COVID-19 cases, 57 deaths
Oct. 27: Taiwan reports 35,702 new COVID-19 cases, 84 deaths
View All