CORONAVIRUS
/
Taiwan reports 47,051 new COVID-19 cases, 17 deaths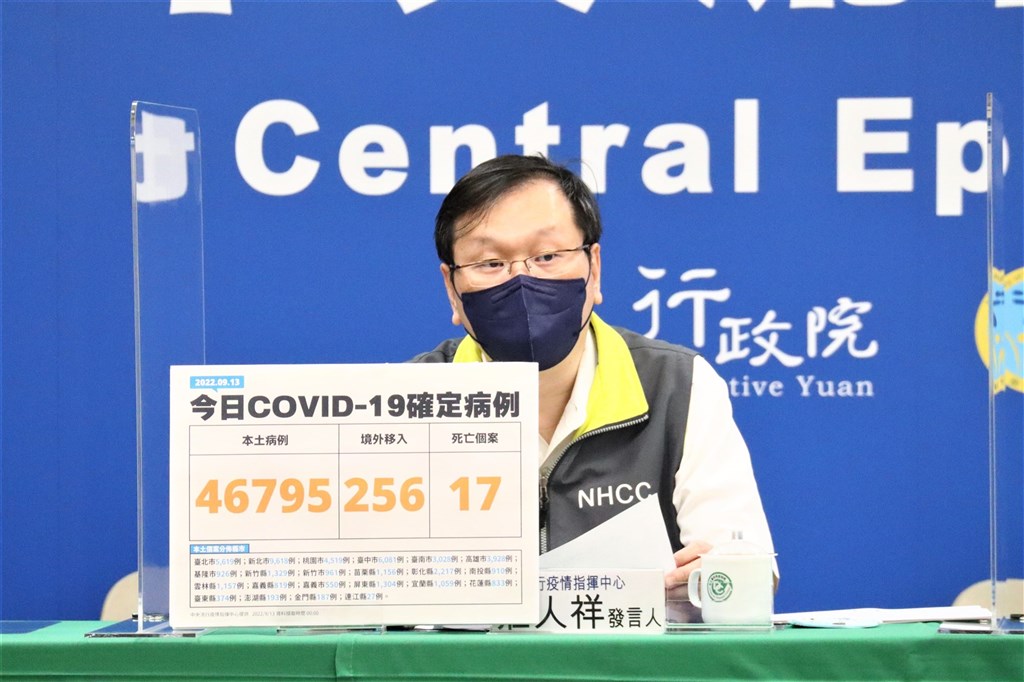 Taipei, Sept. 13 (CNA) Taiwan reported 47,051 new cases of COVID-19 and 17 deaths from the disease on Tuesday, according to the Central Epidemic Command Center (CECC).
The deceased ranged in age from their 50s to their 90s. All suffered from chronic illnesses or other severe diseases, and six had not received any doses of a COVID-19 vaccine, the CECC said.
Also on Tuesday, the CECC reported 17 COVID-19 cases newly classified as severe and 39 as moderate.
Of the 5,662,132 domestically transmitted cases recorded in Taiwan this year, 11,029 have been classified as severe infections, and 14,181 as moderate, accounting for 0.20 percent and 0.25 percent of the total, respectively, according to CECC data as of Sept. 12.
Regional breakdown
Regionally, New Taipei reported the highest number of new cases on Tuesday, with 9,618, followed by Taichung with 6,081 and Taipei with 5,619.
Taoyuan had 4,519 new cases, Kaohsiung 3,928, Tainan 3,028, Changhua County 2,217, Hsinchu County 1,329, Pingtung County 1,304, Yunlin County 1,157, Miaoli County 1,156, Yilan County 1,059, Hsinchu City 961, Keelung 926, Nantou County 910 and Hualien County 833.
Chiayi County had 819 cases, Chiayi City 550, Taitung County 374, Penghu 193, Kinmen 187 and the Matsu Islands 27, the CECC said.
To date, Taiwan has recorded 5,754,683 COVID-19 cases since the pandemic began in early 2020, including 31,144 that have been classified as imported because they originated overseas.
With the 17 deaths reported Monday, the number of COVID-19 fatalities in the country rose to 10,329.
Related News
Sept. 9: Health Ministry expands eligibility for Chinese herbal COVID-19 drug
Sept. 8: Girl to receive NT$3 million payout for adverse COVID vaccine reaction
Sept. 8: Taiwan receives 1,728 Evusheld doses for immunocompromised people
Sept. 8: Taiwan's ACIP head thinks it's time to end quarantine for arriving travelers
Sept. 7: Taiwan eyeing late September for rollout of updated COVID vaccines
Sept. 2: Taiwan grants EUA for 2nd-generation Moderna COVID-19 vaccine
Aug. 28: Taiwan begins rollout of Pfizer-BNT vaccines for young children
Aug. 24: Omicron subvariant-induced outbreak forecast to peak earlier: CECC
New COVID-19 rules
Sept. 8: Taiwan to ease COVID-19 in-person class suspension rules
Sept. 5: Taiwan to resume visa-free entry for multiple countries from Sept. 12
Sept. 1: Taiwan's new COVID-19 policies taking effect Sept. 1
Sept. 1: Taiwan's new COVID-19 screening rules for hospital admission
Recent cases
Sept. 12: Taiwan reports 25,583 new COVID-19 cases, 28 deaths
Sept. 11: Taiwan reports 32,128 new COVID-19 cases, 29 deaths
Sept. 10: Taiwan reports 32,128 new COVID-19 cases, 29 deaths
Setp. 9: Taiwan reports 34,260 new COVID-19 cases, 55 deaths
Sept. 8: Taiwan reports 35,124 new COVID-19 cases, 29 deaths
View All