CORONAVIRUS
/
Taiwan reports 35,124 new COVID-19 cases, 29 deaths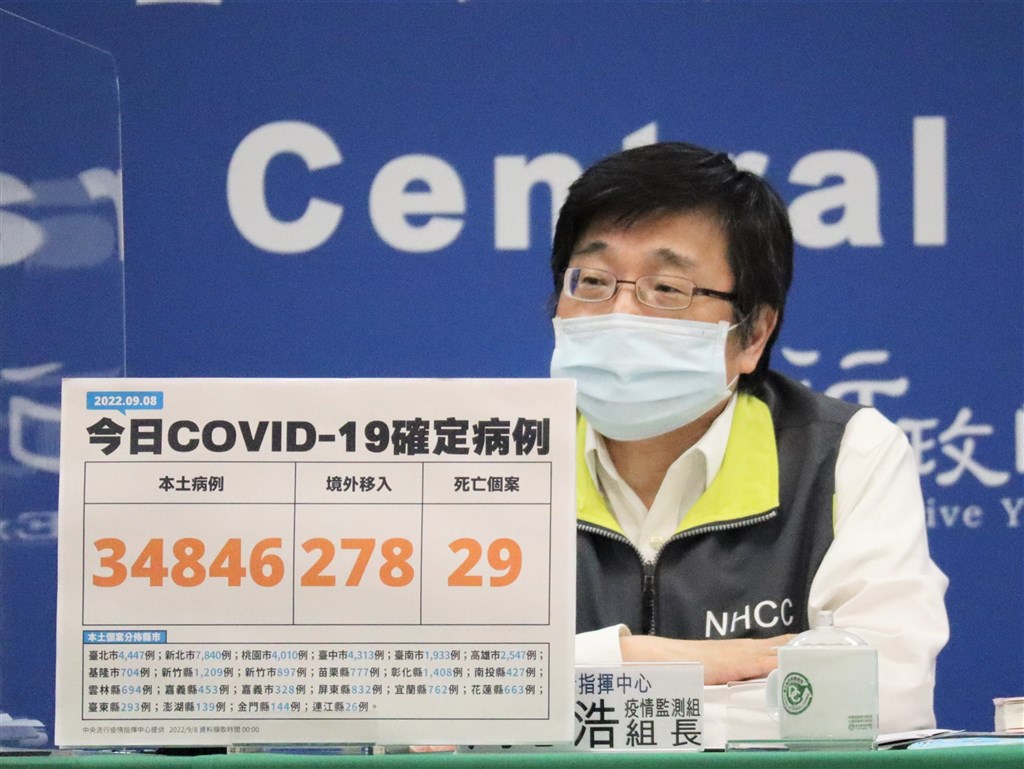 Taipei, Sept. 8 (CNA) Taiwan on Thursday reported 35,124 new cases of COVID-19 and 29 deaths from the disease, according to the Central Epidemic Command Center (CECC).
The deceased reported Thursday ranged in age from 2 to their 90s. All but three suffered from chronic illnesses, 15 of whom had not received any doses of a COVID-19 vaccine.
30th case of COVID-related encephalitis in children
Lo Yi-chun (羅一鈞), deputy head of the CECC's medical response division, said at a press briefing that the 2-year-old girl who died of encephalitis did not have any previous underlying medical conditions and was not fully vaccinated against COVID-19.
While undergoing treatment in hospital for COVID-19, the girl's condition deteriorated on Sept. 1 after she developed a racing heart rate and a fever of up to 39.8 degrees Celsius, Lo said.
The girl was transferred to an intensive care unit but passed away on Sept. 3 due to COVID-19 combined with acute encephalitis and multiple organ failure, Lo said.
It was the 30th case of encephalitis in children related to severe COVID-19 this year, Lo said, adding that 11 of those cases had subsequently died.
Also on Thursday, the CECC reported 26 cases newly classified as severe and 156 as moderate.
Among the severe cases was a 2-year-old girl who was diagnosed with multisystem inflammatory syndrome in children (MIS-C), Lo said.
Of the 5,500,663 domestically transmitted cases recorded in Taiwan this year, 10,848 have been classified as severe infections and 13,975 as moderate, accounting for 0.20 percent and 0.25 percent of the total, respectively, according to CECC data as of Sept. 7.
Regional breakdown
Of those domestic cases reported Wednesday, 7,840 were reported in New Taipei, 4,447 in Taipei, 4,313 in Taichung, 4,010 in Taoyuan, 2,547 in Kaohsiung, and 1,933 in Tainan.
Changhua County reported 1,408, Hsinchu County 1,209, while 897 were recorded in Hsinchu City, 832 in Pingtung, 777 in Miaoli, 762 in Yilan County, 704 in Keelung, 694 in Yunlin, 663 in Hualien, 453 in Chiayi County, 427 in Nantou, 328 in Chiayi City, and 293 in Taitung.
Kinmen reported 144, Penghu 139, and the Matsu Islands 26, the CECC said.
To date, Taiwan has recorded 5,580,027 COVID-19 cases since the pandemic began in early 2020, including 29,922 that were contracted abroad.
With the 29 deaths reported Thursday, the number of COVID-19 fatalities in the country rose to 10,170 since the beginning of the pandemic.
Latest COVID-19 rules
Sept. 29: Taiwan's new COVID-19 protocols for arriving passengers
Sept. 8: Taiwan to ease COVID-19 in-person class suspension rules
Sept. 5: Taiwan to resume visa-free entry for multiple countries from Sept. 12
Sept. 1: Taiwan's new COVID-19 policies taking effect Sept. 1
Sept. 1: Taiwan's new COVID-19 screening rules for hospital admission
Related News
Sept. 8: Girl to receive NT$3 million payout for adverse COVID vaccine reaction
Sept. 8: Taiwan receives 1,728 Evusheld doses for immunocompromised people
Sept. 8: Taiwan's ACIP head thinks it's time to end quarantine for arriving travelers
Sept. 7: Taiwan eyeing late September for rollout of updated COVID vaccines
Sept. 2: Taiwan grants EUA for 2nd-generation Moderna COVID-19 vaccine
Aug. 28: Taiwan begins rollout of Pfizer-BNT vaccines for young children
Aug. 24: Omicron subvariant-induced outbreak forecast to peak earlier: CECC
Aug. 21: Taiwan rolls out Moderna second shots for young children
Recent cases
Sept. 7: Taiwan reports 41,296 new COVID-19 cases, 26 deaths
Sept. 6: Taiwan reports 36,707 new COVID-19 cases, 21 deaths
Sept. 5: Taiwan reports 24,103 new COVID-19 cases, 31 deaths
Sept. 4: Taiwan reports 34,358 new COVID-19 cases, 35 deaths
View All