CORONAVIRUS
/
Taiwan sees first local BA.4 COVID case; BA.5 cases expected to rise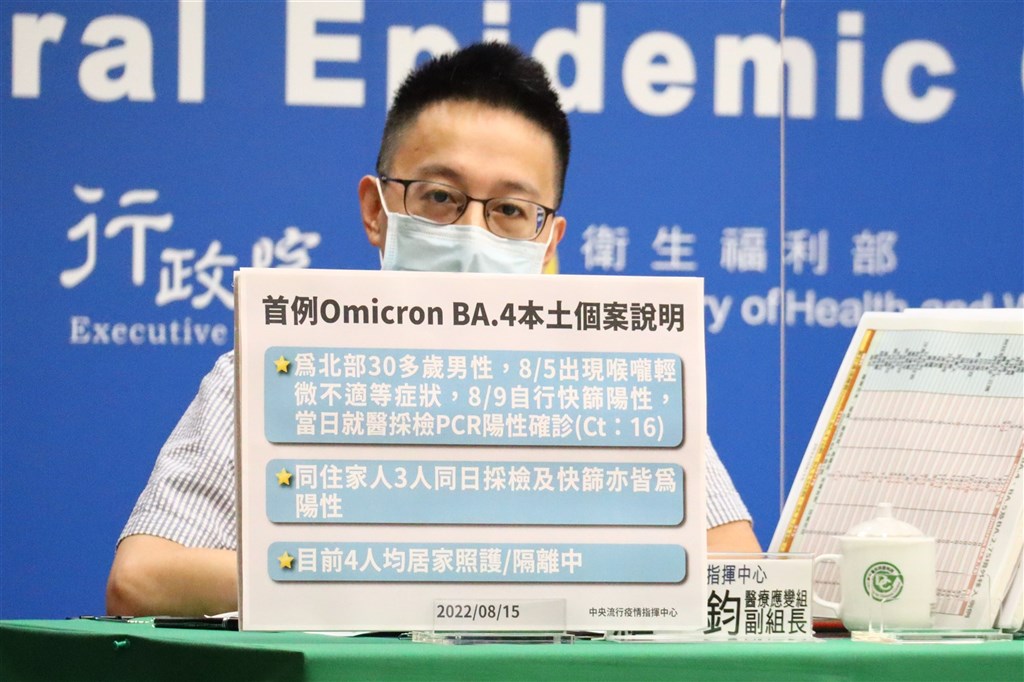 Taipei, Aug. 15 (CNA) Taiwan has reported its first locally transmitted case of the Omicron BA.4 subvariant of COVID-19, but it expects the BA.5 subvariant to drive a new wave of cases in the coming weeks, according to the Central Epidemic Command Center (CECC).
A man in his 30s confirmed as the first BA.4 case first experienced symptoms, including mild discomfort in his throat, on Aug. 5 before he went to a hospital for a PCR (polymerase chain reaction) test on Aug. 9, the CECC said in a statement Monday.
He and three members of his family who also took a test were confirmed to have COVID-19 and have been isolated at home for a seven-day period as mandated for patients with mild symptoms, the CECC said.
The CECC is still waiting for the results of genome sequencing of samples taken from the man's three family members, but it appears the infections are limited to within the family, Centers for Disease Control Deputy Director-General Lo Yi-chun (羅一鈞) said at a CECC press briefing Monday.
The BA.4 and BA.5 Omicron subvariants of SARS-CoV-2, first identified in South Africa in January and February, respectively, have been found to evade immunity from prior infections and seem to be more transmissible than the original Omicron variant, the CECC said.
CECC chief Victor Wang (王必勝) said at the press briefing that current models show a possible rise of daily new cases due to the spread of BA.5 in as soon as two weeks.
The number of daily new cases is forecast to increase to 30,000-60,000 per day in the week after next, Wang said.
Taiwan reported 15,792 new COVID-19 cases on Monday, while the high number over the past seven days was 23,808 reported on Aug. 10, according to CECC data.
● Taiwan reports 15,792 new COVID-19 cases, 22 deaths
The number of BA.5 cases is rising in the local community, Wang said, and 33 of the 234 domestic cases sent for genome sequencing last week were BA.5, while one of these cases involved BA.4 -- the case confirmed on Monday, the CECC said.
Patients in these latest BA.4 and BA.5 cases, confirmed between July 5 and Aug. 8, were either asymptomatic or developed only mild symptoms.
The CECC also reported five BA.4, 79 BA.5 and three BA.2.75 cases among people arriving in Taiwan between July 20 and Aug. 11.
The World Health Organization's weekly report published on Aug. 10 said BA.5 accounted for nearly 70 percent of the global cases in late July, while around 9 percent were BA.4, according to the CECC statement.
The BA.4 and BA.5 subvariants have not led to a higher percentage of patients requiring hospitalization or developing severe infections, the CECC said, citing recent studies.
● Omicron subvariants BA.4, BA.5 detected in Taiwan for first time (June 13)
But it said having a booster dose of the COVID-19 vaccine can still provide protection against BA.5, and it urged people eligible for the shot to take it.
People aged 50 and above, as well as certain immunocompromised individuals aged 18 and above have been eligible for a second booster shot since it was announced on June 27.
To date, 92.2 percent of Taiwan's population has received at least one dose of a COVID-19 vaccine, 86.2 percent has gotten at least two doses, 71.7 percent has received a booster shot, and 8.2 percent has received a second booster, CECC data shows.
Update
Sept. 29: Taiwan's new COVID-19 protocols for arriving passengers taking effect Sept. 29
Sept. 1: Taiwan's new COVID-19 policies taking effect Sept. 1
Aug. 18: Taiwan confirms first domestic cluster of COVID-19 BA.4 subvariant
Aug. 17: BA. 5 COVID subvariant outbreaks expected to increase: CECC
Related News
Aug. 15: Taiwan to ease rules for last four days of arrival COVID-19 protocol
Aug. 10: Taiwan to lift pre-flight PCR test requirement for all arriving travelers
Aug. 8: Taiwan eases COVID-19 rules for transit passengers at Taoyuan airport
Aug. 4: CECC to ease two policies before lifting quarantine for arrivals
July 26: Revision of border rules depends on vaccination rate among kids: CECC
July 12: Taipei opens online bookings for Moderna for children under 6 years
View All