CORONAVIRUS
/
Taiwan reports 19,965 new COVID-19 cases, 51 deaths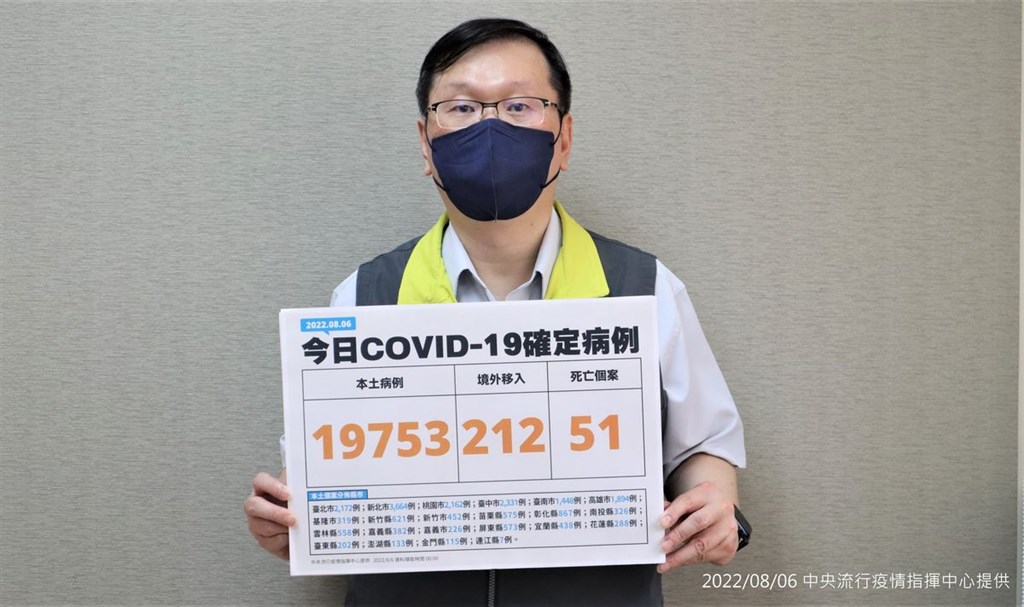 Taipei, Aug. 6 (CNA) Taiwan on Saturday reported 19,965 new cases of COVID-19, all but 212 of which were domestic infections, and 51 deaths from the disease, according to the Central Epidemic Command Center (CECC).
The deceased ranged in age from their 40s to their 90s. All but one suffered from chronic illnesses or other severe diseases, and 18 were unvaccinated against COVID-19, the CECC said.
Two of the newly reported deaths were people in their 40s, one of whom suffered from mental illness while the other had cancer, the CECC said.
Severe cases involving children
Also on Saturday, the CECC reported 46 new severe COVID-19 cases and 99 moderate infections.
Among the severe cases were two children aged under 5 years old who have been diagnosed with multisystem inflammatory syndrome in children (MIS-C), the CECC said, noting that both of them have already been discharged from hospital.
Another severe case is an 11-year-old boy, who suffers from heart valve disease and is still undergoing treatment in hospital, the CECC said.
To date, a total of 154 severe cases have involved children; 87 of which were classified as MIS-C, the CECC said.
Of the 4,639,370 domestic cases reported in Taiwan this year, 9,675 have been classified as severe infections and 11,993 as moderate, accounting for 0.21 percent and 0.26 percent of the total, respectively, according to CECC data as of Aug. 5.
In all other cases, the infected persons were either asymptomatic or had mild symptoms, the CECC said.
Regional breakdown
Regionally, New Taipei recorded the highest number of new domestic cases on Friday, with 3,664, followed by Taichung with 2,331, and Taipei with 2,172.
Taoyuan reported 2,162 cases, Kaohsiung 1,894, Tainan 1,448, Changhua County 867, Hsinchu County 621, Miaoli 575, Pingtung 573, Yunlin 558, Hsinchu City 452, Yilan County 438, and Chiayi County 382.
Nantou County recorded 326 new cases, Keelung 319, Hualien County 288, Chiayi City 226, Taitung 202, Penghu 133, Kinmen 115, and the Matsu Islands seven, the CECC said.
To date, Taiwan has recorded 4,716,819 COVID-19 cases since the pandemic began in early 2020, including 4,695,284 domestic infections.
With the 51 deaths reported Saturday, the number of confirmed COVID-19 fatalities in the country rose to 9,187.
(By William Yen)
Enditem/cs
Recent cases
Aug 5: Taiwan reports 21,869 new COVID-19 cases, 54 deaths
Aug. 4: Taiwan reports 22,959 new COVID-19 cases, 56 deaths
Aug. 3: Taiwan reports 23,919 new COVID-19 cases, 32 deaths
Aug. 2: Taiwan reports 23,556 new COVID-19 cases, 31 deaths
View All