New Taipei mayor vows to take full responsibility for mistakes in toddler death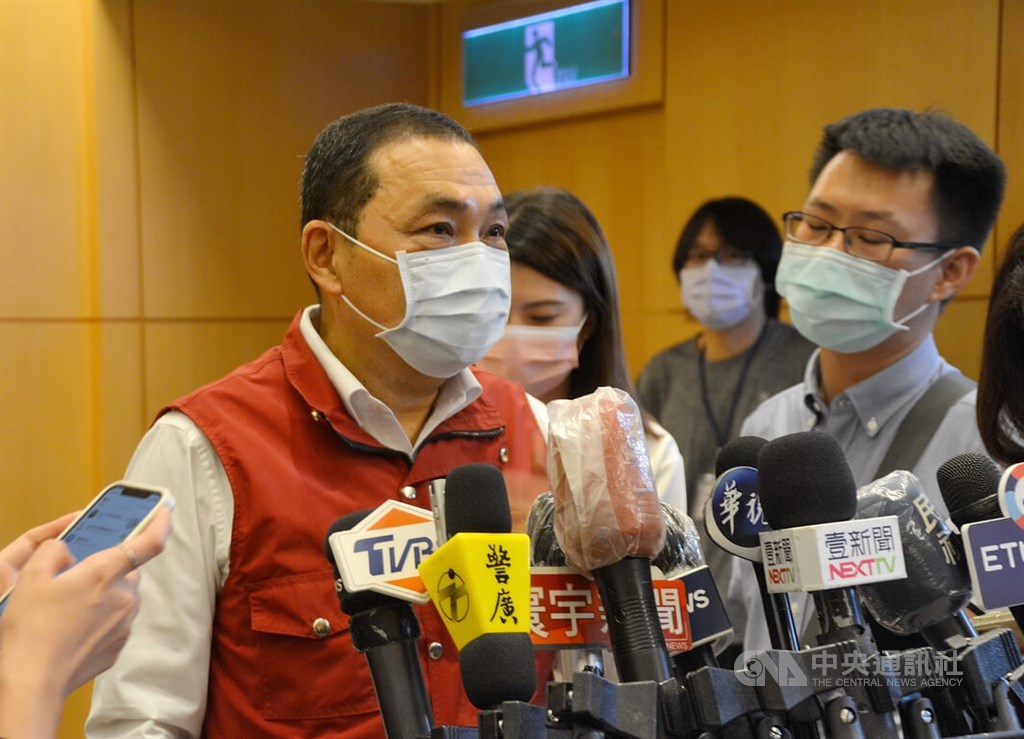 Taipei, June 22 (CNA) New Taipei Mayor Hou Yu-ih (侯友宜) said on Wednesday he takes full responsibility for mistakes made in the death of a 2-year-old toddler from COVID-19 on April 19, allegedly linked to slow ambulance response time.
Hou said he will conduct a thorough self-examination, look into what could have been done differently and take responsibility for any failings in the way the case was handled.
The mayor's comments came after local media recently made public phone calls between the city's Fire Department and the Department of Health in response to calls on April 14 by the mother of the boy, nicknamed En En (恩恩), for an ambulance to take the toddler from his home to hospital.
The leaks showed the Department of Health, which was serving as the ambulance dispatch center at that time, did not pick up a call from the Fire Department for 52 minutes, from 17:33 p.m. to 18:25 p.m., as it tried to arrange an ambulance, according to Mr.Lin (林), father of En En.
Since May 27, Lin has tried to gather all available information on the case to find out why there was a delay in an ambulance being dispatched when his wife had already told the 119 ambulance hotline, handled by the Fire Department, that their son had developed severe symptoms. However, he was denied access to the phone records which were later leaked to the media.
At the daily COVID-19 update meeting on Wednesday, Hou said he could understand how badly Lin wanted to find out the truth because he has experienced the same pain, referring to his son who died in a kindergarten school bus fire in 1992.
Hou said as mayor it is his duty to keep every citizen safe, adding that everything possible had been done to save En En's life, but the outcome had been tragic.
Hou said the city government, which has allowed Lin to listen to recordings of the calls between his wife and the Fire Department, has "done its best" to help Lin uncover the truth but was "bound by laws" and unable to provide him with all the phone records he requested.
Another reason the city government did not grant Lin access to the leaked records was to protect the frontline staff who handled the calls because they could be inundated with unwanted calls and harassed by netizens if the records were made public, Hou said.
Hou said he felt "regret"and "guilt" that the leaked calls have caused city government staff involved in processing such calls and their families trouble.
In the face of growing criticism over the way the city government has handled the case, Hou said that both he and government staff will cooperate fully with any investigation and promised to accept responsibility, whether political or legal.
Asked to comment on the mayor's statement by reporters, Lin urged Hou to launch an internal investigation to determine what went wrong in the handling of ambulance request, to ensure it does not happen again.
"This is not just for En En, but to prevent similar incidents in the future," Lin said.
Lin called on Fire Department Director Huang Te-ching (黃德清) and Department of Health Director Chen Ran-chou (陳潤秋) to step down for dereliction of duty.
The leak showed that the Department of Health, mandated by the city government to dispatch ambulances, failed to respond to an urgent case, Lin said.
Huang could have proved that the Fire Department's staff were actively attending to En En's case by allowing him to listen to the phone records, later leaked to the media, but instead tried every means at his disposal to deny the request, Lin said.
According to the leak, when 119 call handlers could not reach the Department of Health by phone, they called Shuangho Hospital to ask the hospital if En En could be admitted without being referred by the Department of Health.
Approached by reporters at the city council late Wednesday for a comment on Lin's statement, Chen and Huang declined to answer directly.
"Thank you for asking. We will work hard and perform our duties to the best of our ability," they said.
Related News
June 16: Three New Taipei officials reported over toddler's death from COVID
June 2: Father of COVID-19 child victim frustrated at not receiving audio recording
June 1: Meeting between father of toddler COVID victim, officials aborted
May 30: Father of 2-year-old who died of COVID appeals for truth
April 21: CECC details COVID-19 warning signs in children, adjusts hospital policy
April 19: Taiwan sees first death of young child due to COVID-19