CORONAVIRUS
/
New round of COVID-19 rapid test rationing program to start June 6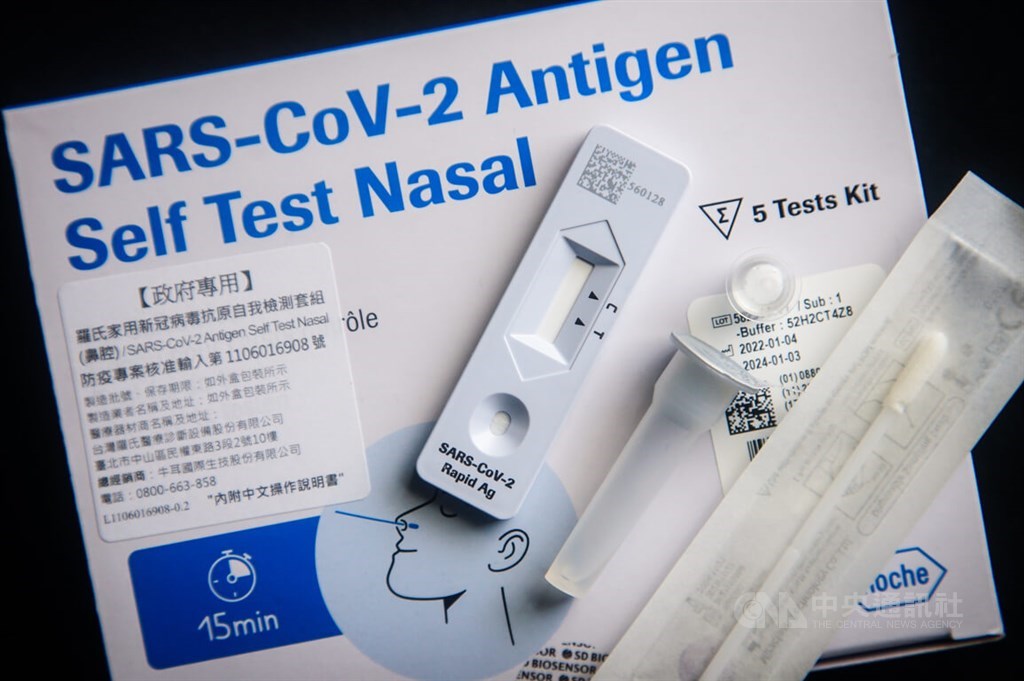 Taipei, June 2 (CNA) Taiwan will launch a new round of its COVID-19 rapid antigen test rationing scheme on June 6, the Central Epidemic Command Center (CECC) announced Thursday.
During this new round, the tests will continue to be sold in packs of five at a total cost of NT$500 (US$17.04), and will be available at 4,826 pharmacies and 79 district health centers across the country, the CECC said.
Each place will be allocated 117 packs to sell per day, up from 78 packs allocated daily in the first round, which began on April 28.
Anyone with a National Health Insurance (NHI) card or Alien Resident Certificate (ARC) can buy these test kits regardless of age, but they can only buy one pack per round. How long each round lasts is not announced beforehand.
The CECC has adopted a staggered system for the sale of test kits, with the last digit of an individual's ID number determining when they can make a purchase.
Individuals whose ID number or ARC ends with an odd number can buy tests on Mondays, Wednesdays, and Fridays, while those whose ID number or ARC ends with an even number can buy tests on Tuesdays, Thursdays, and Saturdays.
Both groups can buy the tests on Sundays, the CECC said.
More information on where the tests will be sold is available on the websites of the National Health Insurance Administration, the Food and Drug Administration, and the Federation of Taiwan Pharmacist Association.
The rationing program does not cancel out the allowance of five free tests for families with children aged 6 and younger, who can still claim the free tests even if they purchase tests using their child's NHI card in the first round and second round.
As of noon Thursday, 9,868,893 packs of test kits have been sold under the rationing program, which was launched by the government on April 28 due to strong demand and shortages after Taiwan began seeing a rise in domestic COVID-19 cases.
Update
Sept. 1: Taiwan's new COVID-19 policies taking effect Sept. 1
Aug. 25: Taiwan to distribute free rapid test kits to seniors in September
Aug. 17: BA. 5 COVID subvariant outbreaks expected to increase: CECC
Aug. 12: Fourth round of rapid test rationing plan to start Aug. 15
View All