CORONAVIRUS
/
COVID-19 death rate exceeding 0.1% a warning: health minister
Taipei, May 26 (CNA) Health Minister Chen Shih-chung (陳時中) said Thursday that the COVID-19 death rate in Taiwan exceed 0.1 percent over the past two days, a figure he characterized as a warning.
After Taiwan reported consecutive single-day highs of 76 and 104 deaths on Wednesday and Thursday, its case fatality rate since the pandemic began rose to 0.10108 percent, an increase from around 0.06 percent on Tuesday.
Chen attributed the increase to Taiwan recording more than 80,000 cases every day but one since May 18.
Even though the case fatality rate for this year alone is still lower, at 0.05 percent, the climbing fatality rate is a warning sign and will be closely monitored, Chen said at a daily COVID-19 press briefing in Taipei Thursday.
Based on observations of neighboring countries in the Asia-Pacific region, most have experienced a peak period of one to two months before the COVID-19 situation showed signs of improvement, Chen said.
However, Taiwan's current wave is expected to be less severe than comparable waves in Hong Kong, South Korea, and New Zealand, Chen said.
"Taiwan's [current wave] may last a little longer, and the plateau period will be about a month," Chen predicted.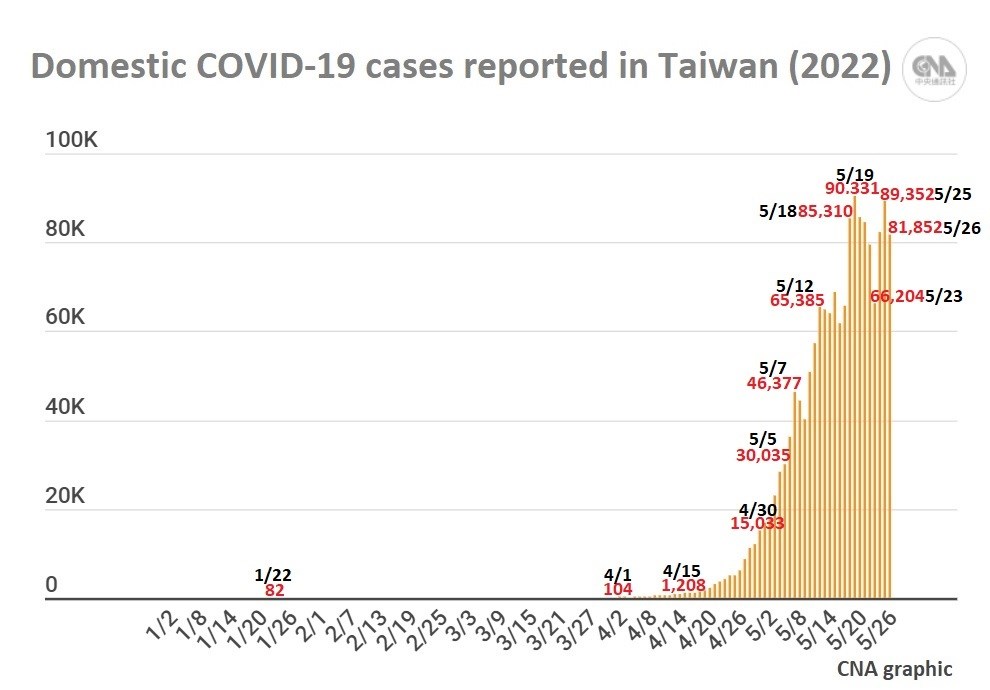 The current wave of domestic infections has already been about 50 days in duration and daily cases have so far peaked at around 80,000 to 90,000, hence it is estimated that a maximum of 15 to 20 percent of Taiwan's population will be infected, Chen said.
Taiwan first saw a record 85,356 daily cases on May 18, rising to 90,378 on May 19, before dropping to 85,761 on May 20.
Daily cases remained around 80,000 on May 21 and May 22, before dropping to 66,283 on May 23. However, cases jumped back over 80,000 from May 24-26.
With the large number of daily cases, concerns have also been raised about the disease's impact on children.
To date, 16 children under the age of 10 have developed severe symptoms after contracting COVID-19, according to the Central Epidemic Command Center (CECC).
Seven of those children died, including five who developed encephalitis, one who died of septic shock, and a boy whose death was ruled as caused by COVID-19 even though doctors were unable to determine how the disease progressed in his case.
Lee Ping-ing (李秉穎), a National Taiwan University Hospital infectious diseases specialist and convener of Taiwan's Advisory Committee on Immunization Practices, said in a radio interview that the cases of encephalitis in children due to COVID-19 are similar to that of a large enterovirus outbreak in Taiwan in 1998, when children died in just one to two days if the virus reached the brain stem.
In 1998, around 120,000 children were infected with the enterovirus, of which 405 developed severe cases and 78 died, a fatality rate of around 0.06 percent, according to Chuang Jen-hsiang (莊人祥), deputy head of Taiwan's Centers for Disease Control.
According to current observations, by the time infected children show severe symptoms or signs, it could already be too late, Chen said.
Hence, parents are reminded that if there are early symptoms such as convulsions, medical attention must be sought immediately, Chen said.
On Wednesday, Taiwan started offering the Pfizer-BNT vaccine to children aged 5-11 as their first shot and for adolescents aged 12-17 as a booster shot.
About 24,000 children's Pfizer-BNT vaccine shots were administered that day, adding to the total daily tally of 87,000 COVID-19 shots and a combined total of 54.39 million doses in the country to date.
Currently, 87.19 percent of Taiwan's population has received at least one dose of a COVID-19 vaccine, while 81.53 percent have gotten at least two doses, and 64.7 percent have received a booster shot, according to CECC data.
View All