CORONAVIRUS
/
COVID vaccine rollout for 6-11-year-olds to start May 2: MOE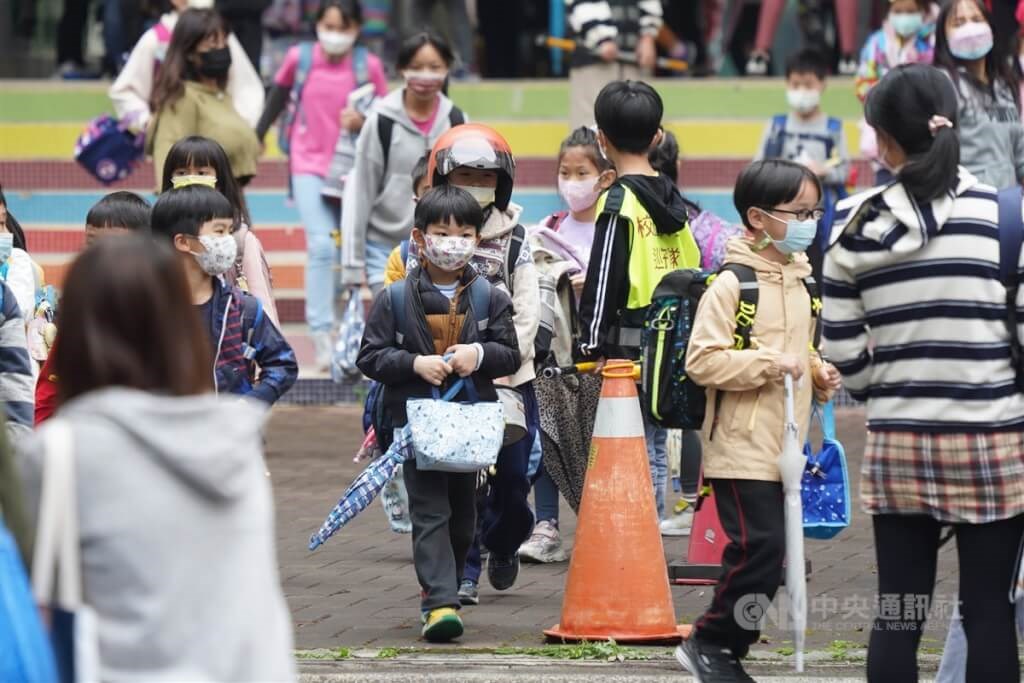 Taipei, April 26 (CNA) Taiwan's Ministry of Education (MOE) is preparing to begin offering COVID-19 vaccinations to students aged 6-11 on school campuses as early as May 2, it confirmed to CNA Tuesday.
The ministry's statement comes just days after the government's Advisory Committee on Immunization Practices (ACIP) approved the use of the Moderna COVID-19 vaccine for children aged 6-11, the first vaccine approved for use on under 12s.
In a letter sent to city and county departments of education on Monday, the ministry asked schools to work with local health authorities to begin offering the shots on May 2, either on campus or at designated health facilities.
In addition to distributing vaccine information sheets and parental consent forms, schools should also seek feedback on parents' willingness to have their kids vaccinated at school, the letter advised.
The ministry said it wanted parents to have the documents seven days before the planned rollout date so that they could study the benefits and risks of the vaccine and decide whether it was right for their child.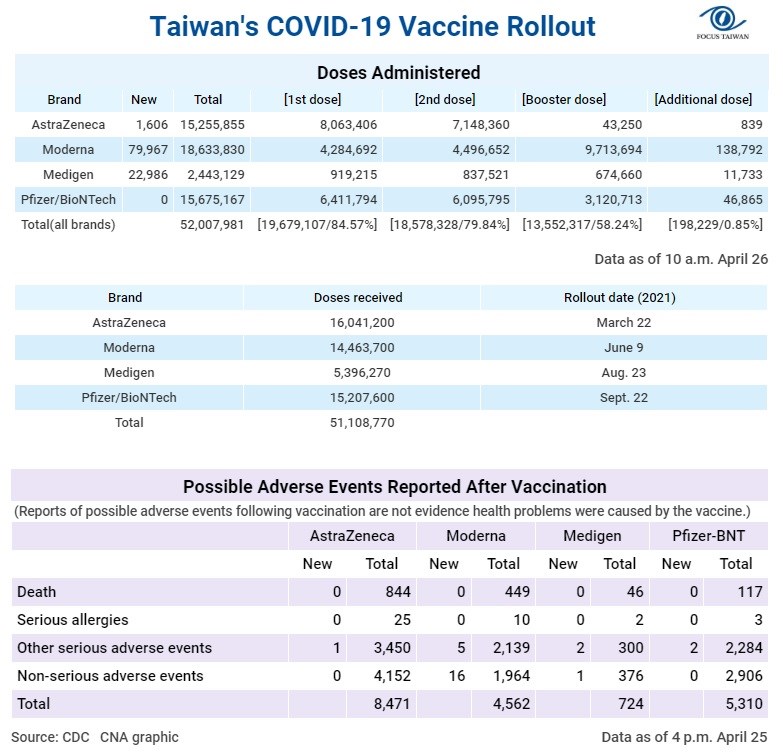 In the letter, the MOE asked schools to monitor students closely on the day they receive the vaccine and to avoid scheduling strenuous physical activities in the two weeks after.
Students who experience side effects after vaccination should be allowed to take up to three days off without it being counted as an unexcused absence, the ministry said.
While the vaccination rate among 12-17-year-olds has been high in Taiwan -- with 88.9 percent having received a first shot and 80.9 percent having received two -- uptake is expected to be considerably lower in the 6-11 age group.
Schools and the 3+4 quarantine plan
Meanwhile, Education Minister Pan Wen-chung (潘文忠) on Tuesday clarified how the government's new "3+4" home isolation policy will be applied at schools and universities.
The policy, which was announced on Monday, allows the contacts of people confirmed to have COVID-19 to leave isolation after three days, and then closely monitor their health for the next four.
At the time, however, the Central Epidemic Command Center (CECC) only said that as a precaution, "attending classes at school" would not be allowed during the four-day monitoring period.
On Tuesday, Pan explained that teachers, school staff, and students exposed to COVID-19 could only return to school on the eighth day after their exposure, after completing the entire 3+4 protocol.
University students, meanwhile, will be asked to return to their homes to isolate, while those who are unable to do so will be accommodated in special "quarantine dorms" on campus, Pan said.
Update
May 7: Quarantine cut to 7 days for mild, asymptomatic COVID-19 cases: CECC
May 7: Taiwan rolls back quarantine rules for contacts of COVID-19 patients
May 5: Rapid test positives to be counted as confirmed COVID cases from May 12
May 3: Taiwan to shorten quarantine for arriving travelers from 10 to 7 days
April 28: Taiwan inks new Pfizer-BioNTech vaccine deal, approves use for children 
April 27: Taiwan to start rationing sale of COVID-19 rapid test kits 
View All