CORONAVIRUS
/
Taiwan reports 551 new domestic COVID-19 cases, highest this year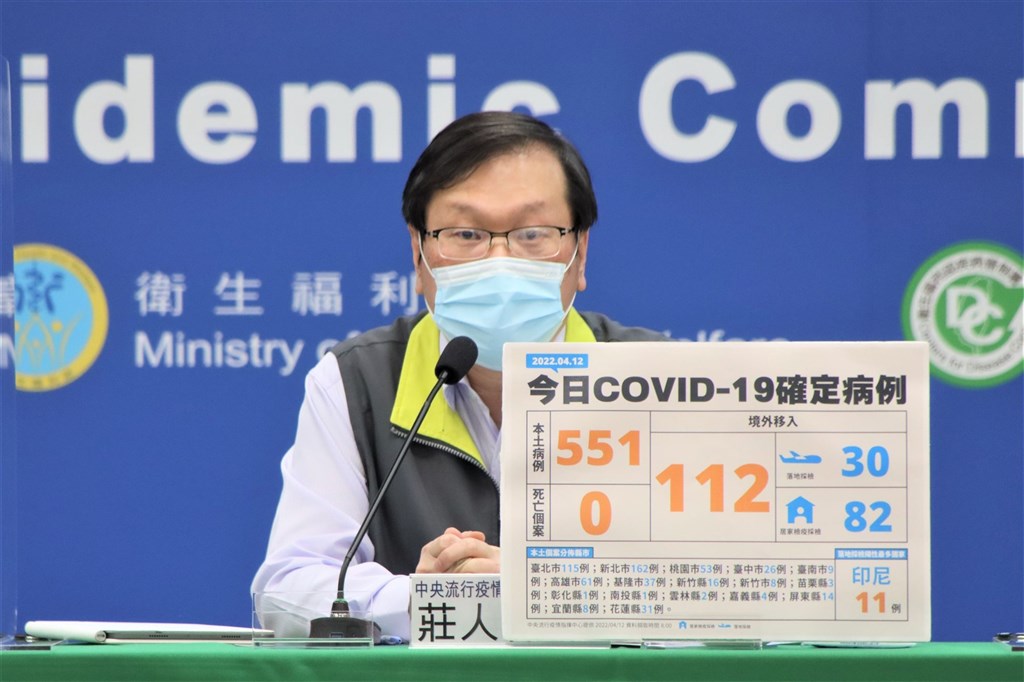 Taipei, April 12 (CNA) Taiwan on Tuesday reported 551 new domestically transmitted COVID-19 cases, the highest single-day tally this year, as well as 112 cases that originated abroad, according to the Central Epidemic Command Center (CECC).
It marked the first time this year that the daily number of domestic infections exceeded 500, and the 12th consecutive day they went past 100.
New Taipei reported the highest number of new domestic cases, with 162, followed by Taipei with 115, and Kaohsiung with 61.
Update: Taiwan COVID-19 cases could soon hit 1,000 a day after reaching 551 Tuesday
Of the 112 new imported cases recorded Tuesday, 30 were travelers who tested positive on arrival in Taiwan, the CECC said.
To date, Taiwan has confirmed 28,666 COVID-19 cases since the pandemic began in early 2020, including 19,535 domestically transmitted infections, according to CECC data.
With no deaths reported Tuesday, the number of confirmed COVID-19 fatalities in the country remained at 854, the data showed.
Update
April 13: Taiwan reports record single-day high of 744 domestic COVID-19 cases
Related News
April 12: CECC repeats call to use social distancing app as COVID cases rise
April 12: Taiwan further relaxes border restrictions on family visits
April 12: MOE raises threshold for full suspension of in-person classes
April 12: Taiwan replaces PCR testing with rapid tests to end quarantine
April 11: New Taipei trying out home quarantine for some COVID-19 patients
April 11: 350,000 courses of Pfizer's COVID-19 drug Paxlovid to arrive by June
April 11: Defense ministry orders all military personnel to get COVID-19 booster
April 10: Legislator calls for lower COVID-19 rapid test prices
Recent cases
April 11: Taiwan reports 630 new COVID-19 cases, including 439 domestic
April 10: Taiwan reports 575 new COVID-19 cases, including 431 domestic
April 9: Taiwan reports 578 new COVID-19 cases, 442 domestic, one death
April 8: Taiwan reports 507 new COVID-19 cases, 384 domestic
April 7: Taiwan reports 382 domestic COVID-19 cases, 149 imported
View All