CORONAVIRUS
/
CECC mulls home quarantine for people with light COVID-19 symptoms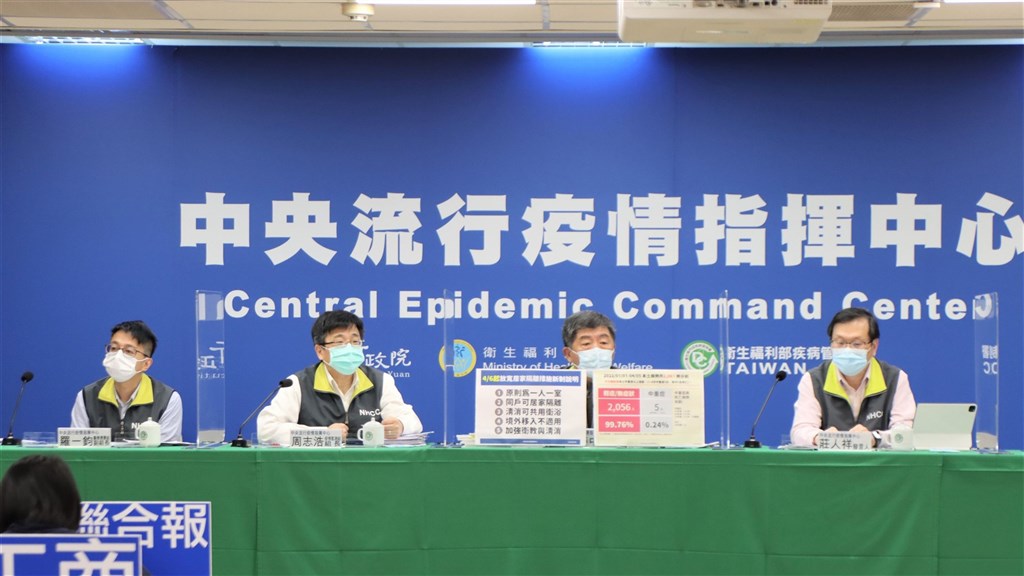 Taipei, April 6 (CNA) The Central Epidemic Command Center (CECC) is evaluating plans to have people with light COVID-19 symptoms quarantine at home if the number of domestic cases in Taiwan continues to rise, Health Minister Chen Shih-chung (陳時中) said Wednesday.
Chen made the comments during the CECC's daily press briefing, after reporting 281 new domestically-transmitted COVID-19 cases, marking the highest daily total this year and the sixth consecutive day in which local cases have exceeded 100.
Despite the rising case totals, only five of the 2,061 domestic cases recorded between Jan. 1 and April 5, or 0.24 percent, had moderate to severe symptoms of the disease, while the others were either mild or asymptomatic, CECC data showed.
Home quarantine for light COVID-19 cases
When asked about an appeal by New Taipei Mayor Hou Yu-ih (侯友宜), whose city has been a hotspot during the recent outbreak, to begin allowing COVID-19 patients with light symptoms quarantine at home, Chen confirmed that planning is already underway.
The CECC "is currently drafting guidelines on the topic," Chen said, adding that several "major questions" would need to be resolved before such a policy could be implemented.
"First, we have to decide under what conditions a person qualifies as having 'light symptoms'," Chen said.
Another question is what to do with a person's cohabitants -- whether it will be one person to a room or one person to a household, he said.
Moreover, if people with light symptoms are quarantining at home, "how can we provide remote healthcare services to them on a very large scale," he added.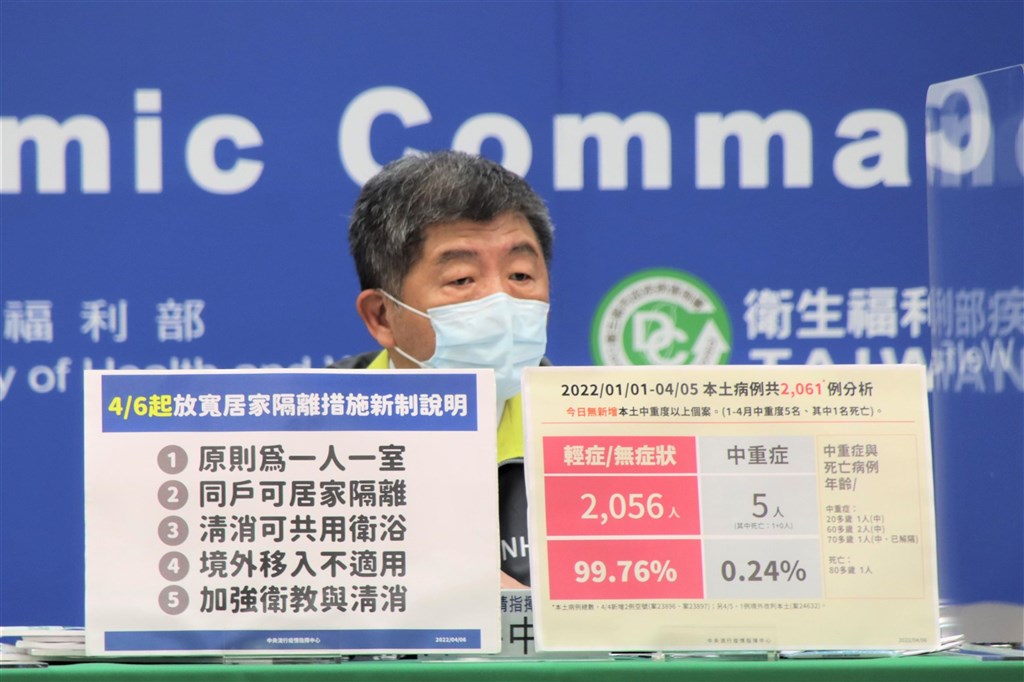 Chen did not offer further details, though he said on Tuesday that such a policy might be implemented if the number of daily domestic cases exceeds 1,500.
Currently, just over a third of the 3,881 beds in COVID-19 hospital isolation wards around the country arein use, and 54.9 percent of the 6,372 beds at central government-run quarantine centers are occupied, Chen said.
The CECC is planning to phase out the use of government quarantine centers for non-COVID-19 patients (such as the contacts of confirmed cases), with the goal of getting their vacancy rate up to around 90 percent, Chen said, appearing to hint at preparations for an anticipated rise in cases.
New domestic cases
In total, the CECC reported 359 new COVID-19 cases on Wednesday -- 281 domestically transmitted and 78 that originated abroad -- and zero new deaths from the disease.
New Taipei had the highest number of cases, with 115, followed by Taipei with 45, Kaohsiung with 37 and Keelung with 25, the CECC said.
The new domestic cases included 163 that were not immediately linked to any existing clusters, the CECC said.
Meanwhile, 40 of the cases were related to a school and family cluster in New Taipei's Sanxia District and 32 cases were linked to a cluster initially reported at a karaoke bar in Keelung, according to the CECC.
Nearly all of the existing clusters involve the BA.2 strain of the Omicron variant of COVID-19, with the exception of a cluster based in New Taipei's Zhonghe District, which involves the original BA.1 strain, said Lo Yi-chun (羅一鈞), deputy head of the CECC's medical response division.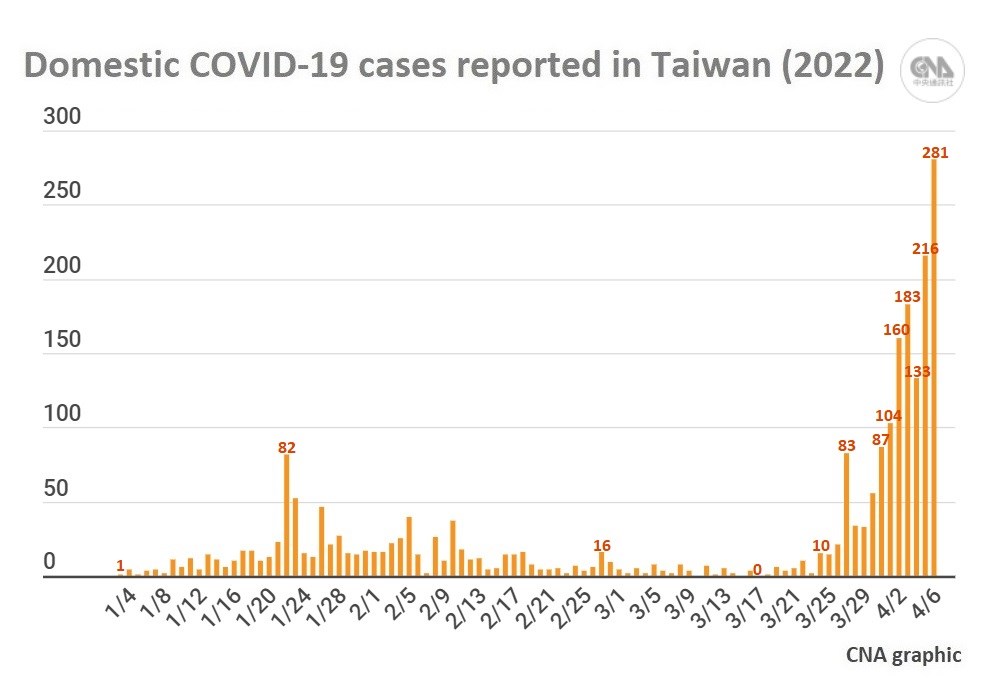 Cases yet to peak
At the press conference, Chen reiterated his belief that domestic COVID-19 cases will continue to rise in the near term.
When asked about a recent analysis by a Taiwanese doctor, which suggested that cases might not peak in Taiwan for three months, Chen said he believed the peak might come sooner, given the current high rate of transmission.
"Taiwan is still at the beginning of this," he added.
Update
May 3: Taiwan to shorten quarantine for arriving travelers from 10 to 7 days
April 25: Shorter '3+4' quarantine for COVID-19 contacts to begin Tuesday
Related News
April 6: Quarantine rules relaxed amid growing COVID cases from unknown sources
April 5: Domestic COVID-19 cases have not yet peaked: health minister
April 4: Taiwan eases isolation rules for mild, asymptomatic COVID-19 cases
April 2: Taiwan to expand medical capacity as daily COVID cases spike
March 27: Domestic COVID-19 cases spike in Taiwan as clusters grow
Recent cases
April 6: New domestic COVID-19 cases in Taiwan climb to 281
April 5: Taiwan reports 281 new COVID-19 cases, including 216 domestic
April 4: Taiwan reports 275 new COVID-19 cases, including 133 domestic
Arpil 3: New domestically transmitted COVID-19 cases on the rise
April 2: Taiwan reports 160 new COVID-19 domestic cases, 244 imported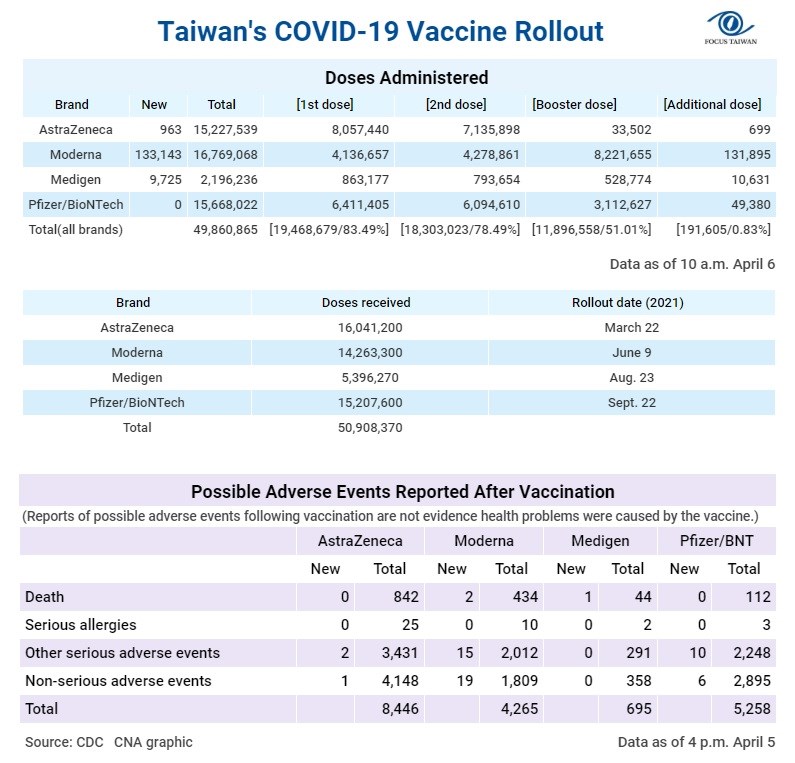 View All