CORONAVIRUS
/
Local governments publish lists of places visited by COVID-19 cases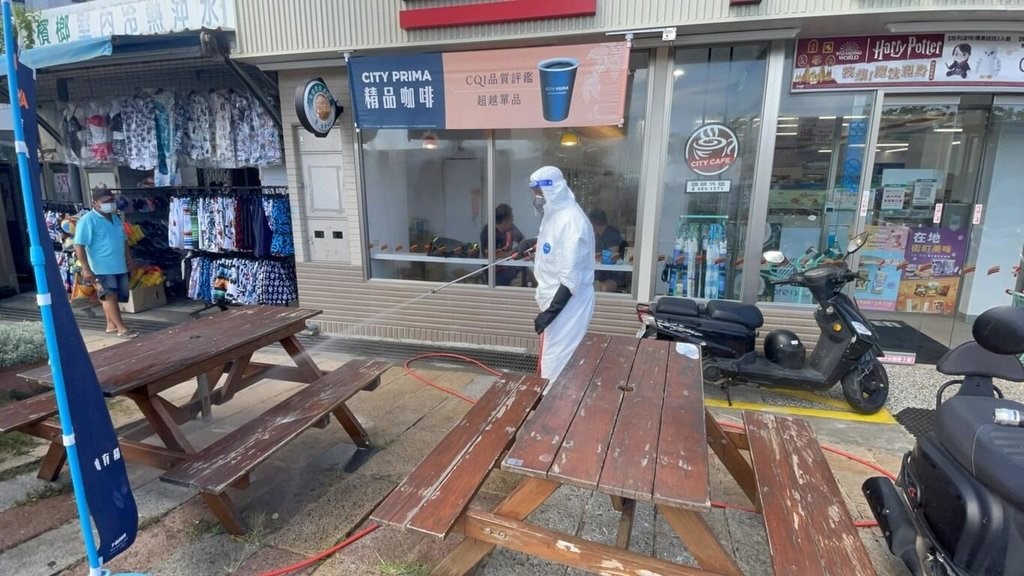 Taipei, March 31 (CNA) Several local governments in Taiwan on Thursday published details of places visited by COVID-19 infected individuals, urging anyone who has been to those locations to get tested if they develop symptoms of the disease, as the country sees another surge in COVID-19 cases.
Taipei Department of Health released a list of locations visited by four COVID-19-infected individuals, including three from outside Taipei.
One of the individuals took the Taipei Metro (MRT) from Nanshijiao Station and visited Dubu House Korea, a restaurant near Breeze Taipei Station in Zhongzheng District on March 24 and also traveled on the MRT over the next two days.
One COVID-19 positive individual recorded in Keelung took the 1815 Kuo-Kuang Bus to Taipei on March 26 before visiting stores near MRT Zhongxiao Fuxing Station and heading to Ximending and Songshan Xiahai Chenghuang Temple by MRT.
The venues visited by another individual in Taipei who attended a wedding banquet in Taichung include Qing Ting Restaurant on Minquan East Road and a karaoke bar on Fuxing North Road, both in Zhongshan District, and National Chengchi University's lower campus.
Another infected individual from New Taipei is also a student at a university in Wenshan District, Taipei.
The department added that 168 contacts of the student had been asked to quarantine at home as a precautionary measure.
The New Taipei Department of Health also published the locations visited by COVID-19 infected individuals, including Shibawang Temple in Shimen, Jinshan Old Street, Global Mall's Banqiao and Zhonghe stores, convenience stores, Pizza Hut and braised dishes shops in Tucheng.
Other places visited by COVID-19 infected individuals between March 25 and March 29 include a hot pot restaurant at Banqiao Global Mall and one individual took a high speed rail train from Nangang in Taipei to Tainan, according to the health department.
Meanwhile, Taoyuan City Government on Thursday reported places visited by 15 locally transmitted COVID-19 cases.
Four of the infected individuals visited 18 places, including the MetroWalk Shopping Center, Longtan Night Market, Paxmart Pingzhen Store, eateries, a pet shop, a coffee shop, a motel and Hi-Life convenience stores in Guanyin and Pingzhen.
In addition, Hualien health authority on Thursday reported a confirmed COVID-19 case involving a nurse at Hualien Tzu Chi Hospital.
The nurse had visited Fangliao and Hengchun in the southernmost county of Pingtung and stayed in Kenting Wednesday, according to the local government.
The woman developed symptoms including a headache and sore throat on Tuesday but did not seek medical attention.
She and her boyfriend on Wednesday took Tze-Chiang Taiwan Railways Administration train from Hualien to Fangliao where she shopped at a nearby FamilyMart before boarding a south-bound bus to Hengchun.
The nurse stayed at a hotel in Nanwan, Hengchunb and visited Nanwan Beach in Kenting and a nearby 7-11 convenience store.
The nurse tested positive for COVID-19 when she sought medical treatment on Thursday. She visited northern Taiwan in the middle of March, according to the Hualien County government.
Related News
March 31: Keelung COVID-19 cluster linked to karaoke bar grows to 91 cases
March 30: Mass COVID-19 testing in Keelung planned as domestic cases spike
March 29: Keelung cluster involving karaoke bar, police officers, grows to 48 cases
March 28: Keelung, Taoyuan clusters see spike in new COVID-19 cases
March 27: Domestic COVID-19 cases spike in Taiwan as clusters grow
View All