CORONAVIRUS
/
Five of 13 new domestic COVID-19 cases of unknown source: CECC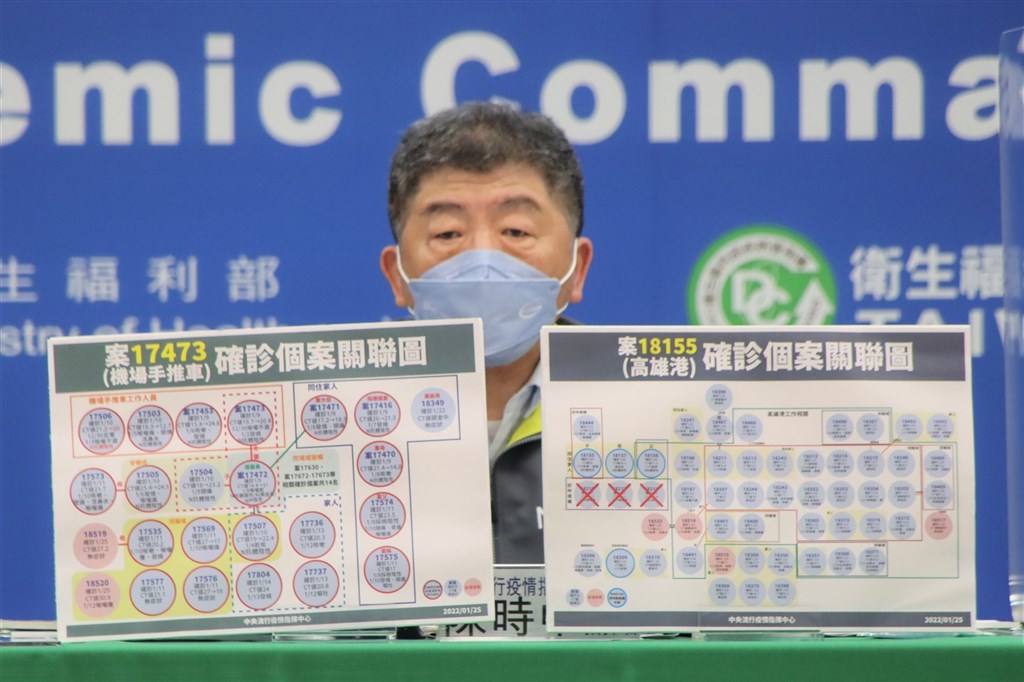 Taipei, Jan. 25 (CNA) Taiwan on Tuesday reported 13 new domestic cases of COVID-19, of which five have unknown sources of infection, according to the Central Epidemic Command Center (CECC).
Infections of unknown origin
Three of the infections of unknown origin were reported in Taoyuan, and consist of two siblings, both under 10 years old, and a man in his 50s who lives in the city's Longtan District, but recently visited Hsinchu County and Taipei, Health Minister and CECC head Chen Shih-chung (陳時中) said at a press briefing.
They all tested positive after displaying symptoms of the disease, and the CECC is still looking into how they became infected, Chen said.
One new case reported in New Taipei and one in Yilan County were linked to two clusters of unknown origin -- a family in Taipei and a hotel in Yilan's Jiaoxi District, bringing the number of cases in these two clusters to five and six, respectively.
The CECC has not yet determined how these individuals contracted COVID-19, Chen said.
Kaohsiung Port culster
Among the eight other domestic cases reported Tuesday, four are linked to a cluster at the Port of Kaohsiung, Chen said.
The total number of cases in the cluster now stands at 52, Chen added, as the CECC has removed three cases originally linked to the cluster after re-tests of the original test samples returned negative results.
Kaohsiung health authorities previously speculated that the cluster could have begun with a maintenance worker at the port who came into contact with people on board a Sierra Leone-flagged vessel, though this has not yet been confirmed.
Three people in the Kaohsiung cluster have been confirmed as Omicron variant infections, though the genome sequence differs from the version circulating in the outbreak in Taoyuan, which confirmed three new cases on Tuesday.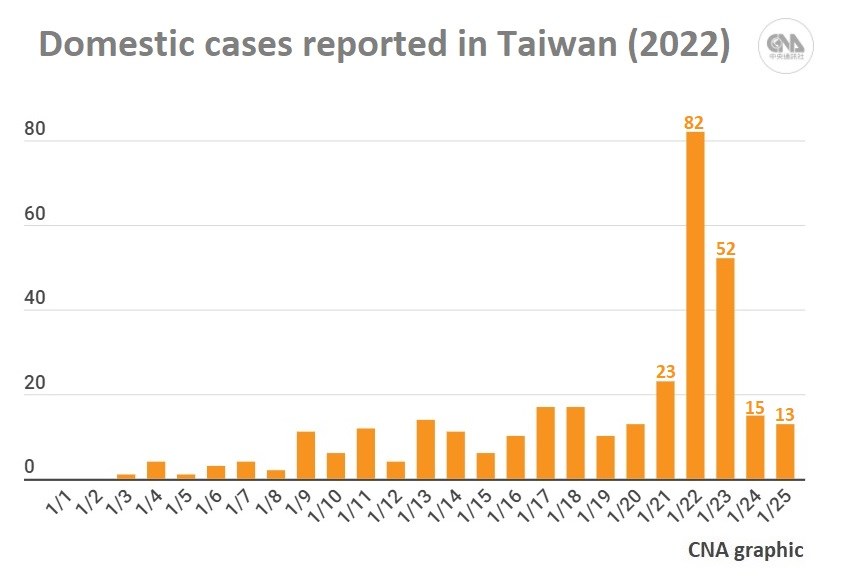 Outbreak in Taoyuan
The outbreak originated at Taoyuan International Airport in early January, and related clusters have sprung up at a social club, factories, a bank, a Tasty steakhouse, and most recently in Farglory Free Trade Zone, where 102 people have tested positive so far with testing ongoing.
The remaining domestic case is a woman in Tainan who contracted the disease after taking care of her grandchild, who tested positive after returning from overseas, Chen said.
According to the CECC, eight of the new domestic cases were classified as breakthrough infections.
Of the other individuals with domestically transmitted COVID-19 infections, one received a dose of the Pfizer-BioNTech vaccine, three had not been vaccinated, and the vaccination status of one case is still under investigation.
Imported cases
In addition to the domestic cases, Taiwan also recorded 25 imported cases on Tuesday. Of these, 12 tested positive upon arrival in the country on Monday, and the other 13 tested positive during quarantine.
The CECC did not release any information regarding the vaccination status of the imported cases.
To date, Taiwan has confirmed 18,411 COVID-19 cases since the pandemic began in early 2020, of which 14,928 were domestic infections.
With no deaths reported Tuesday, the number of confirmed COVID-19 deaths in the country remained at 851.
Related News
Jan. 25: Over 1.5 million Moderna doses arrive; booster shot booking to begin
Jan. 25: Taiwan still aiming for zero COVID-19 cases: Health Minister
Jan. 25: Taiwan raises travel alert for Palau due to COVID-19 surge
Recent cases
Jan. 24: Level 2 COVID-19 alert extended; 4 more test positive at Yilan hotel
Jan. 23: Taiwan reports 89 new COVID-19 cases, including 52 domestic
Jan. 22: Taiwan reports 130 new COVID-19 cases, announces tightened rules
Jan. 21: Local COVID-19 cases surge to new high in latest outbreak
Jan. 20: Taiwan reports 37 new COVID-19 cases, including 13 domestic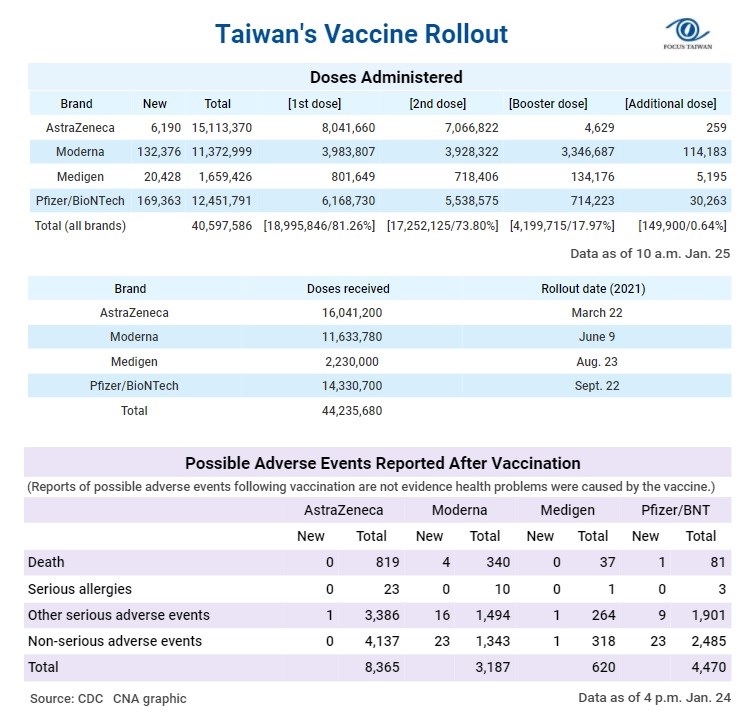 View All