CORONAVIRUS
/
Taiwan sees 6 new domestic COVID-19 infections; more Omicron cases found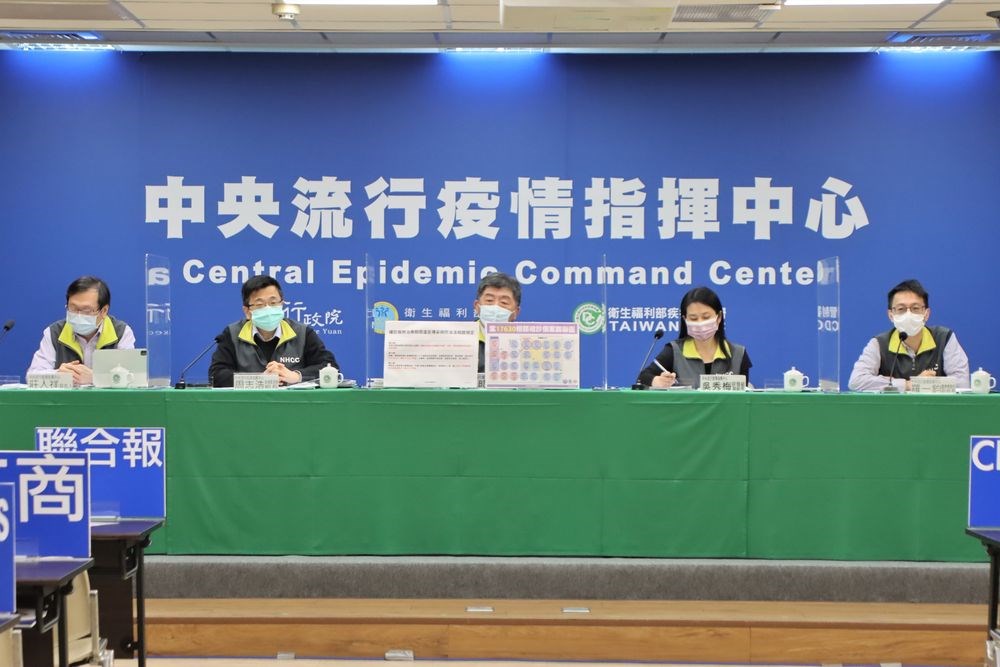 Taipei, Jan. 15 (CNA) The Central Epidemic Command Center (CECC) on Saturday reported six new domestic COVID-19 cases, while also announcing that three cases of the Omicron variant had been confirmed among previously reported infections involving bank workers in Zhongli District.
Domestic cases
According to the CECC, the six domestic cases were recorded on Friday evening and Saturday morning by the Taoyuan City government, and are linked to a Tasty steakhouse branch in the city's Zhongli District.
The new cases include three customers of the steakhouse, while two others are classmates of a part-time employee at the steakhouse who was confirmed as having the disease on Thursday. The sixth person is a relative of the employee.
Chen said the infected individuals were in their teens to 30s, and four of them have been classified as breakthrough cases of COVID-19.
One of the two cases not considered a breakthrough infection involved a teenager who had not yet been vaccinated because of her age, the CECC said.
The six new domestic cases are the latest linked to Taoyuan Airport after an outbreak occurred among airport cleaning staff earlier this month.
The new cases related to the Tasty steakhouse emerged after the restaurant hosted a year-end celebration for a group of employees from Union Bank's Zhongli branch, some of whom contracted COVID-19 from a family member of an airport employee infected in the airport cluster.
(Jan. 15: COVID-19 patients visited shopping center, stores in Taoyuan)
Omicron variant infections
On Saturday, CECC official Lo Yi-chun (羅一鈞) said genome sequencing of three bank employees whose COVID-19 cases had been previously reported showed that they had been infected with the Omicron variant and were linked to one of the infected airport cleaners.
As of Saturday, 13 Union Bank workers at the Zhongli branch have been infected, of whom three were found to have been infected with the Omicron variant of COVID-19.
Lo said health authorities were working round the clock to identify other possible contacts to help curb the spread of the disease.
Imported cases
In addition to the domestic cases, Taiwan also reported 72 imported cases on Saturday, Minister of Health and Welfare Chen Shih-chung (陳時中) said at a CECC press briefing.
Among them, 45 involved passengers arriving from the United States, Canada, Indonesia, Vietnam, France, Australia, Singapore, and Germany, Chen said, while the 27 other remaining cases are still being investigated.
Of Saturday's imported cases, 46 were travelers who tested positive upon arrival in Taiwan Friday, when the CECC began implementing a new policy that requires travelers from Europe, the United States, the Middle East, New Zealand, and Australia to wait at the airport for the results of a mandatory on-arrival COVID-19 test.
With 46 of the 694 passengers who arrived in Taiwan Friday testing positive, this amounted to a positivity rate of 6.77 percent, Chen said.
The CECC did not release any information regarding the vaccination status of the imported cases.
Meanwhile, Taiwan did not report any new COVID-19 deaths on Saturday.
(Jan. 14: Imported Omicron cases continue to rise in Taiwan)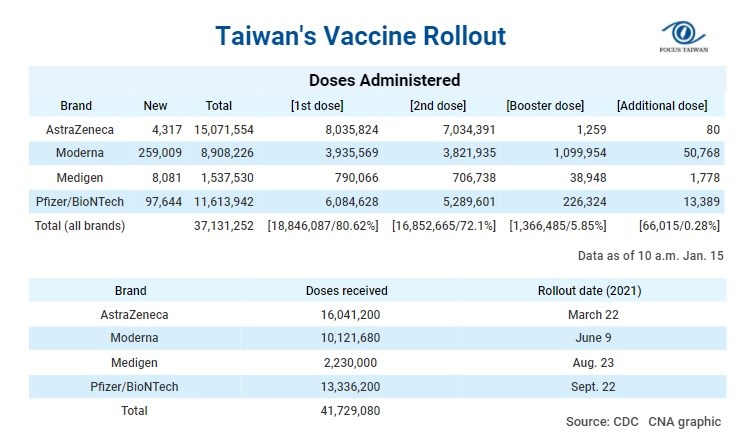 To date, Taiwan has confirmed 17,769 COVID-19 cases since the pandemic began in early 2020, of which 14,682 are domestic infections. It has also recorded 851 deaths related to COVID-19.
Related News
Jan. 15: President, VP receive COVID-19 booster shot
Jan. 15: Taiwan to get first batch of Pfizer's COVID drug before March: Minister
Recent cases
Jan. 14: Taiwan reports 11 new domestic COVID-19 cases, all linked to Taoyuan
Jan. 13: Employee at Taoyuan steakhouse tests positive for COVID-19
Jan. 12: Taiwan reports 96 new COVID-19 cases, including four domestic
Jan. 11: Taiwan reports 12 domestic cases linked to airport, Taipei hospital
Jan. 10: New domestic COVID-19 case linked to airport confirmed: CECC
View All