CORONAVIRUS
/
Taiwan reports first domestic COVID-19 case in over a month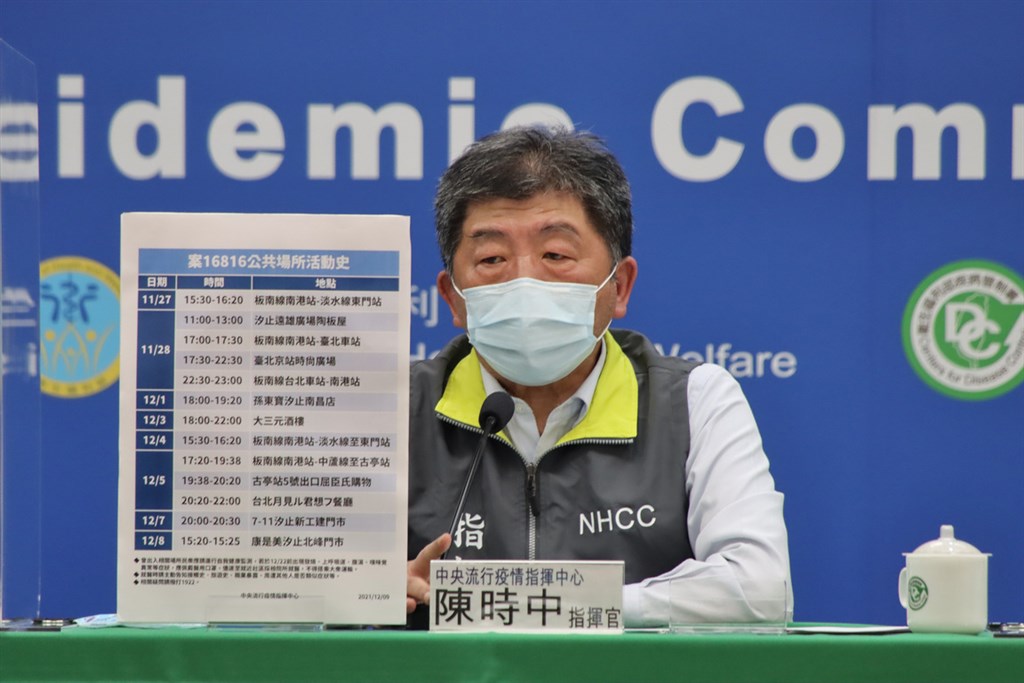 Taipei, Dec. 9 (CNA) Taiwan confirmed a locally transmitted COVID-19 infection Thursday evening, the first such case since early November, Health Minister Chen Shih-chung (陳時中) said at a press briefing.
The patient is a fully vaccinated woman in her 20s, who worked until early December in a laboratory at the Genomics Research Center at Academia Sinica, Taiwan's top research institute, Chen said.
The Central Epidemic Command Center (CECC) has found that the woman was likely infected with the Delta variant of the coronavirus at her workplace in Taipei's Nangang District, Chen said.
According to Chen, she came into contact with the virus in mid-November and developed a cough on Nov. 26. On Wednesday, when the woman began to notice some changes to her sense of smell and taste, she went to a hospital to have a COVID-19 test, he said.
According to the CECC, the patient had received two doses of the Moderna vaccine in June and July, respectively.
The case was confirmed Thursday evening as the first locally acquired infection since Nov. 4, when the CECC reported that a man in his 30s had tested positive for COVID-19 but was found to have been infected months earlier, during a domestic outbreak that began in May.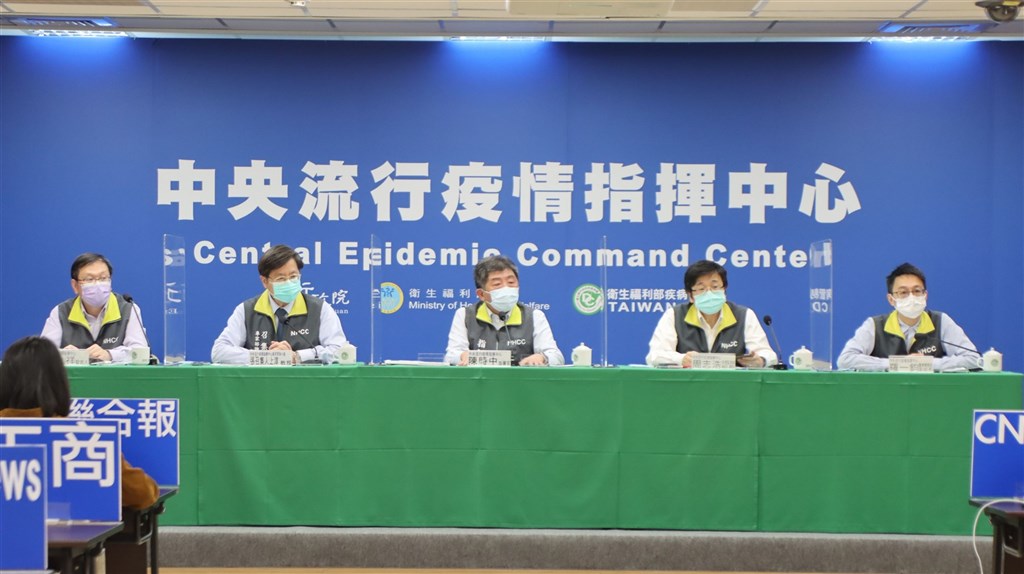 CECC advisor Chang Shan-chwen (張上淳), who visited Academia Sinica before the press briefing to obtain information about the new case, said the patient had two PCR tests in the past two days, and they were both positive.
On Thursday, her health was showing signs of improvement and her viral load was dropping, he said, citing the cycle threshold (CT) values from the two tests, Chang said.
So far, 85 contacts have been identified, and they will be tested and quarantined at government facilities. Most of them worked on the same floor at Academia Sinica as the woman, according to Chen.
The other people who work in the same building have been asked to stay at home on Friday and to monitor their health, Chen said, adding that the CECC will send a team to check the entire facility.
Academia Sinica has been asked to suspend work at the lab where the woman was employed and to submit a report in 10 days on how the infection may have been transmitted, Chen said, adding that the CECC has strict regulations in place for all laboratories in the country.
Meanwhile, the woman's boyfriend tested negative on Wednesday but has also been placed in isolation, pending further tests, Chen said.
Chen issued a reminder that all P3 laboratories in Taiwan, like the one where the woman worked, should follow the CECC's COVID-19 prevention regulations. Researchers working with the SARS-CoV-2 virus that causes COVID-19 should be fully vaccinated and should get a booster shot if necessary, he said.
At a P3 lab, a facility that meets international Biosafety Levels-3 standards, the staff is required to wear personal protective equipment, and access is restricted and controlled at all times.
Two of Taiwan's 18 P3 labs are at Academia Sinica, both of which work with novel coronaviruses to develop antibodies, rapid tests, drugs and vaccines.
With the confirmation of the new domestic COVID-19 case, several businesses that the patient had visited in the Greater Taipei area have closed for disinfection, including Q Square shopping center at Taipei Main Station, which will be closed until 6 p.m. Friday.
Other businesses that made similar decisions are Carrefour in Xizhi, New Taipei, and the Global Mall in Nangang.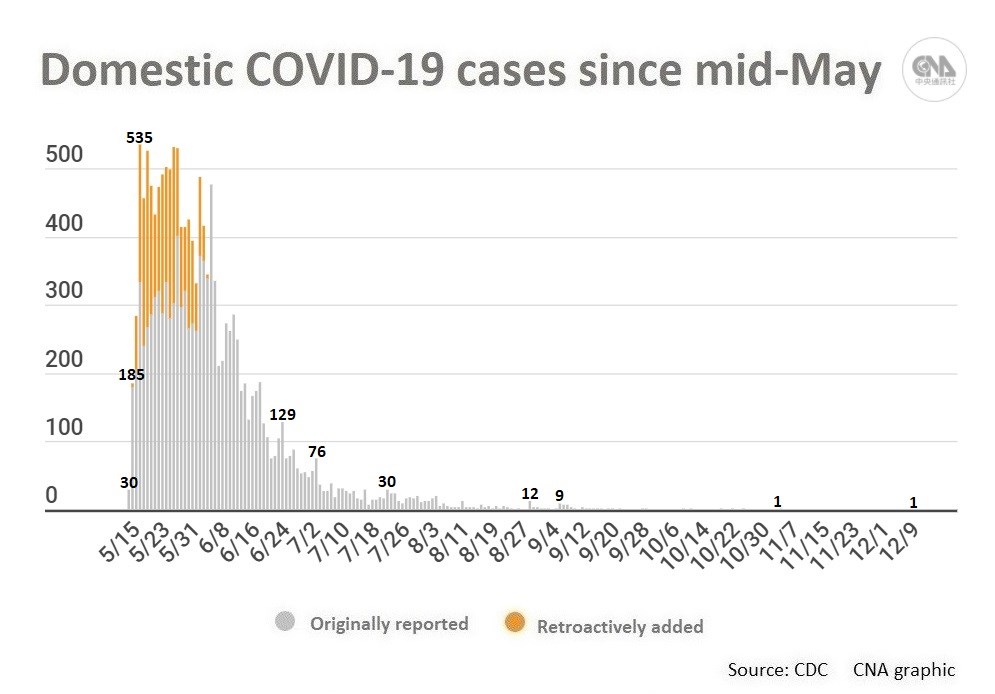 The new domestic COVID-19 case on Thursday brought the total number in Taiwan to 16,705, of which 14,426 were domestic infections reported since May 15, when the country first recorded more than 100 cases in a single day.
Since Aug. 15, there have been only 124 confirmed domestic cases, as the daily number has fallen to single digits or zero since then.
Recent cases
Dec. 9: Taiwan reports 16 new COVID-19 cases, no deaths
Dec. 8: Taiwan reports 5 new cases of COVID-19, zero deaths
Dec. 7: Taiwan reports 21 new imported COVID-19 cases, highest 2021 daily count
Dec. 6: Taiwan reports 10 new cases of COVID-19, zero deaths
Dec. 5: Taiwan reports 4 new COVID-19 cases, no deaths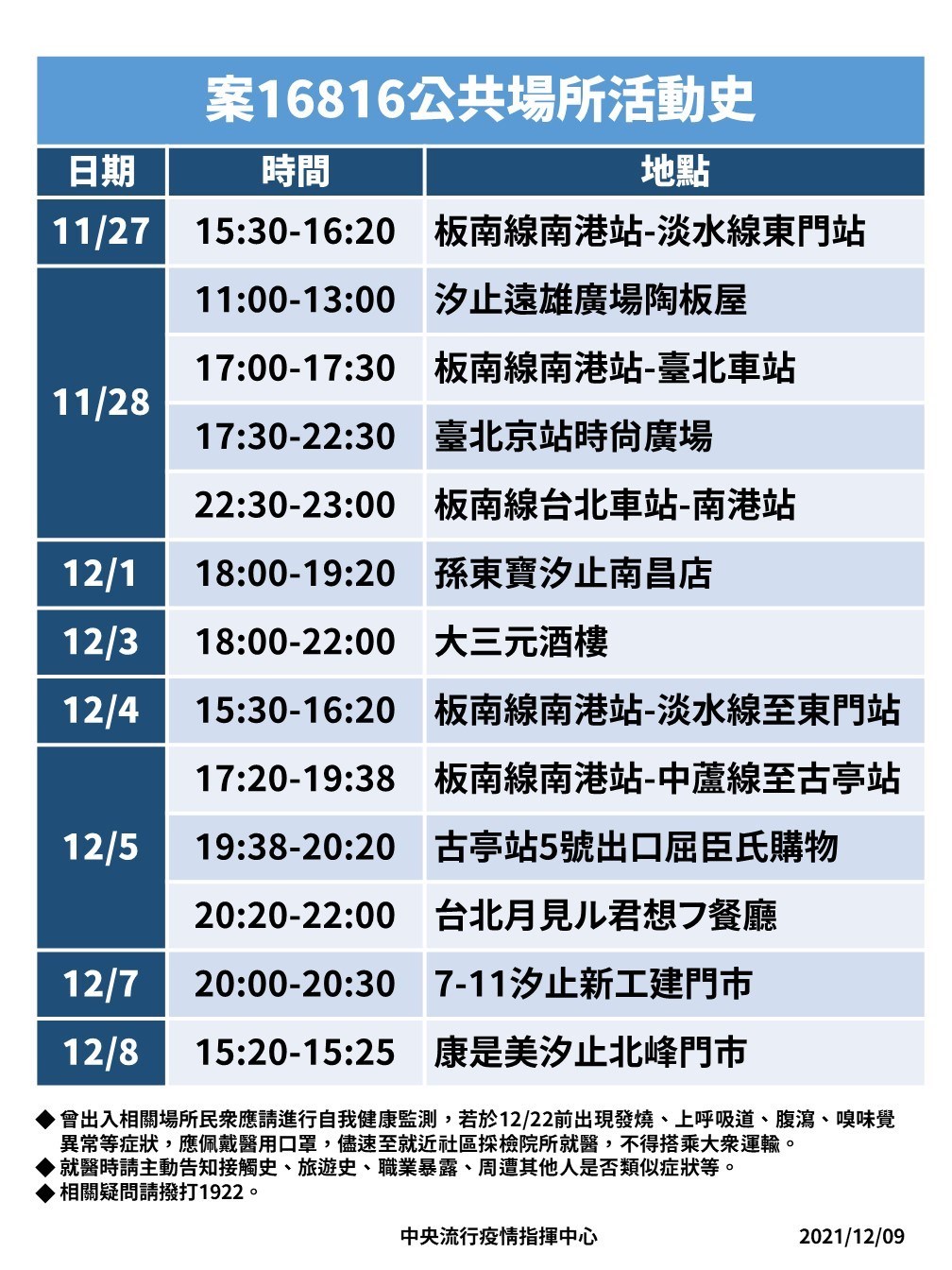 View All