CORONAVIRUS
/
Health minister details initial COVID-19 vaccine booster shot rules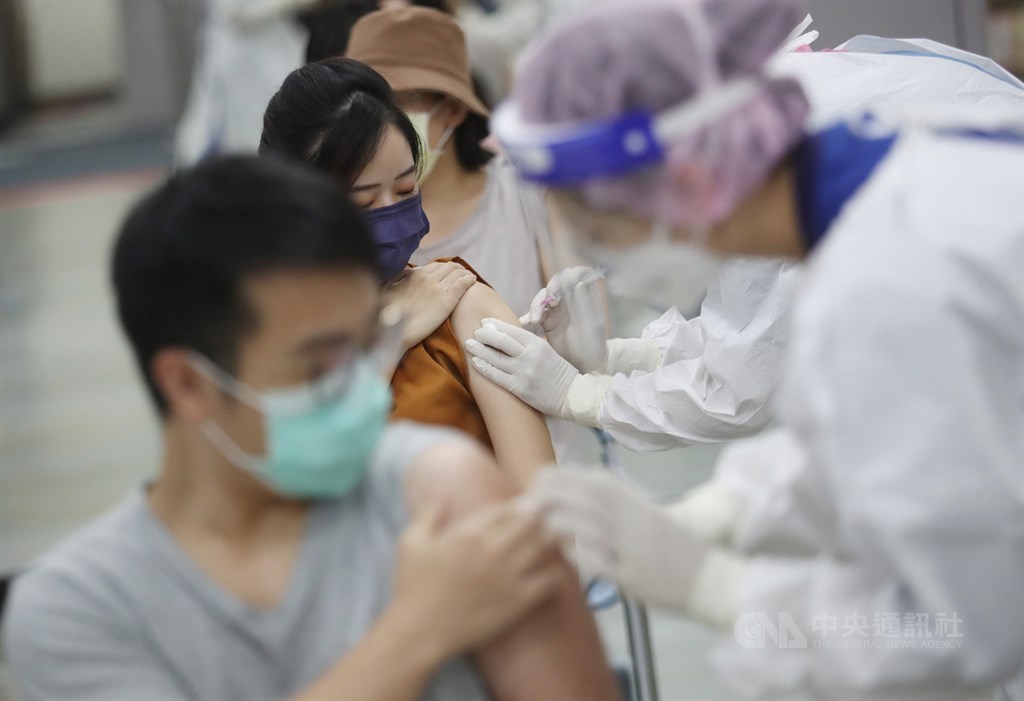 Taipei, Nov. 30 (CNA) Health Minister Chen Shih-chung (陳時中) on Tuesday provided more details on COVID-19 booster vaccine shots after the Central Epidemic Command Center (CECC) announced a day earlier the rollout could start as early as Jan. 1, 2022.
Chen said that while the general public will be allowed to choose a preferred vaccine as a booster shot, the CECC advises against mixing-and-matching the two mRNA vaccines -- Moderna and Pfizer-BioNTech.
He encouraged those who have been inoculated with two jabs of Moderna or BioNTech to get the same vaccine as a booster.
When it comes to the AstraZeneca (AZ) vaccine, Chen said after being asked by reporters about the issue that although there are a significant number of documented cases of adverse effects when mixing-and-matching a third dose of mRNA as a booster after receiving two AZ jabs, the symptoms are generally mild.
As such, Chen said the CECC will recommend the AZ and mRNA mix-and-match option to prospective recipients, while adding that three AZ doses is also an option.
Meanwhile, details on brand regulations or the number of jabs Medigen recipients will require as a booster have yet to be announced, as has whether Medigen will be used as a booster shot option.
For those who have already mixed-and-matched vaccines for their second jabs, further regulations have yet to be determined.
When asked whether the CECC is expediting the booster shot rollout to combat the new Omicron COVID-19 strain, Chen noted that as the protection offered by vaccines weakens over time, people should try and ensure they remain as protected as possible, especially in the face of the new strain.
Chen said roughly 42,000 people will be eligible for a third jab by December, encouraging everyone who is eligible and not just those in groups highlighted by the Advisory Committee on Immunization Practices (ACIP) to get their booster shots as soon as they become available.
The groups identified by the ACIP on Monday are as follows: Seniors above the age of 65, long term care facility residents and employees, medical professionals, pandemic prevention personnel, frontline workers, and those at high risk of contracting diseases.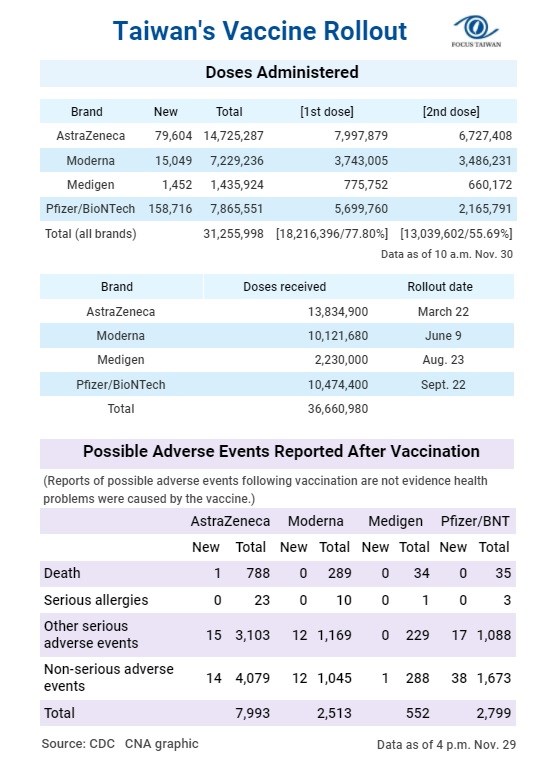 In related news, both Chen and CECC spokesman Chuang Jen-hsiang (莊人祥) provided further information on upcoming deliveries and administration standards for the Moderna vaccine.
When asked whether Taiwan will follow current international practice for the use of Moderna as a booster shot, with only half a dose being administered to recipients, Chen said the CECC would most likely do the same.
At a routine CECC press conference Tuesday, Chuang noted that a final decision on administering the Moderna vaccine will be made after further consultations with experts.
Chuang also revealed that 20 million doses of Moderna have been ordered and will contain both the current Moderna vaccine and any second-generation version.
The ratio between the current vaccine and the second-generation vaccine in the shipments was not specified.
View All