CORONAVIRUS
/
Taiwan receives 9th batch of Pfizer-BioNTech COVID-19 vaccine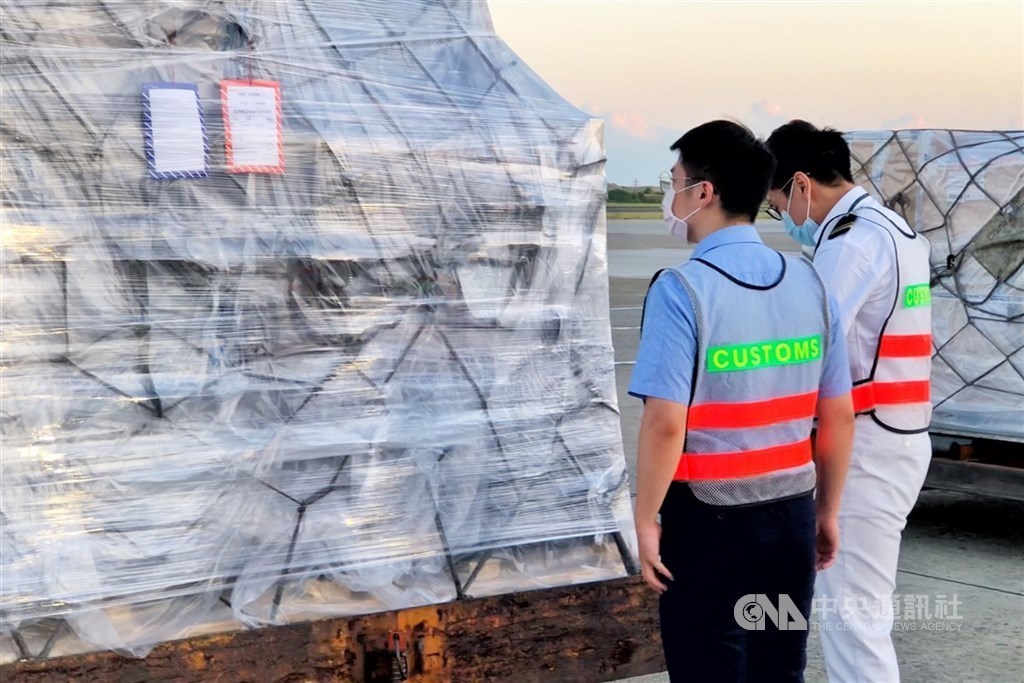 Taipei, Oct. 28 (CNA) Taiwan received on Thursday 902,100 doses of the Pfizer-BioNTech COVID-19 vaccine, the ninth shipment it has taken delivery of so far.
The shipment was delivered via China Airlines flight CI-62, which touched down at Taiwan Taoyuan International Airport at 6:14 a.m.
It is part of 15 million doses ordered by Hon Hai Precision Co./YongLin Charity, Taiwan Semiconductor Manufacturing Co., and the Buddhist humanitarian organization Tzu Chi Foundation, which will all be donated to the government for distribution.
Another shipment of the Pfizer-BioNTech vaccine is scheduled to arrive on Friday, Health and Welfare Minister Chen Shih-chung (陳時中) said at the Central Epidemic Command Center (CECC) press briefing Thursday, without providing any additional details.
With the latest delivery, Taiwan has now received over 6.8 million doses of the Pfizer-BioNTech vaccine and over 25.4 million COVID-19 vaccine doses from overseas, according to CECC data.
Also on Thursday, Taiwan's first-dose vaccination rate exceeded 70 percent, and the percentage of the population that has received the two doses needed to be fully vaccinated surpassed 30 percent, Chen said.
A little over 16.4 million people, or 70.01 percent of Taiwan's population of 23.43 million, have gotten at least one COVID-19 vaccine dose, and 30.87 percent, or 7.23 million people, have received two vaccine doses.
Chen noted in particular that 78.16 percent of people aged 65 or above had gotten at least one shot, and 67.57 percent of this age group had been fully vaccinated with two shots.
The two-dose vaccination rate of the flight crew of Taiwanese airlines has reached 99 percent, and 90 percent of airport personnel have also already gotten two vaccine shots, Chen said.
Taiwan began its COVID-19 vaccine rollout on March 22 with the AstraZeneca vaccine, followed by the Moderna vaccine in June, the locally-developed Medigen vaccine in late August, and the Pfizer-BioNTech brand in late September.
Recent cases
Oct. 27: Taiwan reports 8 new COVID-19 cases, zero deaths
Oct. 26: Taiwan reports four new COVID-19 cases, zero deaths
Oct. 25: Taiwan reports 8 new COVID-19 cases, one death
Oct. 24: Taiwan reports 4 new COVID-19 cases, no deaths
Oct. 23: Taiwan reports 7 imported COVID-19 cases and no deaths
View All