CORONAVIRUS
/
More Pfizer-BNT doses arrive; two vaccine shipments to come Friday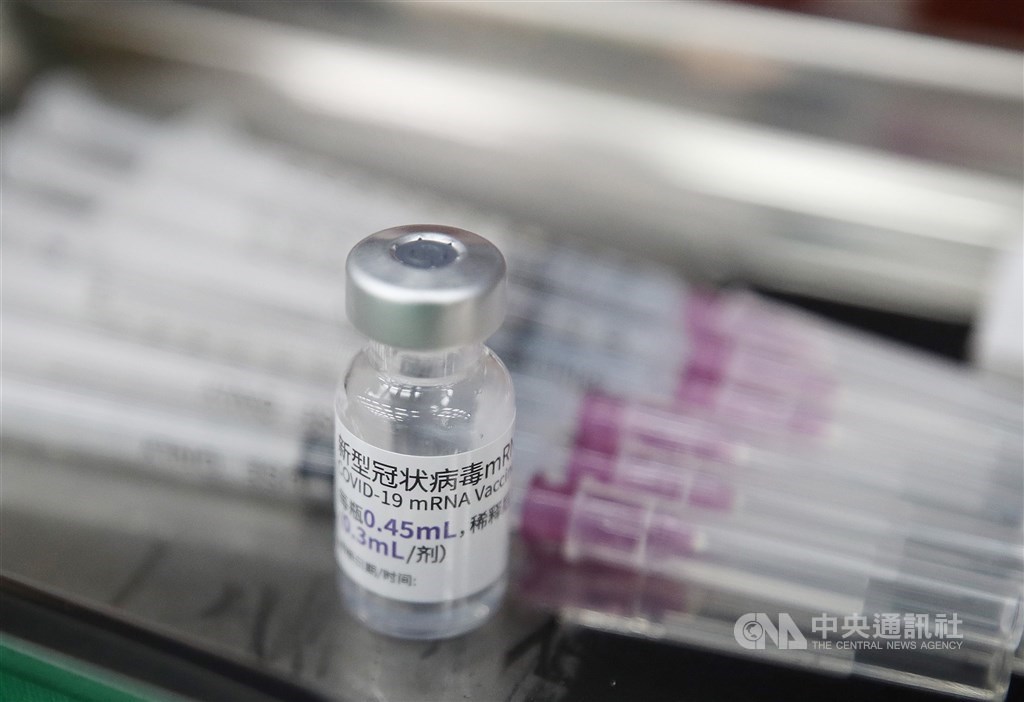 Taipei, Oct. 7 (CNA) Taiwan received a sixth shipment of the Pfizer-BioNTech (BNT) COVID-19 vaccine on Thursday, with another shipment of the same brand, as well as a batch of the Moderna vaccine, scheduled to arrive on Friday, according to the Central Epidemic Command Center (CECC).
The sixth shipment of the Pfizer-BNT vaccine, containing 889,200 doses, arrived at Taiwan Taoyuan International Airport on a China Airlines charter flight at 5:34 a.m.
It is part of 15 million doses of the Pfizer-BNT vaccine that have been ordered by Hon Hai Precision Co./YongLin Charity, Taiwan Semiconductor Manufacturing Co., and the Buddhist Tzu Chi Foundation, and are all being donated to the government for distribution.
With Thursday's shipment, Taiwan has now received over 4.2 million doses of the Pfizer-BNT vaccine.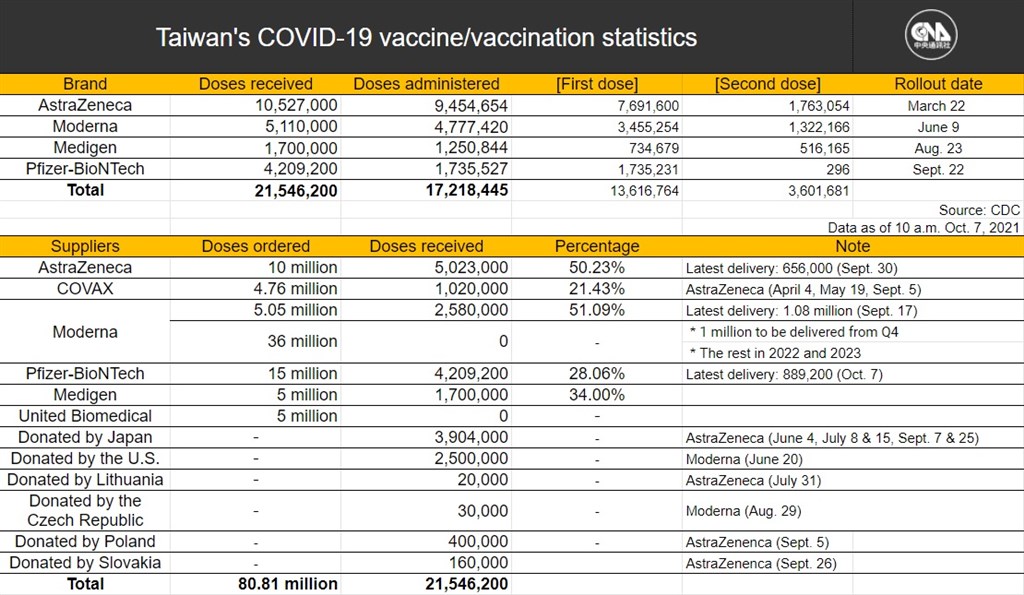 Another shipment of the Pfizer-BNT vaccine, as well as a shipment of the Moderna vaccine, are scheduled to arrive in Taiwan on Friday, Health and Welfare Minister Chen Shih-chung (陳時中) said at a press briefing.
Chen declined to say how many doses would be contained in those two shipments.
With the recent vaccine deliveries, the CECC plans to continue expanding the eligibility for the Pfizer-BNT vaccine, potentially opening it up to all people aged 12 and above who have not yet gotten a COVID-19 vaccine shot.
So far, individuals aged 12-22, people aged 47 and over, and those who suffer from serious or rare illnesses or injuries have been eligible for the vaccine.
The Moderna doses, meanwhile, will be administered as a second dose, with priority given to people who got their first Moderna shot before July 16.
There are around 1.5 million people who fall in this group, according to the CECC.
As the inspection process of the vaccines will take around 10 days, Chen said he hoped the new batch of Moderna doses can be administered as early as Oct. 22.
To date, nearly 13.61 million people, or 58 percent of Taiwan's population of 23.45 million, have received one shot of a COVID-19 vaccine, but only 15.3 percent, or 3.6 million people, have had the two doses needed to be fully vaccinated, according to CECC data.
View All