CWB mulls sea warning for Typhoon Chanthu
Taipei, Sept. 8 (CNA) Typhoon Chanthu has picked up a significant amount of speed and a sea warning could be issued as early as Thursday night, the Central Weather Bureau (CWB) said Wednesday.
Early this morning, the tropical storm developed into a typhoon, according to CWB forecaster Chao Hung (趙竑).
As of 2 a.m. Wednesday, the storm was situated 1,500 kilometers southeast of Eluanpi, the southernmost point in Taiwan, and moving in a northwesterly direction at a speed of 16 km per hour.
As the conditions are perfect for Chanthu to grow in intensity, it could develop into a strong typhoon, Chao added.
While it was previously forecast that the typhoon would be closest to Taiwan from Sept. 11-12, updated data collected early Wednesday suggests the acceleration in speed could prompt the CWB to issue a sea warning late Sept. 9 or Sept. 10.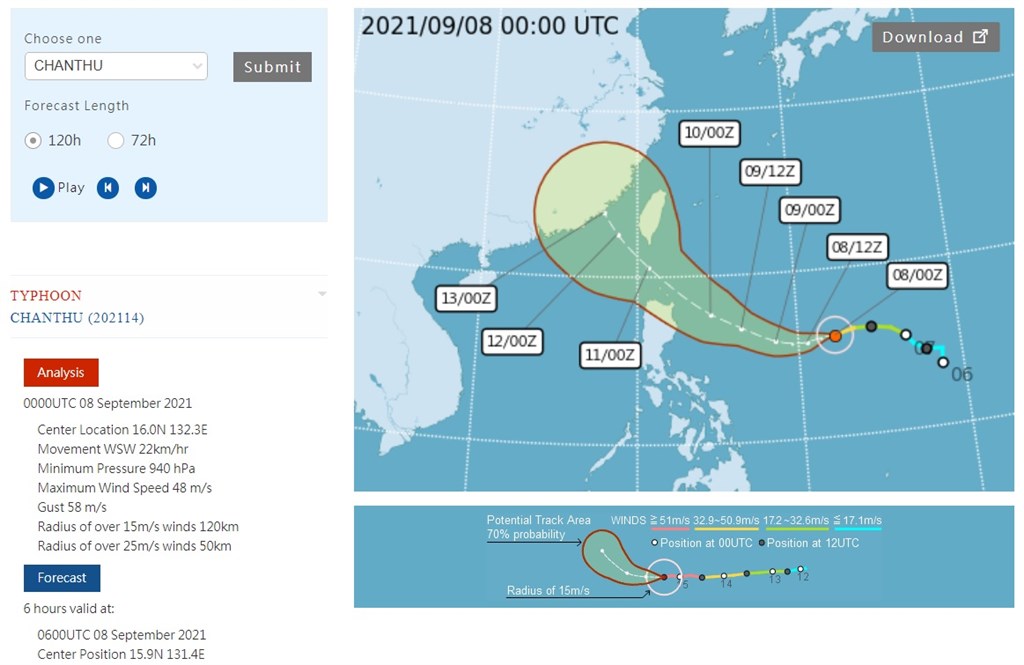 Chao also said that the typhoon's current trajectory means it could either pass through the Bashi Channel or make landfall in Taiwan directly.
Chao explained that this will be determined by when the Pacific high-pressure system decreases. An early weakening would likely cause Typhoon Chanthu to move further north and make landfall in Taiwan, whereas later would see it pass through the Bashi Channel.