CORONAVIRUS
/
At least 600,000 doses of Medigen vaccine to be rolled out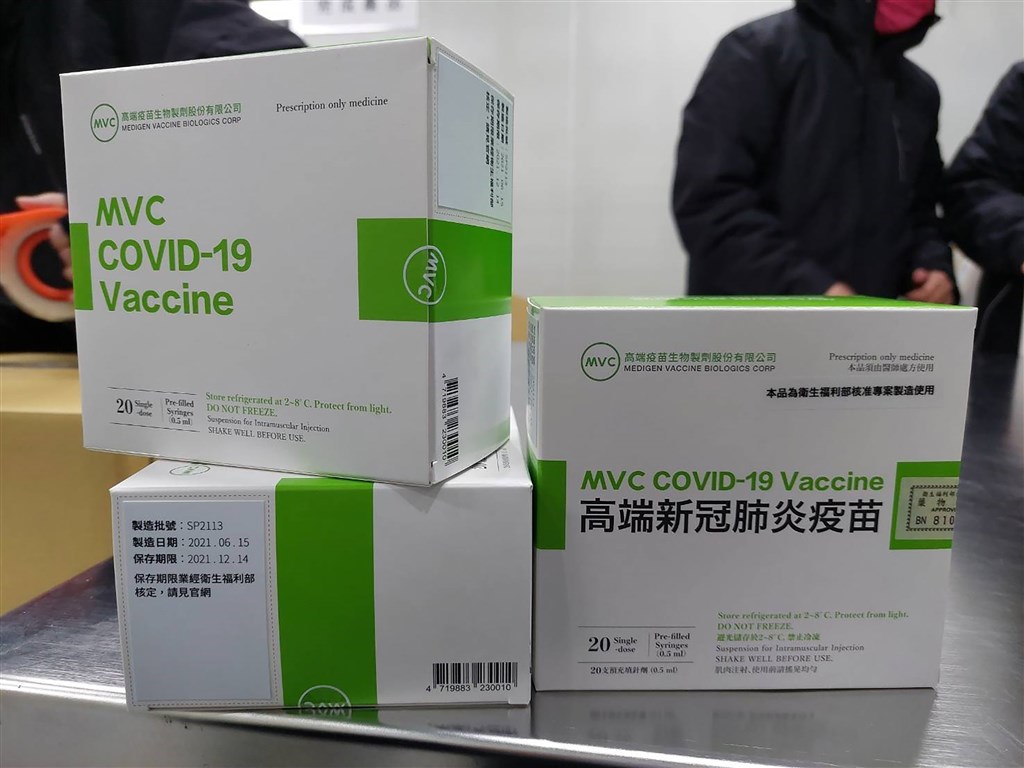 Taipei, Aug. 14 (CNA) The Central Epidemic Command Center (CECC) said Saturday it will begin administering the locally developed Medigen COVID-19 vaccine in Taiwan on Aug. 23.
At least 600,000 doses manufactured by Medigen Vaccine Biologics Corp. will be distributed across the island soon so that vaccination can take place between Aug. 23 and Aug. 29, the CECC said.
From 10 a.m. on Aug. 16 to noon on Aug. 18, the government's online system will allow people who are 36 years-of-age and over and who have indicated a willingness to receive the Medigen vaccine, to book vaccination appointments, the CECC said.
Those who are aged 20-35 and suffer from rare or serious illnesses or injuries can also do so during the same period, it added.
Those people will receive a text message sent by the system notifying them that they can book a vaccination appointment, the CECC said.
Approximately 1.13 million people have indicated on the system that they are willing to receive a Medigen vaccine, among other brands, since the domestically produced vaccine was added to the nationwide vaccination program on July 27, the CECC said Friday.
However, demand is likely lower because some of those people may have received the Moderna vaccine in recent days, it added.
The vaccine manufactured by the American pharmaceutical company is being administered to seniors aged 65 and over, as well as those who are aged 53-64 and listed as belonging to an at-risk group due to their health condition in the current round of vaccination.
The current vaccination round also targets medical personnel, flight crews, employees in other jobs at high risk of COVID-19, and pregnant women who received their first Moderna shot at least four weeks ago.
Taiwan's government has purchased 5 million doses of Medigen's COVID-19 vaccine, which requires two doses given 28 days apart.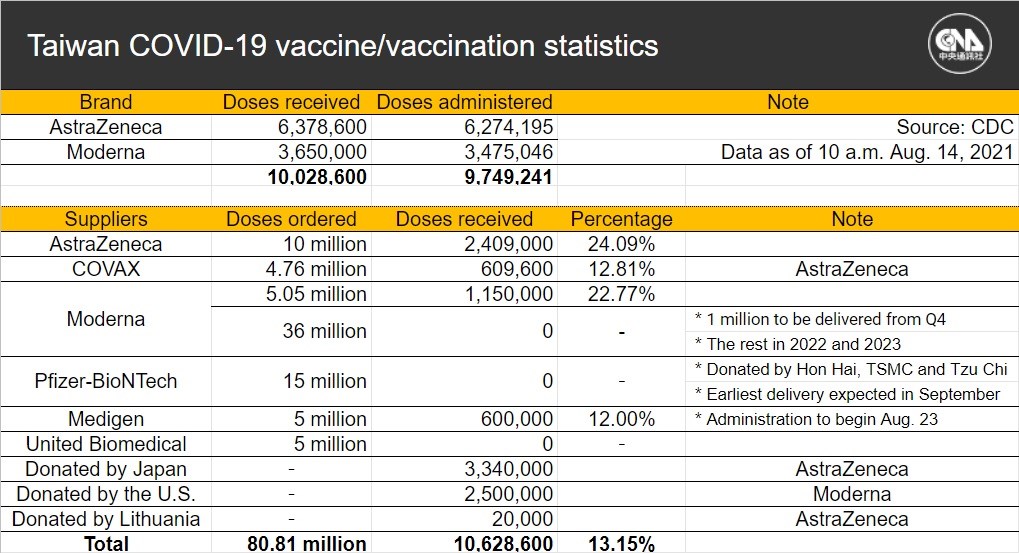 The company was awarded emergency use authorization (EUA) for its vaccine by Taiwan's Food and Drug Administration in July.
The decision has been controversial, however, as the Taiwanese vaccine maker has yet to conduct Phase 3 trials which are the standard for determining whether a vaccine offers protection against a particular virus.
Approval was given because the neutralizing antibodies generated in Medigen vaccine recipients compared favorably to those generated in AstraZeneca vaccine recipients, a concept known as immunobridging. The concept has been discussed internationally, but no consensus or standards have been reached on its use.
As of Saturday, 2.76 percent of the population, or 648,746 people, had received two shots produced by either AstraZeneca or Moderna in order to be fully vaccinated against the disease, CECC data showed.
Meanwhile, 38.7 percent, or about 9.1 million people have received a first dose, the data showed.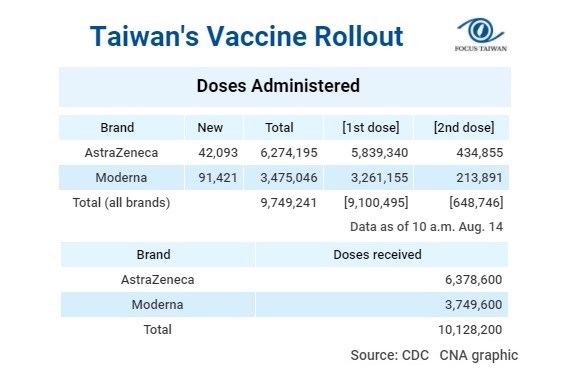 View All