On-site dining in Taipei, New Taipei to be allowed again (update)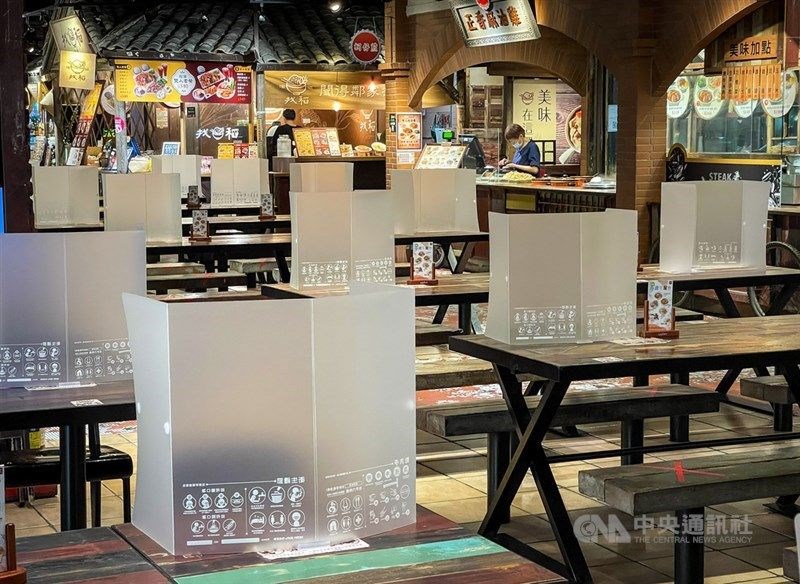 Taipei, Aug. 2 (CNA) New Taipei Mayor Hou Yu-ih (侯友宜) announced Monday that on-site dining in his city and neighboring Taipei will resume starting Tuesday after being prohibited in May amid a COVID-19 outbreak.
At a news conference, Hou said the decision to allow in-person dining was made by the two cities together based on the geographic proximity of the two metropolitan areas and the fact that people move between the two cities every day.
As COVID-19 case numbers fell in mid-July, the Central Epidemic Command Center (CECC) lowered its alert to Level 2, including lifting a ban on on-site dining starting July 27.
But Taipei and New Taipei in the north, where the majority of COVID-19 cases have been concentrated in the past two months, and Yilan County in the east did not immediately follow the CECC guideline, and kept the ban in place temporarily.
Yilan announced on July 30 that it was lifting the on-site dining ban, also starting Tuesday.
Restaurants in Taipei, New Taipei and Yilan had been limited to offering takeout and home delivery since late May when the COVID-19 alert was raised to Level 3.
Hou said the decision was made because of the fall in locally transmitted COVID-19 cases and an increase in the number of people who have received one dose of a vaccine in the two cities.
But Hou said his city will keep a close eye on how the disease evolves, noting that if the more infectious Delta variant hits his city and a new surge in local COVID-19 transmissions occurs, on-site dining will be barred again.
Hou urged people in New Taipei to wear face masks when they leave dining tables or face a fine, and he also stressed the need to wear masks in all public venues at all times.
Echoing Hou, Taipei Mayor Ko Wen-je (柯文哲) said in a separate news conference that it would be bad to see the virus make a comeback after on-site dining is allowed, and he said the ban would be imposed again if the spread spikes.
The mayor said people in Taipei should not rush to book tables.
"I don't want restaurants in Taipei to be fully booked, paving the path for a virus comeback," Ko said. "Taipei spent two and a half months to contain the virus and any complacency could lead to a resurgence."
According to Ho Ming-yi (何明怡), head of New Taipei's Economic Development Department, the lifting of the on-site dining ban will also involve food stalls at night markets and the food courts in department stores and hypermarkets and supermarkets.
But night market goers will not be allowed to eat while they are walking in the markets.
All eateries must install dividers on their tables, have hand sanitizer in place, and arrange specially designated seats for customers to allow them to sit in a larger space. Also, waiters and waitresses should wear masks and gloves at all times.
Violators will face fines ranging between NT$3,000 (US$107) and NT$15,000, Ho said.