Tropical Storm In-Fa could be formed Saturday night: CWB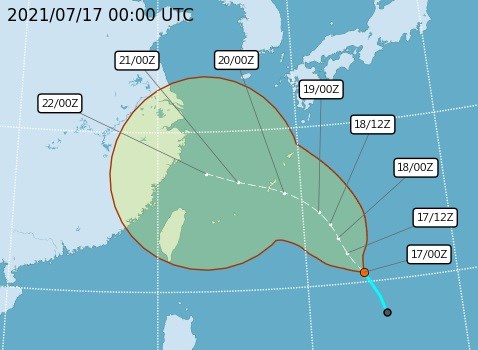 Taipei, July 17 (CNA) A tropical depression east of the Philippines is expected to develop into a tropical storm Saturday night at the earliest, bringing unstable weather to Taiwan, the Central Weather Bureau (CWB) said.
As of 8 a.m., the depression was centered 1,360 kilometers east of Eluanbi on the southern tip of Taiwan and was veering northwest at a speed of 15 km per hour, the CWB said.
The depression was carrying maximum sustained winds of 54 kph, with gusts of up to 82.8 kph, the bureau said.
It could develop into the sixth tropical storm in 2021, and reach its closest proximity to Taiwan on July 22 as it approaches waters north of the country, CWB data showed.
According to Wu Der-rong (吳德榮), a meteorologist and adjunct associate professor of atmospheric sciences at National Central University, there is great uncertainty in In-Fa's trajectory, as it could either hit Taiwan directly or move towards area north of the Ryukyu Islands far from Taiwan to enter the East China Sea.
In-Fa could also strengthen to become a typhoon, Wu said.
In-Fa's development could be affected by various factors, including the strength of a Pacific high-pressure system, Wu said, adding that follow-up observation is required to tell the storm's growth.
Meanwhile, cloudy to sunny skies with afternoon thunderstorms are forecast across Taiwan on Saturday, the CWB said, warning of possible extreme weather such as thunder strikes, strong gusts and heavy rainfall in central and southern Taiwan, as well as in mountainous parts of the country.
Temperature-wise, daytime highs across the island could reach 32-35 degrees Celsius, while some areas in Taipei, Yilan, Hualien and Taitung could see their maximum temperature hit 36 degrees or higher, forecasters said.