CORONAVIRUS
/
COVID-19 trend moving in positive direction despite fluctuations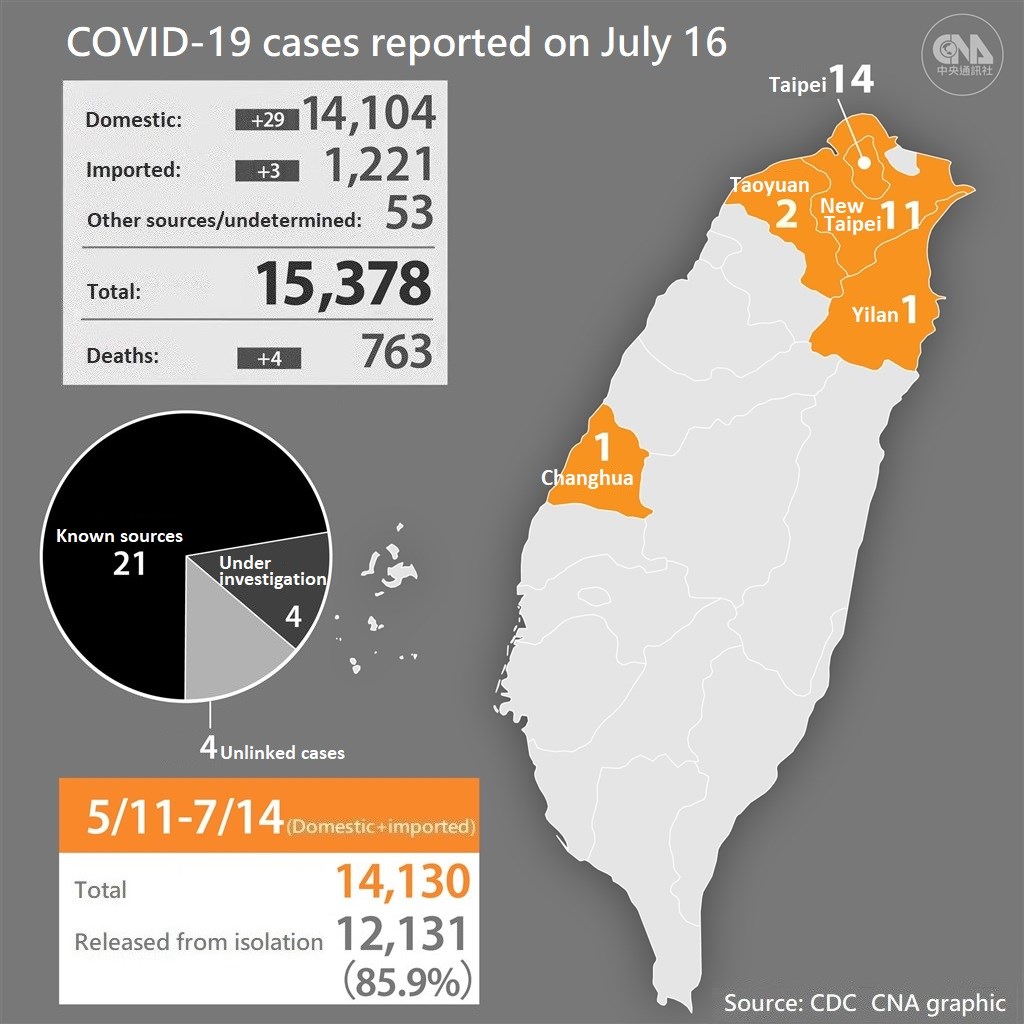 Taipei, July 16 (CNA) Despite fluctuating COVID-19 case numbers in Taiwan over the past few days, the Central Epidemic Command Center (CECC) on Friday said the trend was still moving in a positive direction.
Taiwan reported 32 new cases of COVID-19 on Friday, of which 29 were domestic infections and three were contracted overseas, as well as four deaths from the disease.
Of the domestic cases, seven people tested positive for the disease while in quarantine, Health Minister Chen Shih-chung (陳時中), who also heads the CECC, said during a press briefing in Taipei.
Twenty-one of the 29 cases had a known source of infection, while the other four are under investigation, Chen said.
Though the Friday case numbers were slightly higher than that of the previous day, the trend appears to be moving in a positive direction, he said.
Yet, Chen still urged people to abide by the government's COVID-19 prevention measures so that the epidemic can be brought totally under control.
In terms of location, 14 of the cases were reported in Taipei, followed by 11 in New Taipei, two in Taoyuan and one each in Yilan and Changhua, he said.
Meanwhile, the CECC noted that of the 14,130 COVID-19 cases confirmed between May 11 and July 14, 12,131 of the patients (85.9 percent) had now recovered and been released from quarantine.
Another 751 of those patients have died, including the four reported Friday, but the CECC did not provide any information on the status of the remaining 1,248 cases and how many of them were in serious condition.
The four deaths reported Friday were all men, in their 60s to their 90s, who passed away between July 9 and July 14, the CECC said.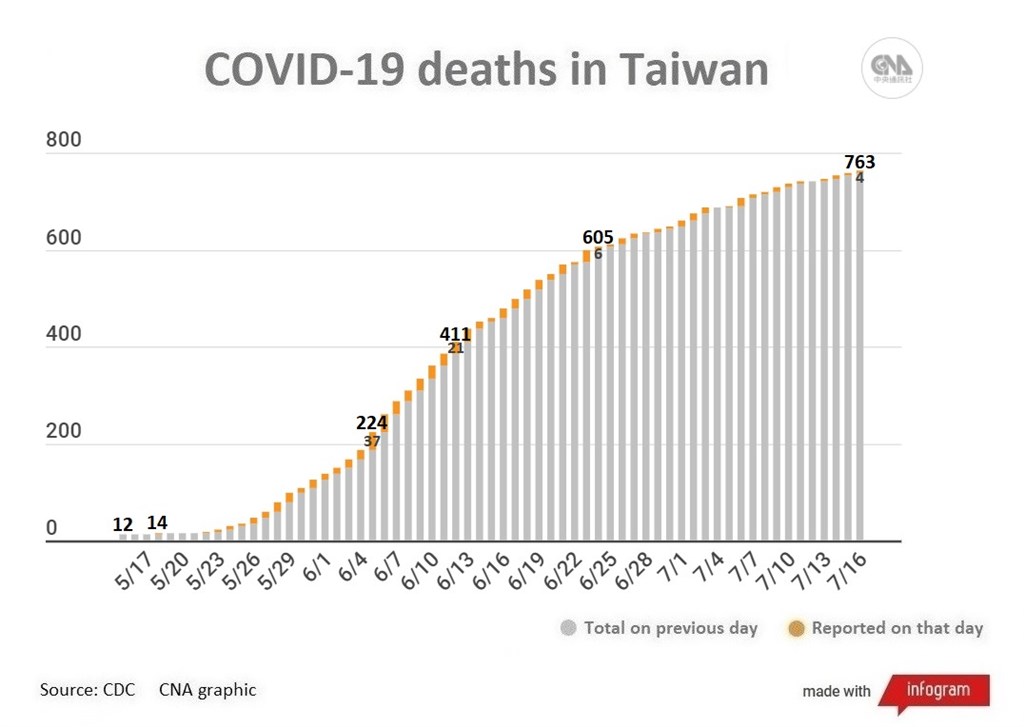 Of the three imported cases, one was a Taiwanese and the other two were foreign nationals from the United States and the Philippines.
The Taiwanese was a young girl who returned from the U.S. on July 2 and tested positive for COVID-19 prior to completing her mandatory 14-day quarantine, the CECC said.
The American, in his 50s, arrived in Taiwan on July 2 and also tested positive for the disease prior to being released from quarantine.
A Filipino fishing boat worker was the third imported case and was confirmed as having COVID-19 after completing his 14-day quarantine.
The CECC has listed 18 people who came into contact with the Filipino worker.
The new cases brought the total in the country to 15,378 since COVID-19 emerged in early 2020, of which 13,931 are domestic infections reported since May 15, when the country first recorded more than 100 COVID-19 cases in a single day.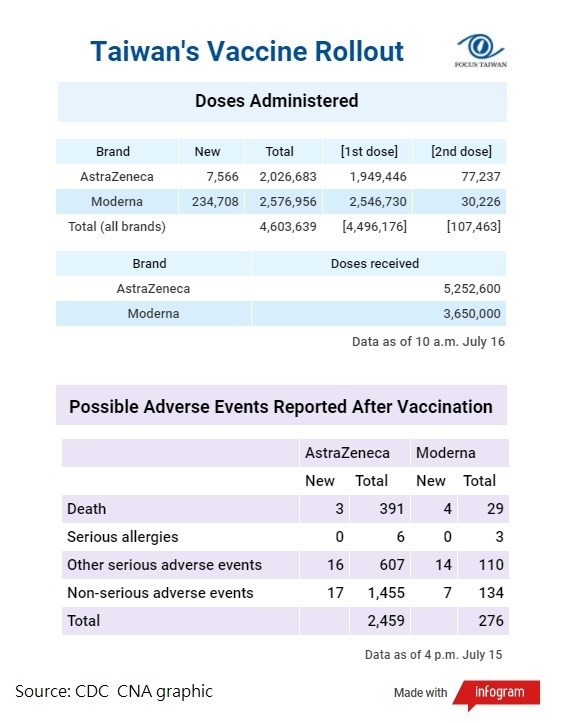 Recent cases
July 15: Domestic COVID-19 cases drop to 14, lowest in 2 months
July 14: Taiwan reports 27 new COVID-19 cases; adult daycare centers can open
July 13: Taiwan reports 29 new COVID-19 cases, 6 deaths
July 12: Taiwan reports 24 new COVID-19 cases, Rt value under 1 for 3 weeks
July 11: Taiwan reports 31 new COVID-19 cases, 'relatively low' number
View All