CORONAVIRUS
/
Taiwan reports 32 domestic COVID-19 cases; all in the north
Taipei, July 9 (CNA) Taiwan on Friday reported 36 new cases of COVID-19, all but four of which were domestic infections, as well as 12 deaths from the disease, according to the Central Epidemic Command Center (CECC).
Although the number of cases on Friday was greater than those reported the previous day, the COVID-19 curve continues to flatten in Taiwan, Health Minister Chen Shih-chung (陳時中), who also heads the CECC, said at a press briefing.
In 14 of the cases the source of infection has been identified, and the remaining cases are still being investigated, Chen said.
All the domestic cases were reported in northern Taiwan, with Taipei recording 19 cases, New Taipei 11 and Taoyuan 2, Chen noted.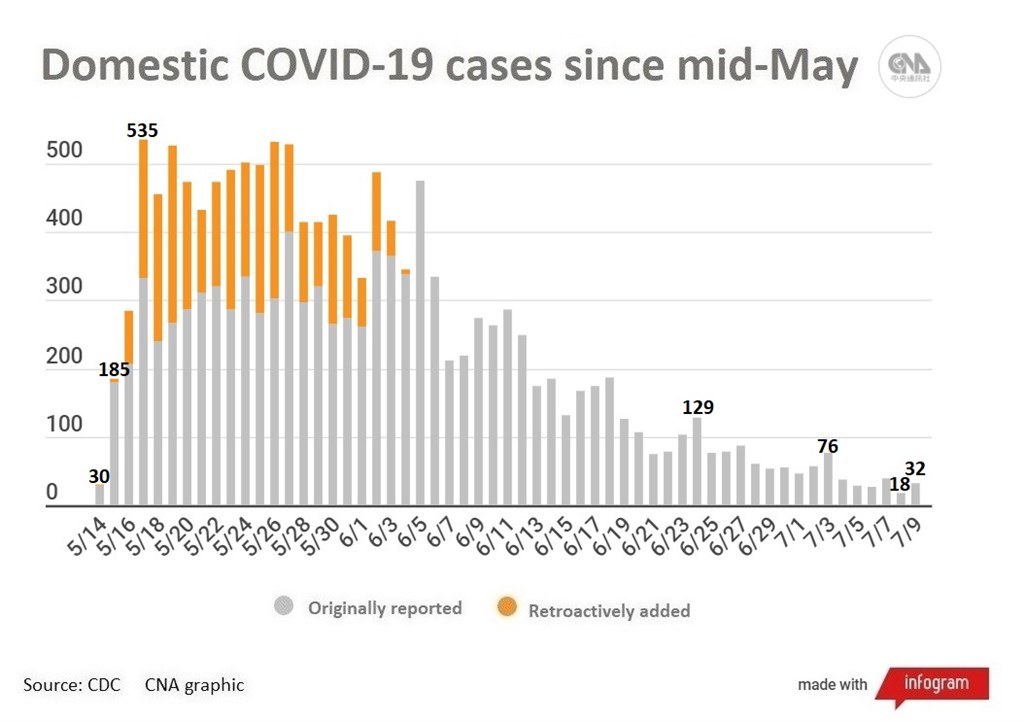 The 32 cases involved 17 males and 15 females, aged from under five to over 70, with the onset of symptoms occurring from July 1 to July 8, according to Chen.
The new cases bring the total in the country to 15,185, of which about 13,500 are domestic infections reported since May 15, when the country first recorded more than 100 COVID-19 cases in a single day.
As of Friday, 82.8 percent, or 11,536, of the people whose infections were confirmed between May 11 and July 7, had been discharged from hospital after making a full recovery from the disease or being ruled by doctors to be no longer infectious, Chen said.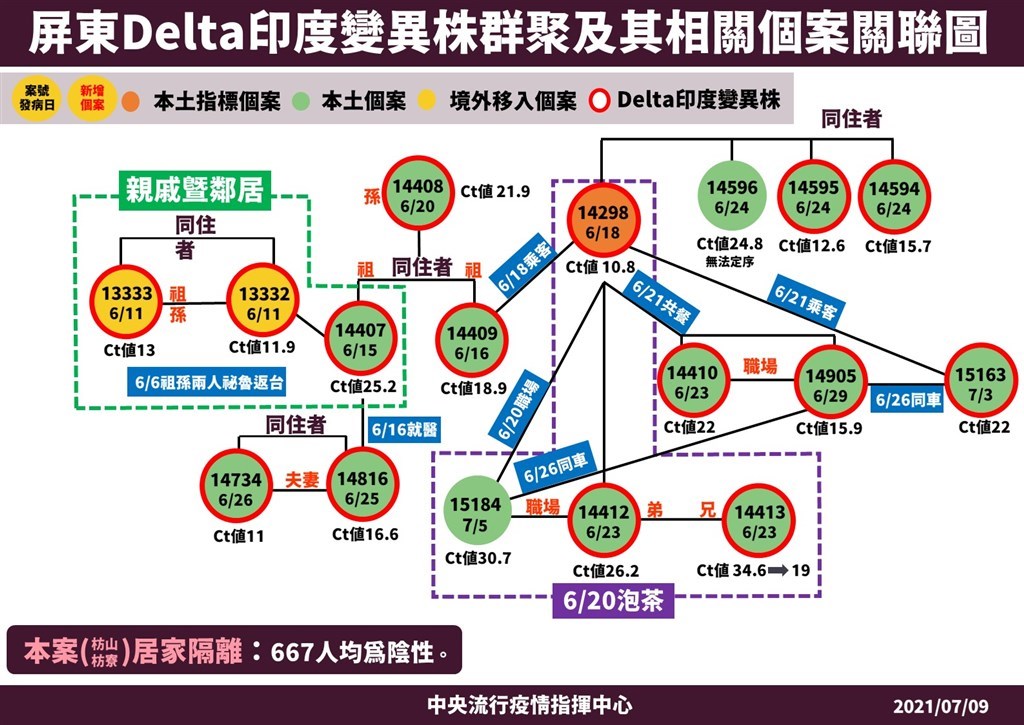 Meanwhile, the CECC identified two more highly infectious COVID-19 Delta variant cases as part of a cluster infection in Pingtung County, which started with two people whose infection was confirmed on June 30 and July 5.
The number of cases related to the Pingtung cluster infection had increased to 17 as of Friday, according to CECC data.
The Delta variant outbreak started with two imported cases -- a woman and her grandson who returned to Taiwan from Peru on June 6, the CECC said.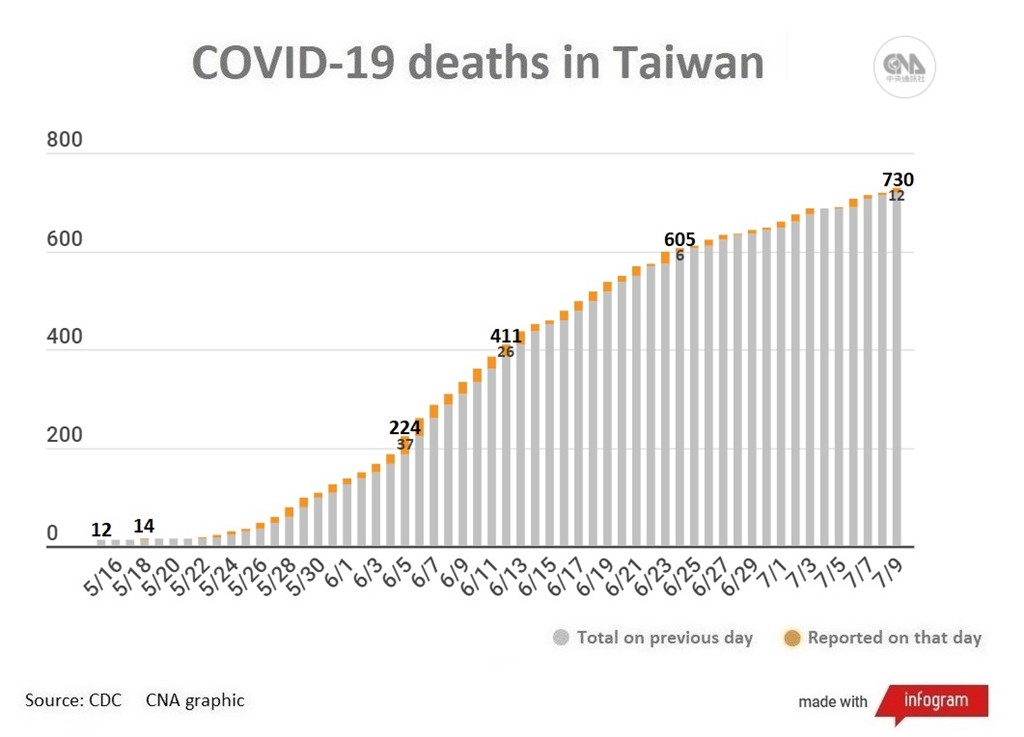 In addition, the deaths reported Friday were eight men and four women, aged from their 40s to 80s, who passed away between June 30 and July 8, the CECC said.
To date, 730 people in Taiwan have died of COVID-19, including 718 since May 15.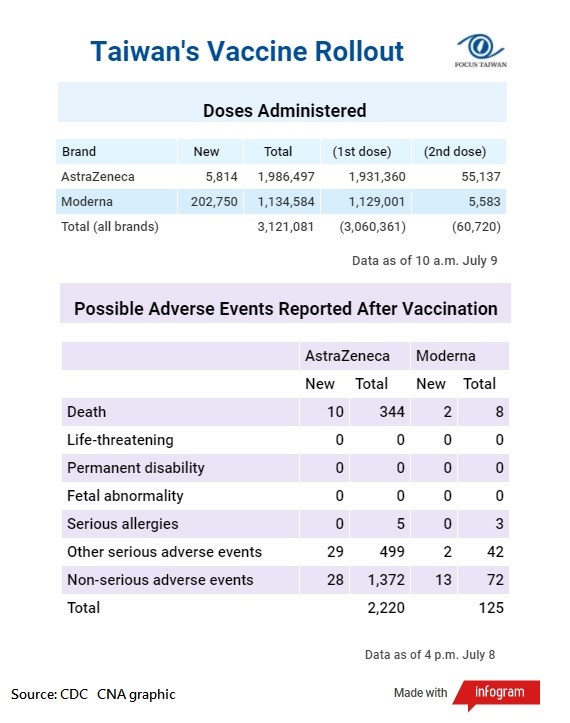 View All