CORONAVIRUS
/
Taiwan adds 80 new COVID-19 cases, driven by Taipei market cluster
Taipei, July 3 (CNA) Taiwan on Saturday reported 80 new cases of COVID-19, as well as 10 deaths from the disease, and continued to battle a cluster of infections at wholesale markets in Taipei, according to the Central Epidemic Command Center (CECC).
The high number of new cases, relative to recent days, was driven by large-scale testing at three markets in the capital's Wanhua District where the cases have been discovered, Health Minister Chen Shih-chung (陳時中) said at a press conference.
"However, apart from the 76 such cases reported over the last two days ... the overall number of new infections remains low," Chen said, noting that only four cities and counties reported new cases on Saturday.
To date, the three Taipei markets have reported more than 200 cases. This includes over 100 at Huannan Market, 80-plus cases at the First Fruit & Vegetable Wholesale Market, and around 20 at the Second Fruit & Vegetable Wholesale Market, Chen said.
In addition to closing Huannan Market through July 5, the CECC also sent out over 80,000 text alerts Friday to people whose phone data showed they had recently been in the vicinity of the market, urging them to get tested if they develop any COVID-19 symptoms, Chen said.
A further round of testing on workers and contractors at the three markets will begin on July 8, he added.
Meanwhile, regarding a cluster of 15 Delta variant cases in Pingtung County, Chen said the local government screened over 12,000 people at community testing stations in the past five days, all of which came back negative.
While public screening in the area will continue through July 11, "at this point we can pretty much say that the community is safe," Chen said.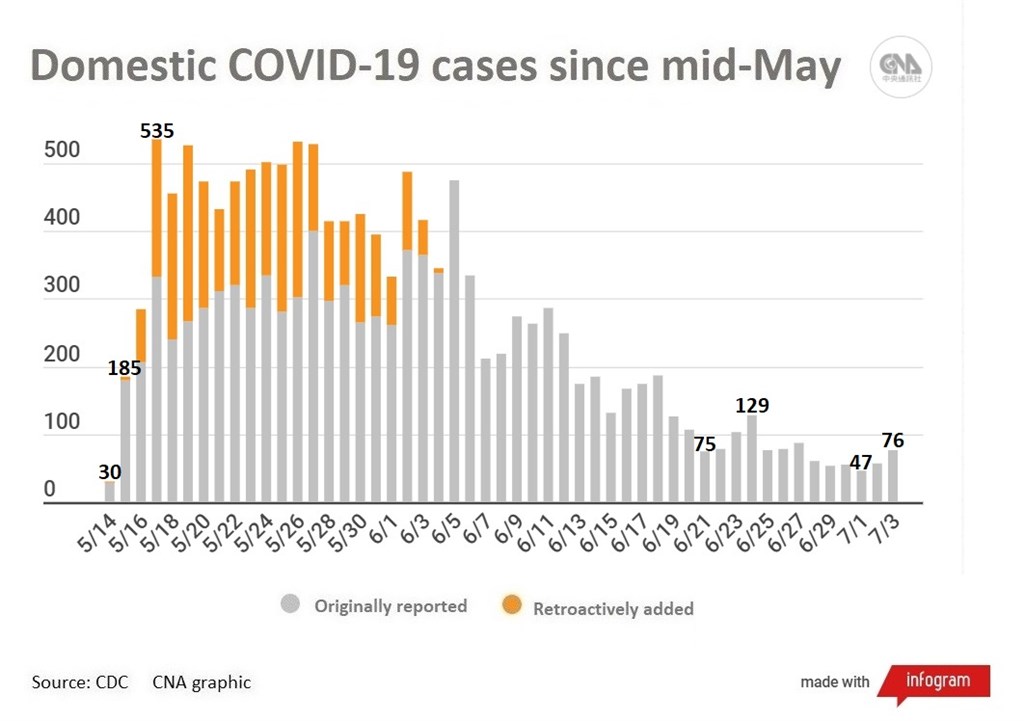 Of the 80 new COVID-19 cases on Saturday, 76 were domestically transmitted. Taipei reported 48 cases, followed by New Taipei with 24, Taoyuan with three and Hsinchu City with one.
Fifty-five of the domestic cases had a known source of infection, while the other 21 are under investigation, the CECC said.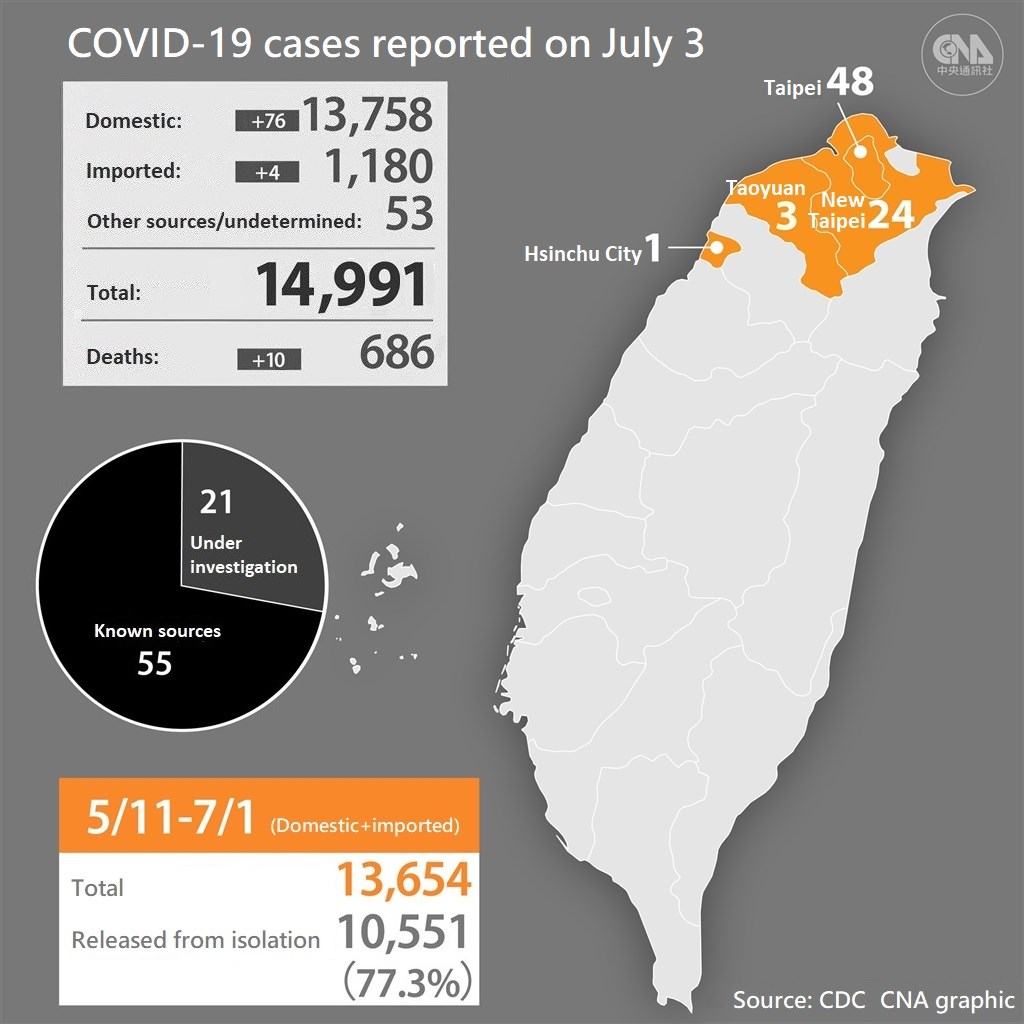 Meanwhile, the four imported cases all involved Taiwan nationals, who recently returned to the country from the United Kingdom, the United States, Japan and Cambodia.
The 10 deaths reported Saturday were five men and five women, in their 50s to their 90s, who died between June 26 and July 2, according to the CECC.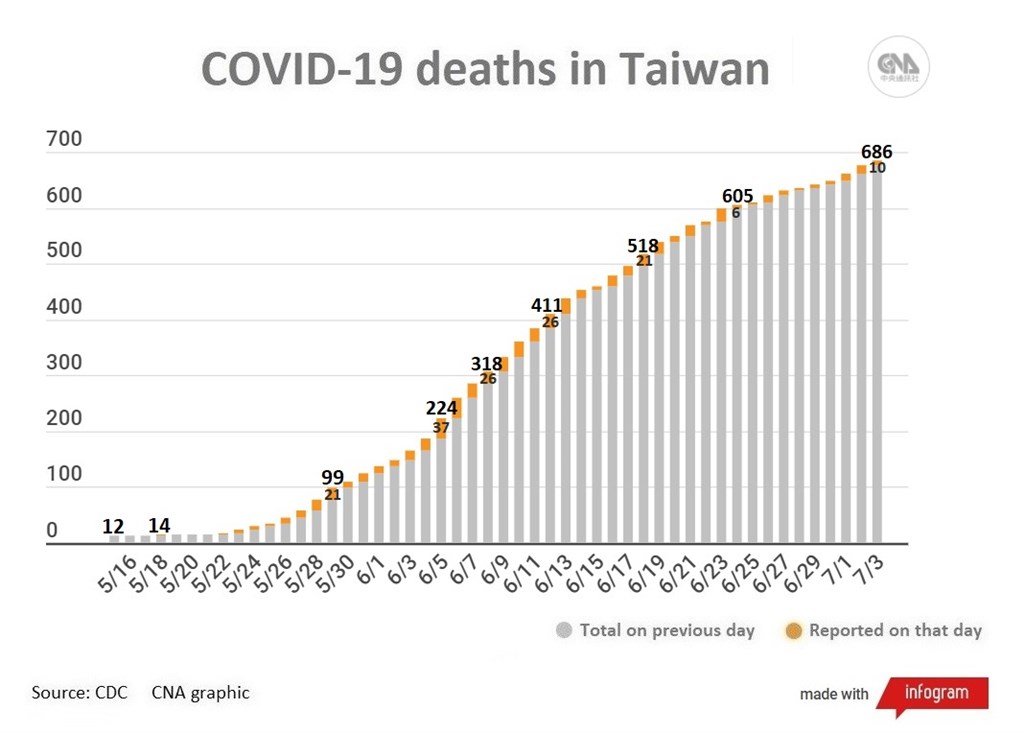 To date, Taiwan has confirmed 14,991 cases of COVID-19, of which more than 13,500 are domestic infections recorded since May 15, when the country first reported over 100 new cases in a single day.
The number of deaths from COVID-19 has risen to 686, including 674 since May 15, CECC data showed.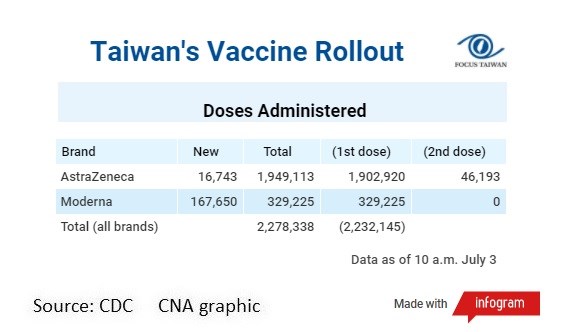 Recent cases
July 2: Taiwan reports 58 new cases, outbreak in Taipei market
July 1: Taiwan reports 50 new COVID-19 cases, link in Delta cases confirmed
June 30: Taiwan reports 56 new COVID-19 cases, Delta variant cluster grows to 15
June 29: Taiwan reports 54 new COVID-19 cases, 1 more Delta infection
June 28: Taiwan sees daily COVID-19 cases drop to 60, lowest in over one month
View All