CORONAVIRUS
/
COVID-19 home test kits in high demand at convenience stores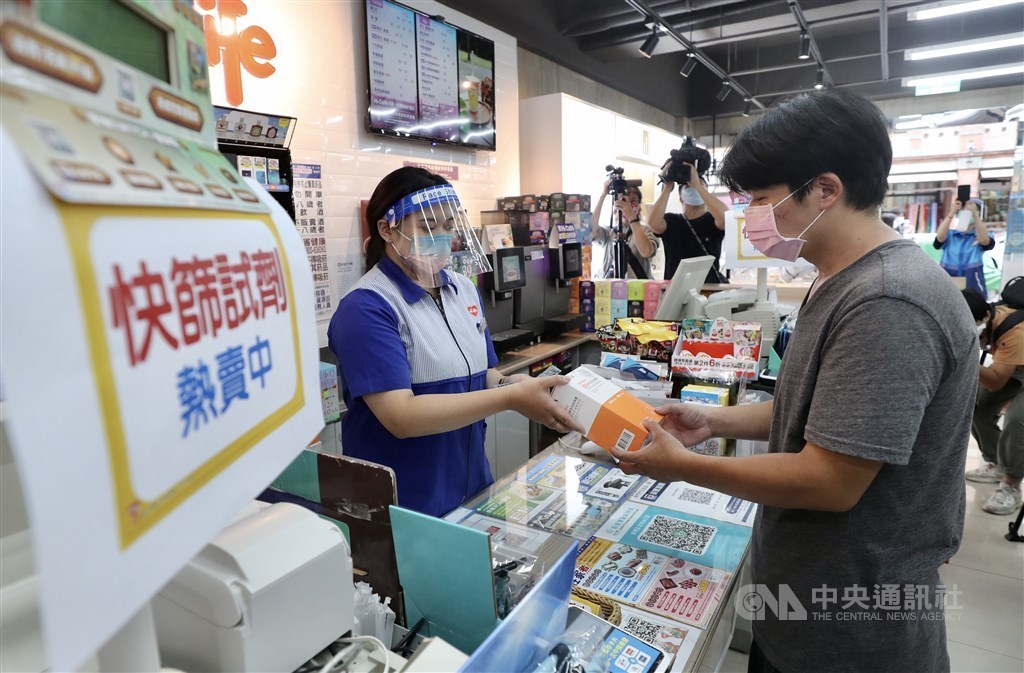 Taipei, June 23 (CNA) The Hi-Life convenience store chain said Wednesday that its first supply of COVID-19 home test kits had sold out within 30 minutes on Wednesday.
Customers were lined up for an hour before the first test kits went on sale at two Hi-Life stores, on Dihua Street in Taipei and Linkuo Street in New Taipei, the company said.
Later in the day, the rapid test kits went on sale at another 66 Hi-Life stores in northern Taiwan, but each store had only 10 kits, the company said.
The COVID-19 home test kits, produced by local company TaiDoc Technology, are being sold at the Hi-Life stores at NT$1,700 (US$60.71), and they each contain five tests.
Hi-Life said it will also obtain home tests from Hoffmann-La Roche, and they will be go on sale Saturday at a price of NT$1,800 each.
Meanwhile, the 7-Eleven convenience store chain, which also launched sales of COVID-10 home test kit in northern Taiwan, said they will be available nationwide from Friday at all of its outlets that have pharmacy licenses. The 7-Eleven chain is also being supplied by TaiDoc Technologies and Hoffmann-La Roche.
For its part, FamilyMart said it will start sales at some 3,800 outlets at 10 p.m. Thursday, selling the Hoffmann-La Roche test kits at NT$1,800 each.
In addition to the convenience stores, the supermarket chain PX-Mart is also expected to stock COVID-19 home test kits at 266 outlets in Taipei and New Taipei, selling them at a price of NT$1,500, starting Thursday afternoon, it said.
Taiwan on Wednesday reported 104 new cases of COVID-19, bringing the total number in the country to 14,260, and it extended its Level 3 alert for the disease to July 12.
View All